Tired of the rat race north of the border? Looking for a slower-paced life where the only winter shovel you'll need is for building sandcastles? Hoping to stretch your dollar a little further than you do today?
Yes. Yes. And yes.
All are good reasons to consider the Riviera Maya as a potential retirement destination. My wife Karen and I left Seattle in August 2018 on an open-ended, slow-travel journey, and we spent more than nine months in Mexico, with the longest stay in Akumal, which is 30 minutes south of the hustle and bustle of Playa del Carmen and 30 minutes north of the beachside utopia of Tulum.
After nearly four months in Akumal, we had a pretty good lay of the land, and connected with people who helped us realize why this beach-meets-jungle paradise makes sense for so many retirees. Here are five reasons why we think the Mayan Riviera is a destination worth considering…
1. It's close to home. If you live in North America, most major cities are two- to five-hour flights from Cancún International Airport.
We spent four months at TAO Community on the grounds of the Bahia Principe Resort in Akumal. Most of the folks who lived there were retired or had a second home with the goal of retiring there one day. Quick trips back to the U.S. for holidays and special occasions with family and friends are a snap. It's a big reason so many expats choose the Riviera Maya.
2. There's a thriving expat community. We arrived on a Wednesday afternoon, by Friday we were beachside for happy hour with 40 expats from around the world. It wasn't an organized event; it was just another Friday in paradise according to the "locals."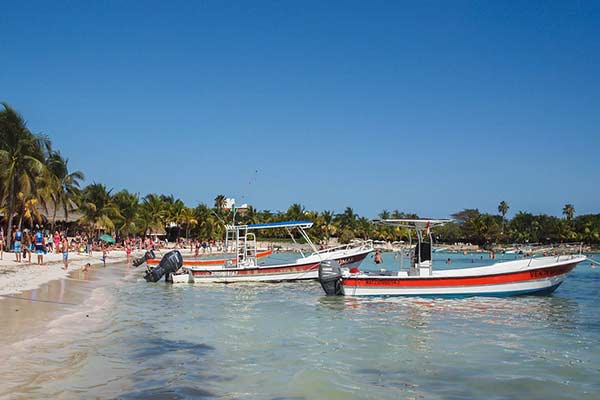 We were struck by how friendly everyone was, too. Whenever someone was making a run to the Walmart in Playa del Carmen, they let others know in case they wanted to join or if they needed something picked up. It was definitely comforting to know that, within three days, we had made several friends.
3. Non-stop entertainment. The expat groups were always planning something, too. From lazily rafting down a river in the Sian Ka'an Biosphere to visiting and swimming in one of the hundreds of magnificent cenotes (aboveground and underground swimming holes) to visiting magical archeological ruins throughout the Yucatán Peninsula to simply meeting at the beach club for lunch and a cocktail or three, there was always something in the works. And there are tours galore if you want to leave the planning to someone else.
4. Getting around is easy. Most retirees had vehicles, but if you're visiting for a short stay, it isn't critical. In our four months in Akumal, we never rented a car. We hopped on colectivos—vans that drive up and down the coast connecting passengers between Tulum and Playa del Carmen or Cancún and Playa del Carmen. Simply head out to the main north-south road (there's only one) and the vans will stop for you if they have room. The cost between each of the two hubs is around $6 roundtrip. A one-way cab between Cancún and Playa del Carmen or Tulum and Playa del Carmen can be as high as $40. If you don't mind sharing rides—and we didn't—colectivos are frugal and get you where you want to go.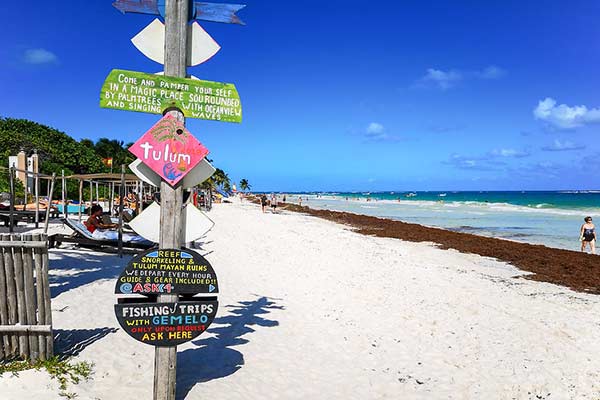 5. The people. In addition to the expats we met, we connected with so many wonderful local residents during our stay. They were always helpful, too, even when our Spanish wasn't on point (which was frequent).
We befriended a cab driver, Joel, who we hired whenever we went on day trips around the Yucatán Peninsula. Joel explained to us that most local residents are thrilled to have tourists and expats in town because they drive the economy, which creates jobs. He said they definitely know the importance of a satisfactory visit to their slice of heaven, so they are especially nice (as long as it's reciprocal, of course).
Throw in the low cost of living, the year-round warm weather, and the proximity to other magical towns and cities, like Cozumel, Mérida, and San Miguel de Allende, and it's easy to see why the appeal of the Mayan Riviera is so grand.
Get Your Free Mexico Report Here:
Learn more about Mexico and other countries in our daily postcard e-letter. Simply enter your email address below and we'll send you a free special report - Why Millions of Americans Are Moving to Mexico.
This special guide covers real estate, retirement and more in Mexico and is yours free when you sign up for our postcards below.
Related Articles
3 Of Mexico's Best Hidden Beaches
Top 10 Reasons to Move to Mexico
Maps of Mexico: Best Beachside and Mountain Towns