Although small in size compared to other countries in Europe, Portugal packs plenty into its borders. From bustling cities like Lisbon in the heart of the country and Porto in the north, to coastal gems in the southern Algarve region like Albufeira, the country has something for everyone. But not to be missed are the tiny towns, each with their own flavor that offer both visitors and those seeking to settle into the country something special. While there are so many loveable small towns worth mentioning in Portugal, let's take a look at just two.
Are you interested in retiring abroad? Yes | Not Sure Yet
Águeda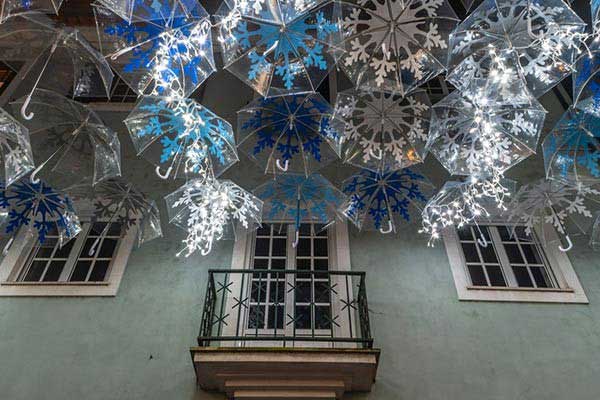 Known by many as, "the umbrella city," the town of Águeda is a two-hour drive north of Lisbon in the Aveiro district. While many visitors stop in neighboring Aveiro, known as the "Venice of Portugal," because of its canals and colorful boats, Águeda holds a special place in the hearts of many.
Every summer the town turns into a kaleidoscopic canopy of color when more than 3,000 umbrellas are suspended above the streets creating a colorful glow, and a smile to all who pass under them.
It all began in 2011 as the Umbrella Sky Project, part of the Ágitagueda Art Festival that allows local artists to strut their stuff and leave a fanciful mark on the town. Little to no space is left untouched in the village, with a rainbow of painted graphics on benches, walls, trash cans, walkways, and even stairs, giving it a spectacular artsy vibe.
Águeda is a stopover on the Portugal leg of the famous, Camino de Santiago de Compostelo that goes into Spain. The day we visited we chatted with pilgrims at an outdoor cafe who were resting their tired feet for the night.
Plenty of local shops and restaurants line the main streets of the village while nearby larger grocery stores, hospitals, and clinics provide much of everything to make this a liveable option for expats. The city center is flat making it easy to walk around and two-bedroom apartments here can be found for $600 a month. With so many tourists passing through many of the locals do speak English, yet this is a real Portuguese working town painted with artistic charm.
Just a fifteen-minute drive into Porto, expats who choose to live in Águeda are never far from big city life, larger medical facilities, great wine and food, plenty of culture, and a large established expat community.
Vila Real de Santo Antonio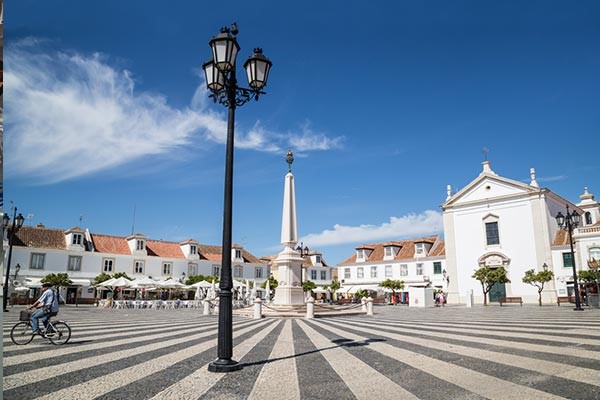 On the eastern tip of southern Portugal's Algarve region sits the border town of Vila Real de Santo Antonio. The town's majestic grand plaza was built by Marquis of Pombal in 1774, after it was destroyed in the great earthquake of 1755. In the center of the grand square is an obelisk of King Dom José I, with a starburst pattern of black and white tiles stretching outward to the white-washed shops and restaurants that surround it. The sweet smell from the orange trees permeates the plaza which serves as a meeting spot for events, markets, and festivals throughout the year. This Pombaline style of architecture, as it was later called in honor of the man who designed it, bears a striking resemblance to the Baixa area of Lisbon, giving the small town a big city vibe.
Nearby, a massive, four-lane bridge spans the Guadiana River, the crossing point into Ayamonte, Spain. Expats who live here have easy access to both countries, offering them the best of both worlds.
Nature lovers will delight in Mata Nacional das Dunas, a coastal forest comprised of pine trees and dunes with hiking and biking trails that stretch to the nearby town of Monte Gordo. Breathe in the fresh scent of pine trees and curry plants and try to spot one of the area's famous chameleons hiding out. Below the forest, the gorgeous stretch of blue flag beach features soft, white sands that frame some of the warmest seawater in the country.
Since the town is surrounded by water on three sides, it is the perfect haven of canals, marshes, and salt pans for bird watchers to spot species like the white stork, flamingos, and black-winged stilt throughout the year.
Every year during the holiday season the town produces the largest, most impressive indoor nativity scene in all of Portugal. It takes forty days and over 2,500 hours of hard work to bring the project to life. Volunteers bring in twenty tons of sand, over six thousand pounds of cork, and more than 5,600 figures, many of which come to life with movement. The cost to visit the Christmas village is a mere fifty cents and something that should not be missed.
Unlike some of the high-priced towns in the Algarve, here it's possible to rent a two-bedroom apartment for $788, yet still be within walking distance to the beach, shops, and restaurants. Large grocery stores can be found along with both medical and dental clinics. The nearby city of Faro, just 30 minutes by car offers private and public hospitals, mega-shopping malls, and an international airport. For more home comforts expats can choose to cross the border into Spain to shop at a Cosco warehouse in Seville, about two hours away. The popular expat haven of Tavira, just twenty minutes away has a large established expat community that holds events throughout the year.
So, for those that long to live in the Algarve but want to avoid the crowds in the summer, Vila Real de Santo Antonio might be for you. The tranquil feel of this Portuguese town offers more of a sleepy feel, yet is still close to beaches, shopping, restaurants and since this still is the Algarve, many locals here do speak English.
Portugal has many liveable, small towns that can offer expats a great, affordable life, with top-notch healthcare, modern conveniences, and plenty to do. It all depends on what you want. Small towns, big cities, coastal living, or somewhere in between.
Get Your Free Portugal Report Here:
Romance, culture and adventure awaits in Portugal. Learn more about Portugal and other European countries in our daily postcard e-letter. Simply enter your email address below and we'll send you a FREE REPORT - Explore the Old World in Laidback Portugal.
This special guide covers real estate, retirement and more in Portugal and is yours free when you sign up for our IL postcards below.
Related Articles
The 12 Historic Towns of Portugal
Portugal Itinerary: How to Spend 7 Days in Portugal
Is Portugal a Safe Place to Live?
Upcoming Conferences
The Only 2023 Fast Track Costa Rica Conference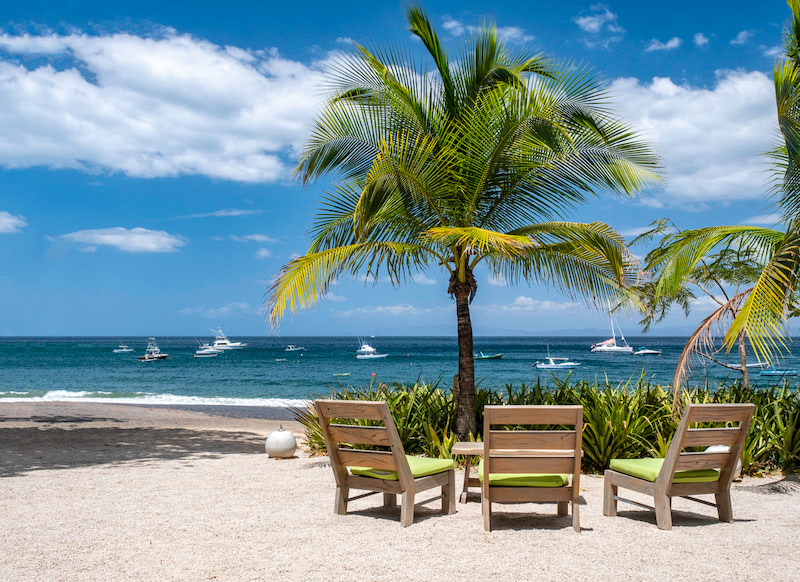 If your dream retirement involves stunning beaches… lush green mountains… a perfect year-round climate… first-rate healthcare… incredible value for money (a couple can live well on $2,109 a month—including rent!)...
Join our Costa Rica experts and expats in June and discover true Pura Vida.
REGISTER NOW, SEATS LIMITED: EARLY BIRD DISCOUNT HERE
---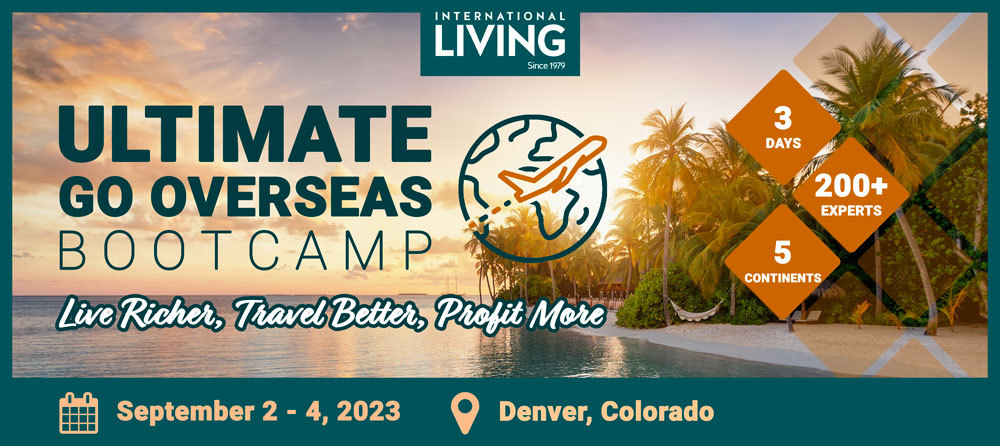 Most Popular Products
Popular Articles You May Also Like