As I sipped on my Costa Rican morning coffee and tucked into the traditional breakfast of gallo pinto (rice, beans, and spices), a peculiar trilling filled the air. When I looked toward the trees on the hill below the terrace, I saw first the long yellow, red, and black bill, then the lavishly feathered body of the toucan attached to it—a stretch of bright black, white, and yellow gliding free against the blue sky. Then another followed…
This is Costa Rica's southern Pacific coast. It's the Costa Rica of the tourism board videos and postcards, thanks to the rainforest full of toucans, sloths, and monkeys…wild beaches lined with palms… rocky coves with waves booming across the craggy shore…and looming jungle-covered mountains.
Are you interested in retiring abroad? Yes | Not Sure Yet
Costa Rica pioneered eco-tourism back in the 1980s in places like this. More than 1.3 million visitors arrived last year—about half the pre-pandemic number—but the trend is toward recovery.
Some of those visitors fall in love with the country and decide to come back for good. They build homes in the Southern Zone, where I am right now, but also settle in elsewhere, in thriving communities of happy expats all around Costa Rica. It's no surprise in a place that has earned the top spot in the last four Happy Planet Indexes, making it the happiest country on earth. Costa Rica is also a perennial top-five finisher in International Living's annual Global Retirement Index. It's #2 for 2022.
Long a magnet for North American retirees, Costa Rica delivers a package that's hard to beat: natural beauty, affordable costs (a couple can live well on $2,000 a month), stable government, nice weather, low-cost/high-quality healthcare, modern conveniences, friendly people, and a no-hassle residence visa program that retirees can easily qualify for.
Despite its massive popularity, Costa Rica is far from "Americanized." It's a still-developing country on its own path with its own traditions and unique way of looking at the world.
My family and I lived here for four years and lived or spent extended periods of time in six different locations. In every place, whether on the coasts or in the rural interior, the people were friendly, the lifestyle laidback, and the culture celebrated family and local traditions. In other words, the Pura Vida lifestyle Costa Rica is famous for.
This country offers up a lot of options—beaches, valleys, hilltops, a world-class lake. It can be tricky to figure out where in the country to settle. So, here is my short list—my top five picks for the best retirement towns in Costa Rica.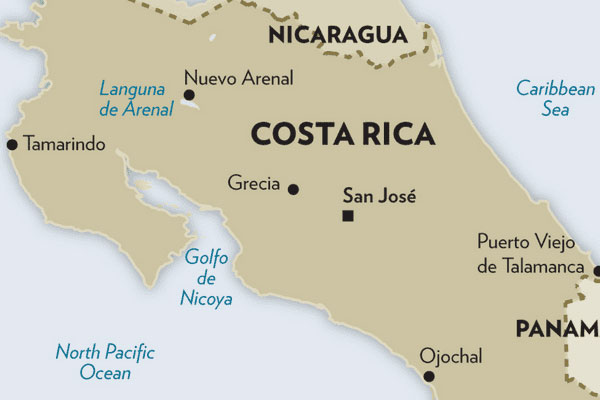 A Funky Beach Vibe in Tamarindo
Costa Rica's northern Pacific coast has been popular with tourists and expats for 50 years. The country's second international airport is in nearby Liberia, making access to this part of the country easy. And there are other conveniences too, like supermarkets with imported items, high-end restaurants, and good medical care. Plus, it's the sunniest and driest region of the country, which means you can count on good weather pretty much November through August (September and October are the wettest months).
Tamarindo is a rapidly growing but still funky beach town. First discovered by surfers and sports fishermen in the 1970s and '80s, "Tama," as the locals call it, soon became a must-visit, turning a once-quiet fishing village (which didn't have telephone service until 1996) into the buzzing beach town it is today.
It's set on a wide bay, with boats at anchor bobbing in the swell: fishing charters, sunset cruisers, and simple pangas, the open boats still used by local fisherman. A row of hotels, surf shops, beach clubs, bars, and restaurants are set back on the sand amidst palm trees and other vegetation. Inland, a mix of gravel and paved roads snakes through town, where you'll find shopping plazas, boutique hotels, hostels, condos, and homes.
Get Your Free Costa Rica Report Here:
Learn more about Costa Rica and other countries in our daily postcard e-letter. Simply enter your email address below and we'll send you a FREE REPORT – Costa Rica: The Land of Pura Vida
This special guide covers real estate, retirement and more in Costa Rica and is yours free when you sign up for our IL postcards below.
Still popular with surfers, backpackers, and bohemians, Tamarindo has grown up in many ways, drawing older expats and families in big numbers.
"I grew up surfing in Southern California, so Costa Rica has always been on my radar," says Mike Clifford. "We came to Tamarindo for a month in October 2000 and fell in love. We bought a condo on the beach on that trip."
Mike, 64, and his wife, Wendy, were ready to live in paradise. Their jobs gave them quite a taste for it. After seven years in banking, Mike quit the industry in 1992 and moved to St. Thomas where he met Wendy.
I love being in a small town, everybody knows us.
During their time as cruise directors, sailing throughout the Caribbean and South Pacific, they bought a place in Costa Rica and later bought land to build the restaurant they own today, the Surf Club Bar & Grill.
"I love being in a small town… being part of a community. Everybody knows us, we know everybody," says Mike.
For Mike, surfing is a central part of life, he's on the water most days. But there's also golf (there are well-regarded courses in nearby resorts), mountain biking, and pickleball.
On Thursdays, the night market is a must for food, arts and crafts, and live music. On Saturdays, in the heart of town is the weekly farmers' market: organic fruits and veggies, fresh fish, baked goods, macrame jewelry, fashion, and home décor. Of course, you can't miss sunset in Tamarindo (which happens around 5.30p.m. every day). Families, groups of friends, tourists, expats, and locals gather on the beach to watch the sun sink over the bay.
Tamarindo has a variety of housing, from high-end luxury (hillside villas and ocean views) to basic homes and condos. To rent a nice two-bedroom condo, expect to pay about $1,500 a month and up. A more luxury place might be double that. Tamarindo is popular right now, and longterm rentals are hard to come by. To find them, you'll have to do some legwork. This really applies to many spots in Costa Rica. Connect with real estate agents, who often maintain listings of long-term rentals. Also check out Facebook groups in each town or region. People often list homes for rent there, or you can post your requirements.
That basic two-bedroom condo in Tamarindo would cost about $250,000 to buy. A newer, upscale place, closer to the beach, could go for double. You can spend less by going inland, in and around the town of Villarreal, a 10-minute drive to Tamarindo. For listings around Tamarindo, see: bluewaterpropertiesofcostarica.com.
Costa Rica's New Digital Nomad Visa
When moving to Costa Rica and seeking residence, there have been three tracks…until now. Now you have more. First, you have the option most popular with retirees. With the pensionado visa, you need $1,000 from Social Security, pension, disability, or other source guaranteed for life. The rentista visa requires proof of $2,500 in monthly income for at least two years or a $60,000 deposit in a Costa Rican bank. Then the inversionista program requires an investment of at least $150,000 in a business or residential or commercial property.
The newly created digital nomad visa is an intriguing new option for those who do not qualify for the previously available programs. To qualify, the applicant must work remotely for a foreign (not Costa Rican) company, be a freelancer, or have their own business, and earn at least $3,000 per month for an individual, $4,000 a month for a family (you can combine you and your spouse's incomes). Under the terms of the visa, you can stay in Costa Rica for a year, with the potential to renew for another year if you've stayed in the country for at least 180 days during your first year. Important to know: You won't pay any income tax to Costa Rica, and you can temporarily import up to two vehicles.
For a more detailed look at all of Costa Rica's visa/residence options click here.
Ojochal for an Upscale Eco Experience
There's a strange phenomenon on Costa Rica's southern Pacific coast. The Southern Zone is a wonderland of natural splendor. Rainforests filled with wildlife. Wild beaches where humpback whales leap just offshore. Looming, jungle-covered mountains reach to the clouds. Deserted stretches of beach, perfect for morning strolling. Yet this is where you'll find some of the best restaurants in Costa Rica. Ojochal, a charming jungle village just off the main coastal road, is home to Citrus (see: citrusrestaurante. com), which features a rainbow of international dishes with a twist and Exotica (see: restoexotica.wordpress.com), serving French/Asian fusion. There's even a Belgian beer bar. Ojochal also has large supermarkets and specialty gourmet shops.
The Southern Zone was once remote and hard to get to. But in 2010, a new coastal highway cut the previous all-day drive from San José to about three hours. That brought more visitors, more expats, and more development. But that development remains manageable.
There are very few beachfront properties, even properties near the beach are rare. Costa Rica's maritime law restricts beachfront development. And a national park stretching along much of this southerly coast means no building at all near the water.
Best of both worlds, ocean views and mountains.
The most desirable homes have ocean views, but they're in the hills and ridges set back from the shore. Something with an ocean view will run you from $400,000 for a home. There are plenty of luxury villas well into the millions. It's $100,000 and up for a lot to build on.

Get Your Free Costa Rica Report Here:
Learn more about Costa Rica and other countries in our daily postcard e-letter. Simply enter your email address below and we'll send you a FREE REPORT – Costa Rica: The Land of Pura Vida
This special guide covers real estate, retirement and more in Costa Rica and is yours free when you sign up for our IL postcards below.
You'll pay less for homes with a mountain view—which here, is still pretty spectacular—or for something set in the jungle. But for a comfortable home, no water view, expect to pay at least $200,000. A good place to start your property search in this area is: dominicalproperty.com. Lucretia Dawson bought her onebedroom condo here six years ago for $125,000. "It's lovely, with teak wood cabinetry, granite counters in the kitchen, a garden area, and even though it's up in the mountains, I have an ocean view," says Lucretia.
She relishes life in the Southern Zone. "We get the best of both worlds —ocean views and mountains to hike in. It's green all year and less touristy here," explains Lucretia. "Generally, it's more authentic Costa Rica the farther south you go. It's quiet, definitely not the big-city life. It's about hiking, and ocean swimming here, not partying."
Top-Notch Medical Care
Costa Rica seems to have figured out its high-quality, low-cost healthcare. Many of the doctors speak English thanks to training in the U.S. and use all the latest techniques and technology.
The country's universal healthcare system, La Caja Costarricense de Seguro Social (Caja) is open to both citizens and foreign legal residents. It gives you access to the nationwide network of clinics and hospitals for a low monthly fee based on income, ranging from about $50 to $100 per person for retirees with pensionado status. Pay your fee and pay nothing more for doctor and specialist visits, testing, prescriptions, and surgery.
"The Caja healthcare system here is based on a percentage of your declared income," explains Stephen Day who has lived in Costa Rica with his wife, Chris, since 2018. "Ours is calculated on my Social Security payment and works out to $48 per month. That's for both of us. I had Medicare in the U.S., but back there, Chris was paying $500 a month just for her insurance, with a really high co-pay."
Even when they supplement their Caja with private options, they still save. "We go to a dermatologist every six months," Chris says. "That costs $100, but that's for both of us. And we go to the dentist twice-yearly too for cleaning and checkup. That works out about $100 a time, too. But we pay nothing at all for blood tests and diagnostics at the Caja clinic every six months, and all our meds are paid for on the Caja system."
Because there are often wait times for non-emergencies in the Caja system, many expats also use private providers, which can be found in every region, though the best facilities are in the Central Valley. You can use insurance. But even if you pay cash, it's affordable because procedures—even major surgeries—in the private system cost a third to a quarter of what they would in the U.S.
Grecia: Rural Life and an Ideal Climate
Thanks to the mild climate (never too hot, never too cold), convenience, and tranquil vibe, Costa Rica's Central Valley is one of the most popular regions of the country for retirees. This mountainous interior region surrounds the capital of San José and encompasses most of the country's biggest towns and cities. So, you have the most developed services like medical care (the best hospitals and most specialists) and the best cultural activities (museums, music, and theater).
It's also where you'll find the best shopping in the country. Walmart, PriceSmart (similar to Costco), and AutoMercado have plenty of imported foods from the U.S. and around the world.
But the Central Valley isn't just one big urban area. Get outside San José and the wider metro area, and you'll find plenty of small, rural towns. This region is vital agriculturally, growing coffee and sugarcane, and there are also national parks and protected areas of untouched forests, lush hillsides, and dramatic river valleys.
Expats tend to live well outside San José. They are most often in homes in the countryside, in small towns and villages, like the town of Grecia.
Judy Burnham, from California's Marin County, has lived in Grecia since 2011. Judy, who worked in the tech industry, as well as in a vet's office, first visited for a much-needed break.
"Being here gave me such a peaceful feeling inside. Within a half-hour I knew I wanted to live here," recalls Judy. "People here are amazing…very friendly."
Judy rents a two-bedroom home, with a huge garden, for $450 a month. It's a launching point for lunch dates and shopping trips in town, visiting friends' homes, and parties.
Every week, she loads up on fresh fruits and veggies, eggs, and local coffee too, from the feria (market), spending about $10. "It's been super-healthy for me to live here. I don't eat as much processed food," says Judy, who notes that the cost of living has gone up since she arrived but that she still finds it to be reasonable.
A huge draw for expats to this region is the climate. With the elevation starting at around 3,000 feet, this means mild temps year-round. Days are in the mid 70s to mid 80s F. It drops into the 60s F, even 50s F at night—just enough for a sweater and a cozy blanket on the bed.
With little tourism, Grecia is one of the most wallet-friendly towns in the country. You pay local prices at restaurants and real estate is affordable too. Homes run from quite basic to very elaborate. One of the most desirable features is a mountain or valley view. Expect to pay about $1,000 a month and up to rent a nice, furnished two- or three-bedroom home. You can find plenty of attractive homes for under $200,000…even under $150,000. For listings, see: american-european.net.
Because tourists rarely visit this region, you'll find that fewer people speak English and things aren't as "set up" for foreigners. But it's a great place to practice your Spanish and immerse yourself in traditional tico culture.
Get Your Free Costa Rica Report Here:
Learn more about Costa Rica and other countries in our daily postcard e-letter. Simply enter your email address below and we'll send you a FREE REPORT – Costa Rica: The Land of Pura Vida
This special guide covers real estate, retirement and more in Costa Rica and is yours free when you sign up for our IL postcards below.
A Tranquil Life Around Lake Arenal
A lake like this in the U.S. would be overrun by powerboats. But here, just a few ferries, kayaks, and windsurfers ply its waters. It's an incredibly peaceful place. This is Lake Arenal, about three hours northwest from San José. Its namesake 5,479-foot cone volcano looms above the 33-square-mile lake's eastern shore.
A lack of development on the green hills that slope gently down to the water, give Arenal a pastoral vibe. By law, you can't actually build on the lake shore. No large marinas, no high-rise buildings, no big resorts. Just traditional villages and homes, often in small gated communities. The most desirable homes have panoramic views of the lake.
Stephen and Chris Day have an active life on the lake. They go on long walks with their five dogs, Stephen teaches English online and writes books and short stories, while Chris works online as a consultant to restaurants and people interested in plant-based diet options. They also work at caring for the 30 fruit trees and other plants on their property, which they bought when they moved to Arenal in 2018.
"We bought one-and-a-half acres of land overlooking the lake," Stephen says. "We couldn't find a house that was exactly what we wanted, so we looked into building." Their home is bright, custom-built to their needs, and because of the microclimate on the north section of Lake Arenal where it's situated, they never need any sort of central heating or air conditioning.
"We wanted something with lots of outdoor space. One-third of the house is covered porch space, for sitting out and watching the volcano. It's got three bedrooms, two bathrooms, and a large kitchen."
The main village on the lake is Nuevo Arenal, on the western end. Most expats here are concentrated on either side of this town, although you'll find them on the southern shore, in and around the villages of San Luis and Tronadora as well. Tilanán is the region's main commercial center, with health clinics and banks.
Lake-view homes around Lake Arenal go from about $300,000 and up. Though right now, there's a three-bedroom, recently renovated home on 2.2 acres of land, just outside Nuevo Arenal, with an asking price of $289,000 (see: moranlakearenal. com). Homes without views of the lake tend to run around $250,000.
Get Off-The-Beaten-Path On The Caribbean Coast
Settled by Jamaican and other Caribbean peoples more than 100 years ago, Costa Rica's Caribbean Coast has a distinct "island" vibe…reggae music pumping out of beach bars and a food culture that leans on coconut milk and seasoning and spices not used elsewhere in Costa Rica.
Despite its natural beauty, the Caribbean Coast has avoided much development. The government focused tourism efforts—and investment—over on the Pacific Coast. Here on the Caribbean, you'll find small fishing villages with shops, restaurants, cafés, yoga studios, and bars—most of them open-air. This area tends to attract off-beat characters and bohemian types.
To the south of the port city of Limón, you have towns like Cahuita, on the doorstep of an important national park, as well as Puerto Viejo de Talamanca, the main town in the region. From here, it's easy enough to get to the beaches like Playa Negra, Playa Cocles (great surfing), Playa Chiquita, Punta Uva, and Manzanillo (ideal for snorkeling).
Puerto Viejo is where you have essential services, like the largest supermarkets (which aren't that big), banks, and medical clinics. Every Saturday, locals and expats sell organic produce, chocolate made from local cacao, and homemade foods at the farmers' market.
Mel Rhoden found this the perfect setting when she moved her life and business to this region of Costa Rica in March 2021.
"I was tired of the direction the U.S. is headed in," she says. "I traveled around and eventually found myself on the Caribbean coast and thought, 'This is it.' I start each day with a combination of yoga and meditation, and then head into the workday. Some days I teach yoga in the morning, and then I'll work from home or head into town to a co-working space or coffee shop/restaurant," says Mel.
When her time is her own, Mel says, "I'll meet up with friends for beach time, happy hour, or dinner and then head home just in time to watch the howler monkeys climb the trees and eat leaves," she says. "On weekends, I make it a point to get to the farmers' market, brunch with friends, and hit the beach."
Most expats live in the jungle, inland from the water, but walking distance to the beach. When exploring real estate on this coast, be aware that much of the land is national park or indigenous reserve. That means sketchy title issues for some lots, even for already built homes. Be sure to have an attorney conduct thorough due diligence on any property you're interested in buying.
If you need specialized medical care or require emergency treatment, this isn't the best place to consider. The nearest medical facilities of any size will be in Limón, about an hour north of Puerto Viejo. It's another few hours to get to San José, to the country's top hospitals.
For this and the lack of other conveniences, some people just find the Caribbean too rough around the edges. So, it's not for everybody. But if you really want to get away from it all, the Caribbean Coast
Get Your Free Costa Rica Report Here:
Learn more about Costa Rica and other countries in our daily postcard e-letter. Simply enter your email address below and we'll send you a FREE REPORT – Costa Rica: The Land of Pura Vida
This special guide covers real estate, retirement and more in Costa Rica and is yours free when you sign up for our IL postcards below.
Related Articles
Best Places to Live in Costa Rica: Five Top Expat Havens
In Photos: The Top 5 Beaches in Costa Rica
Is It Safe to Live Costa Rica – Expat Safety
Popular Articles You May Also Like