Ecuador's colonial cities of Quito and Cuenca have captured the hearts of many expats looking for a more relaxed style of life. But I've discovered a city, often overlooked, that is one of Ecuador's hidden gems and is perfect for my active lifestyle.
Guayaquil is a port and the country's largest city. It's got a reputation for business and industry…but that's not the place that I have come to know and love over the past few years.
Just like its highland counterparts, Guayaquil has a flourishing culture that seems to grow every year. Whenever possible, I try to head down to the Malecon 2000 boardwalk to enjoy a fun night on the town. That includes anything from having a friendly caricature artist interpreting my likeness to catching a movie in English (with Spanish subtitles) at one of South America's first IMAX cinemas.
Recently as I strolled down the malecon, I was lucky enough to catch a free dance show that featured no less than five of the city's dance academies. Dancers of all ages, in vibrant costumes, were celebrating how the unique "Guayas" culture has evolved over centuries, as each new ethnic group blends into this metropolitan melting pot.
When I'm ready to turn in for the night, I take a taxi just across the river to my suburban paradise in Samborondon. Here, I live comfortably in my high-rise apartment, which I rent for $850 a month. That's on the upper end of rental costs but my building has a gym, a Jacuzzi, a steam room, and it's right next to two modern malls and a plaza with some of the best restaurants in the city.
A bit farther down the road, my friend and her husband rent a house for less than $400 a month. When the sun comes out, they take a dip in their own backyard pool…and in Guayaquil, the sun is always out.
One of the best parts of living here is the fresh food. A warm croissant costs 10 cents and the seafood is as fresh as it gets. Fish often goes right from the water to the plate. Before I came to Guayaquil, I never really enjoyed crab, but the local "Cangrejo Criollo" got me. It's a Creole-style crab, boiled in a beer-based garlic sauce and served with rice and plantains. During soccer matches, I can usually find a great all-you-can-eat deal for around $10, but I've never paid more than $15 for a full plate of four big crabs.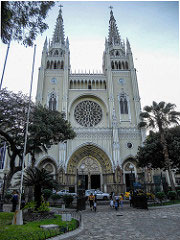 Now I make sure to go to a seafood restaurant at least once a month. And nothing is frozen (unless of course there's so much delicious food that I want to save some for later).
Whenever I want to escape the urban jungle, there are plenty of opportunities to get away. The sun-kissed, golden beaches of the coast are just 90 minutes away by bus.
I like the quiet town of Playas, but every once in a while, I'll head a bit farther up the coast to Montañita, where the only things better than the eternal beach-party atmosphere are the chilled, $3, tropical cocktails.
Another favorite getaway of mine is Naranjal, home of the Trail of Seven Waterfalls or Las Siete Cascadas. For just $15 and a quick bus ride into the foothills of the Andes, my friends and I have gone swimming in the crisp mountain streams and hiked up the winding dirt trails. My explorer's heart feels right at home in the lush tropical forests.
Guayaquil offers the perfect balance of the excitement of the city while also having access to the other beautiful corners of the country…there really is nowhere else quite like it.
Get Your Free Ecuador Report Here:
Learn more about Ecuador and other countries in our daily postcard e-letter.
Simply enter your email address below and we'll send you a FREE REPORT – Ecuador: Live Like Royalty on Your Social Security.
This special guide covers real estate, retirement and more in Ecuador and is yours free when you sign up for our postcards below.
Get Your Free Report Here