If you want to spend a summer pottering in a quirky cottage garden tucked away in Irish hill country, with the prospect of a cool pint of Guinness and an evening in the local pub ahead…then it's easy.
To stay 90 days in Ireland if you're a U.S. citizen, just get a round-trip ticket and get off the plane. Your passport gets stamped and hey presto. Your Irish adventure has begun.
Want to stay longer? Here's 4 Ways you could attain an Irish Passport:
1. Tap Your Irish Blood
An Irish passport is a good thing to have. If either parent was an Irish citizen at the time of your birth, then no matter where you were born, you're entitled to Irish citizenship. Even if both you and your parents were born outside of Ireland, but one of your grandparents was born there, then claiming citizenship is simple.
And in two circumstances a great-grandchild can apply for Irish citizenship by descent. In both cases, one of the child's parents must be the grandchild of an Irish-born person. In addition, that parent must have been officially registered in the "Foreign Birth Register." This is a list of Irish born abroad who are entitled to citizenship because their births were officially "registered." You can learn how to register from this webpage of the Irish Department of Foreign Affairs.
The first circumstance that qualifies is when the great-grandchild's parent was registered before the child's birth. The second circumstance is when the great-grandchild's parent was registered before June 30, 1986, and the great-grandchild was born after July 17, 1956.
2. Meet the Bureaucrats
Irish officialdom can be very bureaucratic. If you want to stay past the 90-day limit and you don't have Irish blood, then your best option is "Stamp 0."
Stamp 0 was introduced in 2011. The Irish National Immigration Service (INIS) describes it as a "low-level immigration permission that allows a person to remain lawfully in Ireland for a specific temporary and limited purpose." Implementation is vague and information is contradictory. I suspect these folks have been figuring it out as they go along.
Problem is, that means so have the rest of us. This lack of clarity has even led to some U.S. expats living in Ireland being asked to leave. Some of them had already bought property in Ireland.
Don't treat Stamp 0 as a route to permanent residence and/or eventual citizenship. If you meet the criteria, you get what's called "permission to remain" for a year. Toward the end of that year you can apply for a renewal. To qualify, first you need to prove that you are "self-sufficient."
Officially, that means €50,000 (around $56,000 at time of writing) per person a year, plus a sizable lump sum (the equivalent of "the price of a dwelling in the State," in the words of the INIS) to cover major, unexpected expenses. Essentially, the amount required is at the INIS's discretion…and it needs to be satisfied you won't cost the Irish government anything.
Everyone is assessed "case by case." I know of expats given Stamp 0 who didn't have €50,000 when they came, but who had a significant lump sum: close to double the cost of a "dwelling in the State." However, it seems the INIS is getting stricter with the criteria. In addition, you need comprehensive medical insurance taken out in Ireland, and your financial documentation must be certified by an Irish accounting firm. Again, I know of expats who never needed to have an accountant certify their accounts for the INIS. But to make sure that your application is successful, be prepared to get this done.
To apply for a one-year renewal, submit up-to-date documents proving that your circumstances have not changed. This renewal process could continue indefinitely. But some expats have been told that, after five years of renewing annually, you may be offered a five-year permission.
You can apply either before you come to Ireland or once you get there. There's no application fee. And the application must include: your reason for the request; a complete copy of your passport; any Irish associations you have; evidence of your finances (certified); evidence of private medical insurance, with full coverage in private hospitals; a police clearance certificate for you from your country of origin; and a health declaration. For queries, email: [email protected]. You'll find more details on Inis.gov.ie.
3. Cough up Cash
In 2012, with the economy in tatters, Ireland began offering investor visas. It's now under review, but for the moment, it's still a route to long-term residence. For between €500,000 (around $559,000) and €2 million ($2.23 million) you can take this route, and you and your family can remain in Ireland for up to five years with the possibility of applying to stay longer. For queries, email: [email protected].
4. Get married
This is the most drastic route to citizenship, but it's possibly more fun than investing or researching the family tree. If you do find love with a handsome Irish farmer or his flame-haired and freckled sister, here's the scoop on applying for citizenship: You must be married for at least three years and have one year of "continuous residence" in Ireland immediately before your application. And you must have been living in Ireland for at least two of the four years before the one year of continuous residence. Get a start on your search for "the one" at Ireland's famous Matchmaking Festival in County Clare.
Where to Live in Ireland: A Variety of Counties to Choose From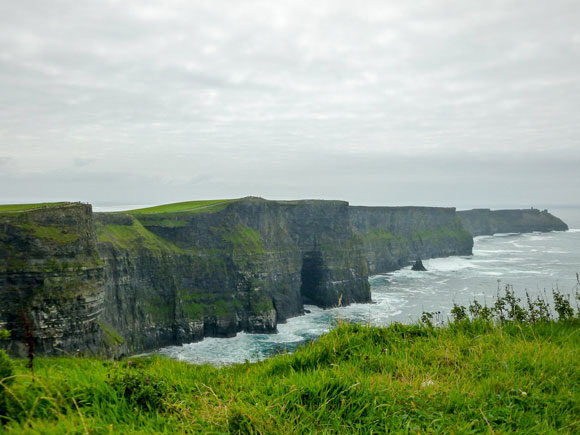 On a sunny day, Ireland is the most beautiful country in the world. Bog flowers bloom, lush meadows invite you to hop their lichen-covered stone walls, and the seas of Europe's Celtic fringe take on the character of the Greek Aegean: shimmering turquoise, blue, and aquamarine.
Nowhere on earth is better to be. And being here is easy…especially in the summer months, when daylight stretches toward 11 p.m. and birdsong heralds twilight.
Yes, rain can fall at any time of day, any time of year. But the Irish weather is not something to endure. It's to be embraced. The Atlantic weather has shaped the land and its people. It's the reason those fields are emerald-green and hillsides blaze purple with heather.
This small island packs a lot. It's one of the most geologically diverse regions of the world for its size. You can have your morning tramp on a mountain trail and an afternoon on the beach or in a city museum. You can drive the length of the country in six hours or so—north to south. Less than four hours will take you from the famed Cliffs of Moher, on the west coast, to a vast stretch of sandy beach close to the capital, Dublin, on the eastern seaboard.
Despite the onset of modernity, the Irish still take time to talk, and they're good at it. This may just be the friendliest country in Europe. It is, after all, called "the Land of a Thousand Welcomes."
"We have family and friends in Mexico who are very welcoming and know how to party, but nobody we have ever met can beat the Irish for warm hearts," says U.S. expat Michael Shepherd. "In Ireland you learn not to ask directions to someplace you want to reach quickly, because anyone you ask wants to know your whole life history!"
Michael and his wife Karin live in the County Clare market town of Ennis. "We pay €800 ($900) for a three-bedroom penthouse apartment in the town center.
It includes maintenance of the building's common areas. We spend less than $100 a month on groceries and eat out once, sometimes twice per week. We have learned that getting by is less related to the 'cost of living' in a country and more to your expected lifestyle."
While by no means Europe's best bang-for-your-buck destination, you can keep your costs down in Ireland. Rents and daily expenses are lower outside the Dublin region, and the more rural the location, the lower the prices.
Rental properties usually come furnished. Most common leases are for one year, but if you're planning to live only part of the year here you'll want places to lease for three months. You will find options. In Ennis, for example, where Michael and Karin live, I found a furnished, one-bedroom apartment in the center renting for €360 ($400) a month.
Michael and Karin decided not to buy a car; instead, they rent one for three or four days a month. Their base of Ennis is well connected to all major cities in Ireland by bus and train. Shannon Airport is 15 minutes from town, with daily flights to Europe and to U.S. destinations.
"When we want a change of pace, we take the bus to the coast, about 45 minutes away, or the train to Galway or Limerick, about 60 minutes away. We intend to join a few cultural groups and start some sort of a game night, as we like to play table games. I hope to join a men's golf club," says Michael.
That highlights another major benefit of Ireland: Folks speak English. "I chose Ireland because I thought there'd be no language barrier," says Jane Lewis. Ever since she was a kid, Europe has fascinated Jane. Originally from the Midwest, Jane wanted to live somewhere with easy access to Europe when she retired.
So where exactly in Ireland makes the best place for you…?
The West: Traditional Ireland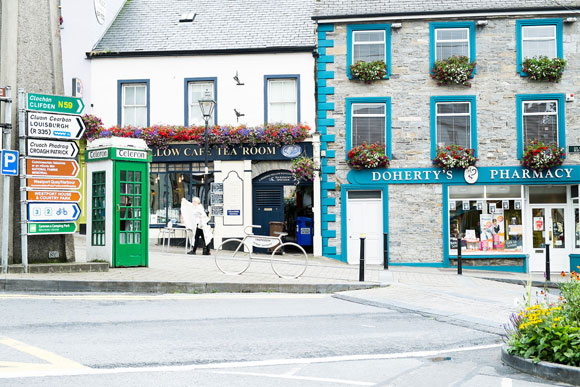 Ireland is a bit like a saucer, with mountains around the coast and low-lying plains in the middle. The most dramatic mountains are in the west—one of the reasons that the west and southwest get more rainfall than elsewhere in the country. These mountains have strange names like the Paps of Anu and the Mullaghareirks. The highest—Carrauntoohil in Kerry—is a modest 3,405 feet. But what they lack in majesty, these Irish peaks deliver in other ways. You'll find some topped with megalithic tombs, their valleys peppered with mysterious black lakes. They are rich in folklore and fairy tales.
The west coast is also where you'll find traditional culture at its most obvious and intact. The rugged landscapes made conquest difficult, and English law and customs never penetrated as deeply as they did in the east, around Dublin.
Called "the City of the Tribes," Galway is a university town known throughout Ireland as a center for the arts. With numerous festivals (especially in the summer), theater companies, and plenty of venues and pubs, it's a perfect place to immerse yourself in Irish life. Galway has an attractive harbor and a promenade. It also fringes Ireland's second-largest lake, Lough Corrib, where the locals say you'll find an island for every day of the year.
Go north of Galway City and you are in wild Connemara. This is rugged lake country, perfect for fishermen and wannabe poets. A smattering of expats has settled in the villages of Clonbur and Cong.
On the northern edge of Connemara is the thriving town of Westport, in County Mayo. This is the perfect base for striking out into the countryside, while still having the conveniences of a town. You'll find a cinema, a swimming pool, supermarkets, and a train to Dublin, three hours and 20 minutes. (Book rail tickets in Ireland online for substantially lower fares. See: Irishrail.ie.)
Westport is a good place to wander from pub to pub, finding traditional music played and sung in each—not for the tourists, but for anyone who'll listen.
The Southwest: Stunning Irish Scenery

Official statistics tell us that a quarter of North American visitors to Ireland go to the southwest. It's easy to see why…the scenery is stunning. This is where you can drive the 111-mile "Ring of Kerry" around the Iveragh Peninsula, see the Lakes of Killarney, hike through ancient oak and yew forests, and find as much history and culture as anywhere else on the island.
I find the summer crowds in Kerry a little too much. But if your heart is set on a Ring of Kerry town, try Kenmare. Its colorful, compact townscape attracts expats in search of a slower paced life. You can get a taste of the town at Kenmare.ie.
Looking for a piece of Ireland to truly call your own? I first passed through the Muskerry region of central County Cork while on a long-distance hike using Ireland's walking trails. It's a Gaelic-speaking area, and within a day I had met the most colorful characters of my Irish travels. Twice, complete strangers stopped to offer me a ride and soon became friendly native guides. It took an hour to escape conversation in the village shop in Ballingeary.
Quiet Isles, the Cultured Southeast, and a Lively European Capital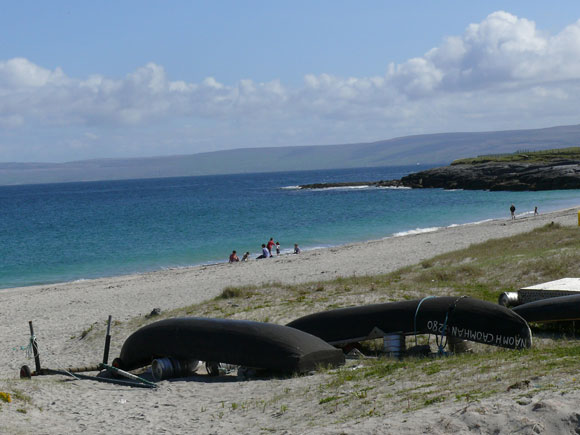 If you need to escape, Ireland is for you. Just drive, cycle, or walk in any direction and pretty soon you'll come upon some green fields. But if you really want some peace and quiet, consider an island off the coast.
Ireland's western coastline is dotted with inhabited islands connected by ferry. The most famous are the Aran Islands, off the Clare-Galway coast, linked by fast ferry (around 40 minutes, $28 roundtrip) from Rossaveal in County Galway. The islands see a glut of tourists in summer, and while worth a visit, they aren't the best choice for your wild Atlantic lifestyle. Instead, head north to County Donegal, where 15 minutes on a ferry from Burtonport take you to Arranmore Island. Six pubs, no police, two lakes stocked with trout, and amazing views of the mainland and the North Atlantic.
Ireland missed out on much of the Industrial Revolution—one of the reasons it's still such a pastoral place. The old market town was long the lynchpin of the country's agricultural economy. You'll pass through many as you tour the country. The days of bustle and commerce have passed for many of them, but some have found new niches.
Like Thomastown, for instance. Crumbling Norman fortifications and a sleepy river are found in many Irish towns, but few also boast a chocolate boutique, a bistro, design stores, and a craft school. And it's less than two hours by train from Dublin. I lived there for a year and loved it. It's an artsy place, set amid the wooded valley of the River Nore. The Aircoach to Dublin airport stops here. The 18-hole parkland golf course of Mount Juliet is a mile from town. And the beaches and coves of Waterford are under an hour away.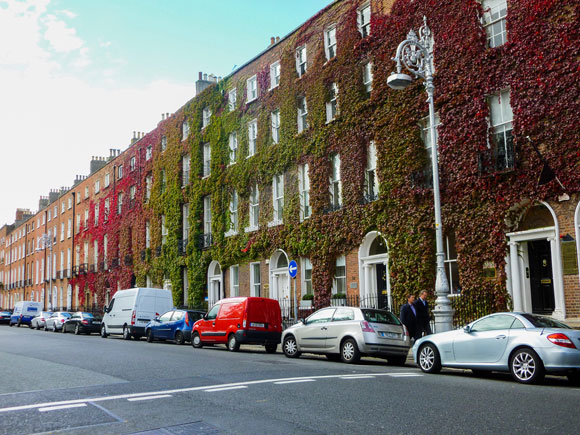 Another place I've lived is the capital, Dublin. Don't visit Ireland and miss it. I once heard it described as a British city occupied by Irish people, and if you like Georgian-era architecture, that's an apt description. In the late 18th century it was the second city in the British empire; money poured in and was used for grand public buildings and lavish private mansions. It's the most expensive place to live in Ireland—over $1,800 a month to rent a modest city-center apartment on a short-term lease—but the restaurants are good, the nightlife exceptional, and it's one of Europe's most fun capitals.
Get Your Free Ireland Report Here:
Learn more about Ireland and other countries in our daily postcard e-letter.
Simply enter your email address below and we'll send you a FREE report – Affordable Ireland – The Land of Saints and Scholars Goes on Sale.
This special guide covers real estate, retirement and more in Ireland and is yours free when you sign up for our IL postcards below.

Get Your Free Report Here