Not long ago I found myself suffering a major sinus infection. My head was pounding and I had a cough that kept me (and my husband) awake all night…I was exhausted.
Nothing I was taking over-the-counter was helping. I needed to see a doctor. Unfortunately, I was visiting the States.
At the doctor's office in Omaha, I got right in. I did the interview with the nurse about my prior health history and what my symptoms were. She took my temperature and asked me to sign a release stating they could look down my throat with a scope. Apparently this is considered a "surgical" procedure. I assume that's either for liability issues or so they can charge insurance companies more.
The physician's assistant came in and looked me over. He flushed out my ears and sent me for a head x-ray. The doctor then came in to perform my "surgery" which took all of 60 seconds. The x-rays showed my sinuses were completely blocked.
I was soon on my way with a couple of prescriptions.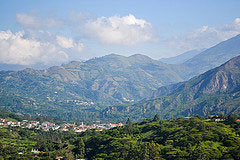 The pharmacy was where the shock really began to take hold. Those two prescriptions…a month's supply of one and a three-week supply of another…cost me more than $350.
Now, I do have health insurance, but with a high deductible that I never meet in a year, as I am typically very healthy.
And while I've not yet received the bill for the doctor's visit, I expect it to be somewhere in the $500 range. Maybe even more, thanks to the x-ray and my "surgery."
Here's the rub: in Ecuador where I live, I would have paid maybe $50 at the most for the doctor's visit. The scoping would not have been any extra cost. The x-ray would have cost me $20 or less. And the prescriptions…well, I'm fairly certain I would not have spent more than $50 for the both of them together. (One is an antibiotic that you can buy over the counter anywhere in Latin America.)
So let's compare my costs: $850 (or more) in the States vs. $120 (or less) in Ecuador.
If I ever get another sinus infection or have any other kind of health issue, I know where I hope I will be.
Here are a few more cost comparisons…
A one-month supply of a typical blood pressure medication costs an average $32.50 in the U.S. and $8.25 in Ecuador.
A one-month supply of allopurinol (used to treat gout) costs anywhere from $11 to $30 in the States and $2.85 in Ecuador.
Friends who take several medications say this is typical. By buying them in Ecuador, they save as much as 65% on the medications they take, they say.
The same is true all over Latin America… and in Europe and South East Asia, too.
My advice: If the cost of healthcare is killing you, consider a move to a place where the quality of care is high and costs are more affordable.
Get Your Free Ecuador Report Here:
Learn more about Ecuador and other countries in our daily postcard e-letter.
Simply enter your email address below and we'll send you a FREE REPORT – Ecuador: Live Like Royalty on Your Social Security.
This special guide covers real estate, retirement and more in Ecuador and is yours free when you sign up for our postcards below.
Get Your Free Report Here