It's Friday evening, nearly 5 p.m., and the Lady Leslie feels as eager to slip its bonds and head to sea as we, its passengers, do.
This is, after all, a sunset cruise, and the ostensible reason for our sail seems to be too rapidly slipping toward the western horizon of Ambergris Caye, the Belizean island on which we all live.
There are about a dozen of us on board, all expats who have staked a claim in tropical island living. We gather on the fore section of this 38-foot catamaran, on beanbag chairs and a comfortable webbed trampoline, perfect for stretching out as the blue-green Caribbean slips past beneath us.
Among us are a family of four from Canada who recently bought a large beach house north of town, an English couple who have lived and worked on the island for at least seven years, and a recently retired couple from Los Angeles who are renting south of San Pedro Town as their fourth-floor condo is being built.
We've gathered to say goodbye to our mutual friends Chunky and Ruthie who leave in a couple of days for their other home in Minnesota. Chunky and Ruthie got in on the "ground floor" of the expat migration to Belize 15 years ago when they bought a one-bedroom condo right on the beach.
For years they came to visit on vacation and rented their unit out the rest of the year. When it came time to retire, they decided to live the six fall/winter months on Ambergris Caye and the six spring/summer months in St. Paul—some say the best six months of each.
One-Bedroom Condos from $800
(Though Chunky and Ruthie got in early, rest assured: there are still affordable homes to be rented here. One-bedroom condos with a view are currently to be had for around $800 to $900 a month. For a two-bedroom with a Caribbean view, you can expect to pay $1,100 and up. These are almost always furnished and include some utilities. Go inland a little, and you can find a one-bedroom apartment in a small complex in town to rent from $500 a month.)
Our boat ride also marks the end of high season on the island, as weather in the States and Canada improve. The visitors who come here now are mostly fishermen, honeymooners, bargain-hunters, and barrier reef diving aficionados.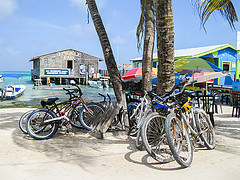 The beachside bars and restaurants are less crowded, the traffic is calmer, and the pace of life once again falls back into the gentle island tempos. Ironically, the weather is probably the most spectacular you will experience all year. Blue sun-drenched skies and temperatures in the high-80s are tempered by a near constant breeze from the north/northwest that blows night and day.
It's on this breeze that we chart our course south, running close up on the barrier reef and parallel to it, chasing the setting sun on the horizon. As we reminisce over the past six months, Ricky and Jody, our crew, keeps us well supplied with rum punch, Belikin beer, and sodas. Periodically, trays of chips and ceviche, sushi, coconut pies, and more appear and follow the conversation around the boat.
The weather is pitch perfect and the sunset has just enough clouds around it to provide a dramatic and colorful exit.
On the return leg north, we enter a friendly "race" with two other catamarans from the island. They are out on the same adventure. Frigate birds soar and hover above us in the slipstream of our canvas sails.
Ah, but the night is hardly over. This is also the debut night of the full moon and that amber orb is just making its appearance over the barrier reef to the east as San Pedro's twinkling lights loom to the west. It will be another hour of oohs and ahs as we tack gently into the cool breeze.
Sunset cruises are special-occasion events here, happening perhaps once every month or two. Expats are more likely to gather at a local beach bar for a night of cribbage, trivia contests, or darts. The health-conscious among us might kayak out to the reef, stand-up paddle, snorkel, or join a yoga or Pilates class. Every morning I watch many of the same expats take their daily walk up and down the beach of this 24-mile long island.
Bicycling home in the dark from the Lady Leslie cruise, I wend my way through the parade of locals and expats out for a cool-evening beach stroll. After more than a year here on the island, I recognize so many of them.
We wave, we smile, and nod, and I am overwhelmed with gratitude that I am able to live out my retirement years on the tropical island of Ambergris Caye.

Related Articles
Belize Visa and Residence Information
5 places to live in Belize and 2 to Avoid
Rent in Belize From $350 a Month