I am a bad traveler.
That may seem like a strange admission to make for an expat. Travel is, after all, part of the deal…you can't really live abroad without traveling—at least to the country in which you plan to settle.
And to be sure, I love to see and experience other towns, cities, beaches, mountains…the lure of foreign lands and exotic adventures has not diminished for me during my years abroad.
It's just getting back and forth to these places that takes the wind out of my sails.
I've packed so many bags, folded myself into so many cabs, stood in line at so many airports, stuffed myself into so many airline seats, waited on so many benches in so many bus terminals…
Listen to me complaining about having to travel the world.
I know…it's the dream lifestyle for many people. And in truth, it's my ideal existence as well. I would not trade a minute of my time exploring the world as an expat for any other way of life.
But I also have to admit that the actual act of traveling no longer holds the same thrill it once did for me.
Something strange happened when my knees became creakier, my patience became shorter, my eyesight became cloudier, and my back became stiffer.
It seems that, exactly at the same time, cabs became tinier, ticket lines became longer, printing and signage became smaller, and airplane seats became torture devices.
By this you can tell that I'm old enough to remember when the act of travel was an exotic adventure in and of itself…back when folks dressed up in something other than sweatpants and t-shirts to fly. When cabs were real sedans instead of four-door go-carts. When actual, happy humans processed your plane tickets, and carry-on bags weren't intended to be the only luggage you carried. When you spent the lion's share of your time in an airport sipping scotch with fellow travelers in a conversation-filled lounge instead of disrobing in front of them and pushing yourself and all your belongings through an x-ray machine.
When I travel these days, I can hardly wait for the trip to be over.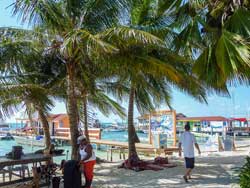 I suppose that's why I'm so enamored of neighborhoods now…by which I mean a section of a city or town in which you can find all essential services within walking distance. Cafes, bars, restaurants, tailors, shoe-repair shops, bakers, butchers, green grocers, all around a corner or two.
These are my favorite places to live, and unfortunately they are getting hard to find in much of the U.S. Automobile culture has made the kinds of walking neighborhoods I prefer to live in few and far between in my home country. Getting by without a car isn't just a challenge in the U.S.—it's almost considered deviant behavior.
Fortunately, this is not the case in much of the rest of the world, and my wife, Suzan, and I have spent many of our years abroad living in some of the most picturesque and easy-to-manage neighborhoods on the planet.
We live in one right now in Cotacachi, Ecuador. We can walk from one end of town to the other and back in half an hour, and in between we can find everything we need. It's so convenient that we've happily been without a car for years.
This, to me, is the ideal lifestyle, and it is still the norm in many places around the world. And one of these days, I'm going to leave the traveling part of finding these places to the young and the flexible and the patient.
One of these days. Hasn't happened yet, though. There are still too many likely candidates for livable neighborhoods to explore…enough to allow me, for a while longer, to endure the indignities and sore muscles and cramped conditions and boredom that much of the process of traveling has become.
Which is why, once I get to a place like Cotacachi or Ajijic or San Miguel de Allende or Boquete or San Pedro on Ambergris Caye it's so hard to get me to leave again.
But I'll still go through a little hell to find another piece of heaven like these places. It's why I travel in the first place.
Get Your Free Report on the World's Best Places to Retire:
Learn more about the best places in the world to retire in our daily postcard e-letter.
Simply enter your email address below to sign up for our free daily postcards and we'll also send you a FREE report on The World's Top 10 Retirement Havens.

Get Your Free Report Here