When my husband Mark and I first decided to move to Cuenca, Ecuador, six years ago it wasn't because of the spring-like weather, the low cost of living, the abundant fruits and vegetables, the proximity to the U.S., or even the picturesque colonial architecture. It was the medical care that drew us to Ecuador.
We were young retirees (age 55) with a pension of $1,317 a month and in the U.S. our medical insurance premiums were going to cost us $1,800 a month, a deductible of $15,000 a year, and no prescription plan. In other words, it was catastrophic health insurance. We would both have to work full-time in order to keep afloat, which wasn't exactly how we wanted to live out our golden years.
After working in health information management for 20 years in the States, I'm still amazed—no, shocked—at the efficiency of the medical system in Ecuador. In fact, a Bloomberg study in 2014 ranked Ecuador #13 in healthcare efficiency…the U.S. came in at #44.
Mark and I belong to IESS (the social security system of Ecuador), which costs us $76.90 a month for both of us ($64.42 for my husband and $12.48 for me as his dependent). With that, we receive free doctor visits, prescriptions, labs, medical tests and procedures, surgery, and hospitalization. There are no co-pays, no deductibles to be met, and no lengthy forms to fill out. And we can even make our appointments online with the doctor of our choosing.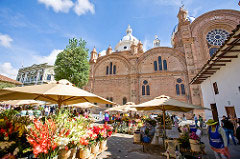 We also have the choice of seeing our own private physicians. Some of our private doctors also work at the IESS hospital, so it's a win-win situation. In the U.S., I had to wait months to see a dermatologist, but in Cuenca I have my own private skin care doctor. I show up at 8:30 a.m. at his office and I'm seen at 9 a.m. The cost is $35 for a visit, but that also includes a free follow-up and unlike at home, you see an M.D., not a physician's assistant or nurse practitioner.
There have been times when I've needed to see a doctor on the same day or over the weekend when there weren't office hours—like a Sunday. No problem…I have all my doctors' private cellphone numbers. Can you believe that? Doctors still make house calls in Ecuador.
Having lived internationally for most of my life, including Italy and Japan, I can say that Cuenca has some of the finest trained doctors and state-of-the art hospitals that I've seen anywhere. Many of the doctors in Ecuador have been trained in the States, Mexico, or Argentina and are considered some of the best in their field. And as an added perk, many of them speak English.
There are also private medical insurance companies in Ecuador, but many require lengthy forms and long reimbursement turnaround. The medical costs are so reasonable in Cuenca that we just put a certain amount aside each month and pay out of pocket when we want to see one of our private physicians.
We're so spoiled with the medical system in Ecuador that we absolutely could never go back to the U.S. If we came to Cuenca for one reason—and one reason only—it would have to be the healthcare, which is by far the best we've experienced anywhere in the world.
Get Your Free Ecuador Report Here:
Learn more about Ecuador and other countries in our daily postcard e-letter.
Simply enter your email address below and we'll send you a FREE REPORT – Ecuador: Live Like Royalty on Your Social Security.
This special guide covers real estate, retirement and more in Ecuador and is yours free when you sign up for our postcards below.

Get Your Free Report Here