It's that time of year again—the birds are singing, love is in the air, and hopeless husbands are trawling gas stations for that last bunch of flowers. It must be Valentine's Day—that special day when you spoil the one you love, devote your attention to one another, and escape momentarily from the humdrum of everyday routine.
It can be a wonderful time, no matter where you are, but it's undeniable that some locations have a certain je ne sais quoi that adds that something special to the occasion. This year, we're running down the most romantic locations on our beat—great places to visit with your loved one or to strike out and find love anew.
Costa Rica: Immerse Yourself in Nature
You watch the sun sink below the horizon, splashes of purple, blue, orange, and yellow filling up the sky, with the glittering Pacific Ocean below. Light sea breezes keep things cool as you sip a glass of wine on your terrace. The sounds of the jungle and distant bird calls are your soundtrack for a romantic evening at home.
You're in Costa Rica's Southern Zone. It's full of natural beauty. With little large-scale development—no big towns, no large resorts, no condo towers on the water—and several protected national parks and wildlife reserves, the area remains quiet and free of large amounts of tourists. When you visit local beaches, you'll likely have the whole place virtually to yourself. Walk hand in hand for miles on golden sands without seeing another soul. Spot leaping dolphins or the tell-tale spout of water from the humpback whales that congregate offshore certain times of year. Set up a double hammock, hung up between two shade-giving palms, and enjoy a cozy afternoon nap.
Most expats live on the hillsides above the water, in homes surrounded by lush rain forest home to sloths, toucans, monkeys, blue morpho butterflies, and more. Your human neighbors are hidden behind foliage and out of earshot. It's the ultimate private retreat.
From your perch 500 feet up, you take in a panoramic view of the surrounding mountains, jungle, and ocean. But despite the unspoiled nature of this relatively isolated area, you're spoiled for choice as far as the venue for a romantic dinner. Some of the best restaurants in Costa Rica are found in one the main villages: Ojochal. You have Asian, Italian, Mexican, French, and more restaurants run by enterprising expats who were either chefs or foodies at home and decided to showcase their culinary traditions in their new home. Linger over a gourmet meal by candlelight any night of the week.
All in all, the Southern Zone is a place for laidback living. It's a quiet and peaceful escape where you can really get away from it all and focus on each other.—Jason Holland
Roatán: Find Love in the Caribbean
There's a place in the Caribbean where love just happens. It doesn't seem to be intentional, in fact, for all the people I know to whom it happened, that arrow from Cupid flew in from nowhere.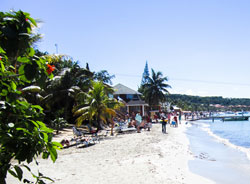 This little rock in the Caribbean Sea sees a steady flow of tourists year-round, bringing new faces to the beaches and more laughter to the beach bars. Add all those tourists into an already eclectic mix of locals and expats, and suddenly it seems that romance is everywhere.
I know a woman who came on vacation and met an expat on the island. She came back a few months later, and each subsequent trip kept her here for longer periods. Last year, they opened up a restaurant together on the island.
Another woman came on vacation and met a local guy. She came back two months later, and again a few months after that, and then moved to the island within the year. They're now planning their wedding.
You might be asking where this romantic paradise can be found. Just hop on a quick flight from Miami, Atlanta, or Houston, and you'll find yourself mesmerized by the stunning beauty that is Isla Roatán.
Roatán boasts one of the most affordable costs of living in the Caribbean, and it is the easiest place to fit in as a new expat. Social gatherings are held daily, new people enter the mix constantly, and love is always floating along through the tropical breeze.
Single expats find Roatán to be an easy place to socialize and to look for potential partners. Although, it always seems to be when you're not looking that it actually happens.
It's not just those two women with a love story in Roatán—there are so many others. And I can personally vouch for the romance of the island.
I arrived in Roatán to spend five days relaxing on the beach. Little did I know that my first day in paradise would be my last day as a single gal. My (now) husband and I chatted on the beach, because everyone in Roatán says hello and starts a conversation. And the rest, as they say, is history. I didn't leave the island four days later. We moved into an apartment on the beach together and we adopted a stray dog. And over three years later, we've just gotten married.—Amanda Walkins
Ecuador: Where Romance Comes Easy
Romance wasn't foremost on our minds when my wife Cynthia and I first visited Ecuador back in July 2009. We had our sights set on Cuenca as a possible retirement location and arrived to spend time looking for red flags that might cause us to search elsewhere. We instead fell in love with Cuenca's charms and left with a firm decision to move there (we returned for good in May 2010).
After days of wandering around an unfamiliar place with a different language and culture we were exhausted, so we decided to splurge and treat ourselves to an overnight stay at Mansion del Angel in Quito to celebrate both the successful journey and our wedding anniversary.
Wow. We immediately felt like guests at Downton Abbey—gorgeous antiques, oriental rugs, and fresh flowers everywhere. Our bed and bathroom sprinkled with red rose petals. Lavish breakfast on the verandah and afternoon tea in the parlor. What a memorable (and romantic) way to end our trip!
I can't claim that such over-the-top experiences are part of our everyday life in Cuenca, but there are plenty of opportunities here to keep the love light burning brightly. The city itself, with beautiful colonial architecture and cobblestone streets in the historic center and a tranquil river separating Old and New Town, offers settings that just beg for a hand-in-hand stroll.
With two dozen fresh-cut roses from nearby greenhouses costing $4 and Ecuador's world famous chocolates for sale all over town, tokens of love aren't reserved for only special occasions. Part of my morning ritual is serving Cynthia a bedside cup of delicious organic coffee grown only hours away.
When the occasion is special Cuenca offers an ever-expanding choice of outstanding restaurants and boutique hotels. Or just outside the city is a fantastic spa with hot springs, mud baths, and an enticing menu of amenities.
Yes, romance is easy in Ecuador. Come for a visit and see if you too fall in love.—Edd Staton
Mexico: Romance on the Riviera Maya
If your notion of a romantic get-a-way includes warm tropical breezes and brilliantly clear, turquoise Caribbean waters lapping onto white sand beaches, few would argue against Mexico's Riviera Maya. This 80-mile stretch of spectacular beach is the Caribbean's most visited vacation destination, and for good reason.
The tiny, picturesque village of Puerto Morelos is among the area's most romantic locations—with its old, picturesque leaning lighthouse and small, colorful fishing boats bobbing a few yards offshore. Accommodations range from basic to luxurious a short distance from the village center and the fresh seafood is amazing everywhere!
This area is also filled with lush, tropical jungles which can be explored by zip line tours, quiet romantic hikes, or bicycles. Underground rivers and springs called cenotes (pronounced say-no-tays) provide opportunities to explore hidden caves for swimming and snorkeling among ancient stalactites and stalagmites as well as secluded nooks for romantic interludes. Holding hands while walking the same paths as ancient Maya lovers, one could easily fall under a romantic spell cast by shamans a millennium ago.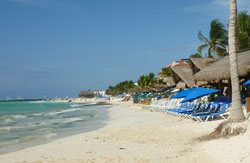 In the city of Playa del Carmen, a local spa offers couples a romantic experience in a secluded hut in the jungle. Bathing in tubs, hand-carved from a Zapote tree and filled with warm water infused with aromatic herbs, awakens the senses. The treatment's special cabin is a place to relive ancient rituals and is intended to guide couples "through a path of love, comprehension, and harmony".
When the sun sets, strike out onto Playa del Carmen's pedestrian-only 5th Avenue, filled with hundreds of cafés, chic restaurants, and street performers. The world's second-largest reef system is just offshore and provides a host of recreational opportunities in crystal-clear waters, including diving, snorkeling, swimming, fishing, boating, parasailing and virtually every other water sport imaginable.—Don Murray
Panama: Chiriquí's Romantic Retreat
For a romantic getaway in Panama's Chiriquí Province you can't do better than the Los Quetzales Eco Lodge. High up in the clouds at the edge of the rainforest, this charming B&B and spa has all you need for a couple's retreat. You'll find it at the end of the road that climbs Barú Volcano, Panama's highest peak, near the boundary of the Volcan Barú National Park.
The main lodge is a two-story wooden structure that almost feels like an alpine lodge, especially when the fireplace is glowing on a chilly night. You'll find a range of accommodation available, including chalets, cabins, large suites and standard hotel rooms—so you can choose whatever you'll find most comfortable for your romantic rendezvous. Breakfast is included and you can enjoy it in the windowed dining room or indulge with a little room service. The restaurant has its own gardens, trout farm, and even a milk cow, so all the meals they serve up are fresh, healthy, and delicious.
Next, get yourself outdoors to take in all the glorious beauty of this natural setting. Guided tours set out each morning and your first stop is the cabin hung with feeders for the hummingbirds that zoom around your head. Choose from hiking, horseback riding, bird-watching, and bicycling to explore the mountain trails. You and your sweetheart may visit a coffee farm, a botanical garden, an archeological site, or just stroll the landscaped gardens alongside the stream. You can be as active or as lazy as you like.
Of course, a Valentine's getaway isn't complete without a visit to the spa, and the experts at Los Quetzales are ready to pamper you. Take a massage or a facial, then relax in the sauna or Jacuzzi. You'll feel rejuvenated and ready for love!—Linda Card
Get Your Free Report on the World's Best Places to Retire Here:
Learn more about the best places in the world to retire in our daily postcard e-letter.
Simply enter your email address below to sign up for our free daily postcards and we'll also send you a FREE report on The World's Top 10 Retirement Havens.
Get Your Free Report Here