When moving to Mexico, many expats find it often makes sense to not have a car. There's the expense of cars for one thing. The paperwork for another. Import fees, registration, buying local, and the expense of fuel all add up to extra complications.
To save money and simplify things, many new expats opt for a car-free life when they first move to Mexico. It especially makes sense for those who choose city life since public transportation is plentiful in every city. The highway system is good, there are well-maintained toll roads, and if you wanted to travel around the entire country by bus it's very manageable.
Within the Riviera Maya traveling by bus is especially easy. This designated stretch of roughly 22 miles from just south of Cancun to south of Tulum is linked by a single highway or carretera.
Taxis, buses, and the shared vans called collectivos, make it easy to get around. The buses are comfortably modern, air-conditioned, and equipped with WiFi. Taxis are plentiful and inexpensive options too in the urban areas. Within Playa del Carmen, for example, they run $3 to $5 to get across town.
Many Mexicans don't have cars and the Riviera Maya is quickly growing so transportation is needed for locals and tourists alike.
Within Playa del Carmen, the hub of the Riviera Maya, there are two bus stations for longer travel (an hour or more), plus the city network of buses, collectivos, and taxis. There is no shortage of transportation options in this fast-growing city.
For reference, Playa del Carmen is roughly one hour to Cancun (to the North) and one hour to Tulum (to the South.)
Getting Around by Regional Bus
The ADO and Mayab are the regional buses perfect for trips around the area. They are clean, air conditioned, have WiFi, and also play movies. Some of them have bathrooms on board.
The ADO does airport runs to the Cancun airport every half hour from 5 a.m. to midnight most days. The cost is about $10. There is another ADO station within the city of Cancun if you wanted to go into town for shopping or entertainment.
It is easiest to buy bus tickets at the station or, if you're at the Cancun airport, from the ticket vendor. Popular destinations from Playa del Carmen are to Tulum, Chetumal, Cancun, Merida, Valladolid, Chichen Itza, and other destinations. Buses depart to these at regular intervals.
You can see the schedule here.
There are two ADO stations in Playa del Carmen. One is at 5th Avenue and Juarez Avenue and one is at 20th Avenue and 12th Street.
It's possible to take the bus all the way to Belize if you wanted. It's roughly 4 hours to Belize from Playa del Carmen.
The Mayab bus service is known as the "second-class" bus service in the area. However, it's still safe, clean, and convenient.
They also run the same routes as the ADO bus. You can find out more about this bus service here.
Riding Playa del Carmen City Buses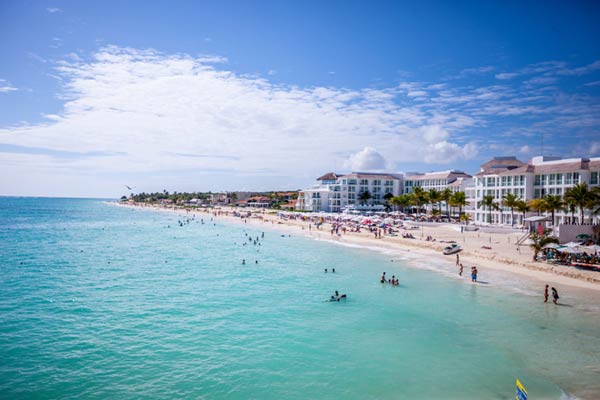 Like the bus routes of any city, these can be circuitous. They're marked with their end destinations on the window shields and written in marker. They're less luxurious than the ADO buses but still have air conditioning.
As they go through town, they sometimes pick up a musician who will entertain the riders for a stop or two and then ask for a tip.
And depending on where you're going, they're efficient. For example,  Avenue is a major artery in the city and it runs several miles. If you wanted to go from 2nd Street and 30th Avenue to 74th Street, the bus system will get you there in about 15 minutes for about 50 cents.
Collectivos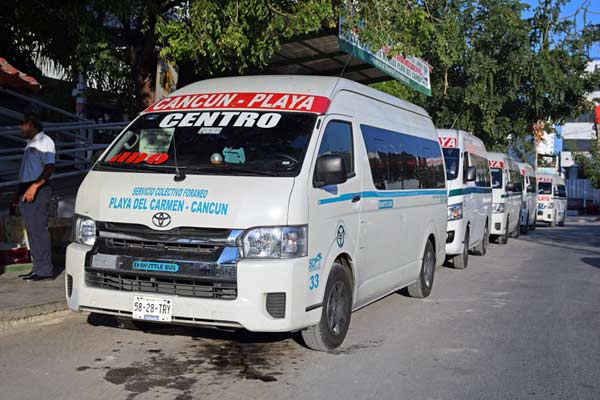 These shared white vans dart around the city and up and down the highway with a sense of purpose. They traverse many of the same routes as the city buses but also go further afield. These smaller, more nimble forms of transportation stop and pick up people by the side of the highway outside of town. Or drop them off.
They are cheaper than the bus and depending on where you're going, may be the best mode of transport. For example, there are beach towns and cenotes (natural springs) on either side of the highway between Playa del Carmen and Tulum (about a 20-mile stretch). The vans are usually more viable options for reaching these destinations than the bus because the bus may not make the stop or be a further walk than you'd like in the tropical heat. The collectivos though, will drop you off right in front provided you tell the driver your destination.
There is a collectivo "station" at 2nd St. and 20th Avenue in Playa del Carmen. Throughout the day, you can find both the collectivos and the people lining up along the sidewalk. The drivers will ask where you're going and point you to the right van. Once they're full, the door is shut and away you go. During peak times, it can take less than 5 minutes to fill up the van.
Around Playa del Carmen, collectivo pricing is 30 to 40 cents, head out of town to Tulum and the pricing is around $2.
The public transportation options in the Mayan Riviera run 5 a.m. to midnight most of the time. Holidays can disrupt service. It's always a good idea to double-check if you're in doubt or absolutely need be somewhere at a specific time (like the airport.)
As you can see, riding the buses in Mexico and the other public transportation options are cheap and plentiful in Mexico and many expats are surprised at the convenience.
Get Your Free Mexico Report Here:
Learn more about Mexico and other countries in our daily postcard e-letter. Simply enter your email address below and we'll send you a free special report - Why Millions of Americans Are Moving to Mexico.
This special guide covers real estate, retirement and more in Mexico and is yours free when you sign up for our postcards below.
Related Articles
Is It Safe to Travel in Mexico?
Your Complete Guide to Cozumel, Mexico
Things to Do in Akumal, Mexico
Upcoming Conferences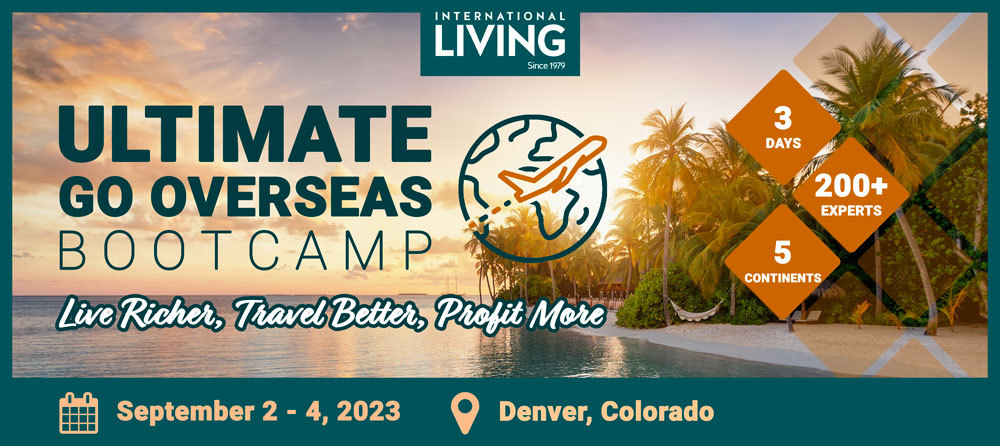 Most Popular Products