Imagine waking up every morning to catch the sun gloriously rising over the shimmering Caribbean Sea…that's exactly how Peter Nolan, and his wife Lesley, begin their days on Ambergris Caye in Belize.
From their second-floor deck, strong cup of tea in hand, they greet each day taking in the sunrise and breathing in fresh, healthy sea air. Any afternoon they can stroll out to the end of the dock near their home and relax under a palapa, with a good book, surrounded by shimmering aquamarine waters.
They often meet their friends under the palapa, where they chat and enjoy the cooling sea breeze. On other days they jump right in and enjoy the crystal-clear, 82-degree water and cavort amongst the brightly colored tropical fish…
Then they head out for a brisk three-mile walk on the sandy beach, at their doorstep below. Some days the Nolans switch it up and drive their golf cart into town for a morning Pilates class. At 60+, they relish their healthy, active lifestyle on a tropical island in Belize.
Peter no longer needs to put in long work hours, or seven-day work-weeks. "The living expenses in Belize are very manageable," he says. "I usually spend one to one-and-a-half hours on work each day (mainly computer work to keep up with clients)."
For 23 years Peter and Lesley lived in Petersburg, Florida, where he owned an insurance brokerage. In 2009, he was offered an irresistible opportunity to move to paradise and accepted the position of CEO for an insurance company in Belize.
After a year he resigned to set up a small insurance practice of his own.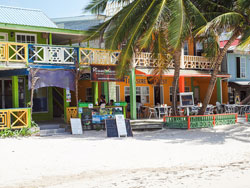 "Nowadays, with my morning work done, Leslie and I go shopping in town for fresh local produce," he says.
These daily trips to San Pedro Town often turn into social events. "We run into acquaintances at the bakery, the veggie stand, and other town stores," says Peter. "At each place we meet and greet our friends, and catch up on the local gossip. Of course, this is all done in shorts and T-shirts.
"We also love the Friday evening wine and cheese tastings at Wine de Vine where we get together with our friends."
On Sunday mornings Peter and Lesley attend Mass at the local Catholic Church. "We've met some great people in the congregation, both local and part-time residents. One of our Sunday rituals is to head to Estelle's Café after Mass for breakfast with friends, right on the Caribbean Sea.
"The café is only 10 feet from the surf, as is the church. It's a perfect way to start Sunday's festivities. Then we usually come home and hang out on the dock in front of our condo. We like to snorkel. But some Sundays we take our boat out to Caye Caulker, our neighboring island, for a late lunch. We usually stop at the Rainbow Grill for a delicious, fresh seafood meal."
Related Articles
In Pictures: Corozal, Belize–A Subtropical Haven for Active Expats