If you ever wanted to retire to the beach, or buy a second home on the water, now is the time to act. Prices in certain desirable markets are low right now. But they won't stay that way for long…
On the Atlantic…
The wide white-sand beaches of North-East Brazil stretch for hundreds of miles. The beach towns and fishing villages along this coast are popular with international tourists and Brazilian visitors—particularly the towns close to the region's major city. In one of these beach towns, in a small condo development right on the beach (with a pool and a gym) you can buy a three-bedroom, ocean-view condo (with an observation deck and Jacuzzi) for $99,000.
On the Pacific…
The beach towns on Ecuador's coast are simple and rustic. This is where you can find some of the world's most undervalued beachfront. It's different in the cities—in one city in particular, it's all yacht clubs and sophistication. But even this is one of the world's least-expensive beach resorts.
In a beachfront development in an upscale neighborhood, close to the country club, you can buy an ocean-view condo for $75,246.
On the Caribbean…
Real estate on this island (a four-hour flight from New York) isn't cheap. But your money goes further than in any other Caribbean destination. On one side of the island, the European influence is everywhere. Between the turquoise ocean and waving palm trees are chic cafés and restaurants run by French and Italian expats. You'll even find a couple of beachfront boule courts, if you're taken with that French sport. Expats buzz around town on mopeds, and close by an Italian kitchen-ware store means you won't have any trouble finding an espresso maker.
Technically, this side of the island is on the Atlantic (the other side of the small island is officially Caribbean). But with the same sun, sea and palm trees, it's impossible to tell the difference.
A two-bedroom house with a private garden, that's close to town, rents for $600 a month. (Or $400 a week in high season.) It's listing for $88,500.
Get Your Free Real Estate Report Now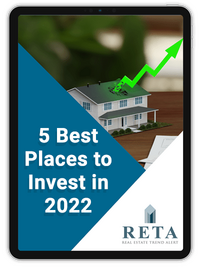 Sign up for our free daily Postcard e-letter and get a valuable free report on the The 5 Best Places to Buy Real Estate In 2022.
Related Articles
Information on Belize Real Estate and Property
Upcoming Conferences
Make 2023 Your Best Year Yet. Discover Panama with International Living

Panama has it all: beaches, mountains, a world-class capital city, top-notch, low-cost healthcare and the "World's Best Retirement Program" that makes the already low cost of living even more affordable.
Join us for International Living's Fast Track Panama Conference to see all that Panama offers. There's no better place to be and no better way to make 2023 your best year.
Most Popular Products