Have you considered retiring in Uruguay? It's a mostly rural country with vast ranches, beautiful beaches, and a warm culture. And even though it's a small country, Uruguay offers a range of attractive cities and towns expats find attractive.
Here are some of the best places to live in Uruguay, divided into three categories:
The best places to live in Uruguay for a couple with a budget between $2,500 and $3,500 per month. (This is the most common budget range for retired expats in Uruguay.)
The best places to live in Uruguay for a couple with a budget less than $2,500 per month. (These are great places to live, but with few other English-speakers around.)
And options for couple with a budget over $3,500 per month. (These places are popular with high-earning expats and affluent retirees.)
Note: Budget categories include rent, all utilities (including internet and cable TV) cell phone plans, health care plans, as well as money for dining out and entertainment.
In areas where most expats get around by bus and taxi, the budget is for using buses and taxis. In areas where most expats own a car, the budget includes the cost of running a car.
$2,500 to $3,500 Per Month
The most common budget range for retired expats in Uruguay.
Montevideo's Pocitos Area: Modern and Convenient Apartment Living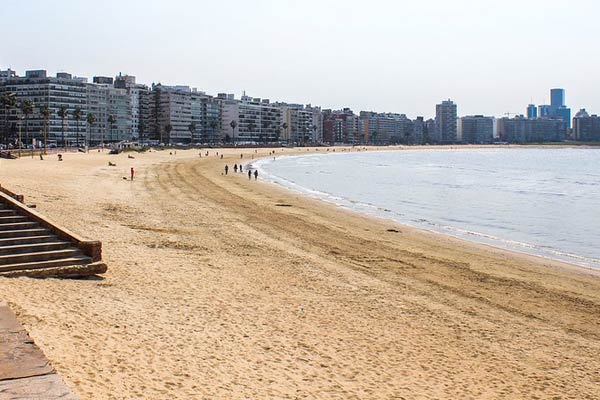 Montevideo is Uruguay's capital. It fronts the Río de la Plata, a large body of water notched into the east coast of South America. The population of the Montevideo Metro area is 1,760,000 (half of Uruguay's population).
Montevideo is divided into 62 distinct neighborhoods. What people call the Pocitos Area is the neighborhoods of:
Pocitos
Punta Carretas, an adjoining neighborhood southwest of Pocitos
And Buceo (the western part of it, bordering Pocitos).
The Pocitos Area is about two square miles in size. It's the city's most popular community for modern apartment living. It's where you find Montevideo's most visited sand beach, two large shopping malls, and more than 100 restaurants and cafes.
With the strong demand for Pocitos Area apartments, rents tend to be higher than many other parts of the city. But many expats believe it's well worth it.
Montevideo's Ciudad Vieja and Centro: Apartment Living in the City's Historic Area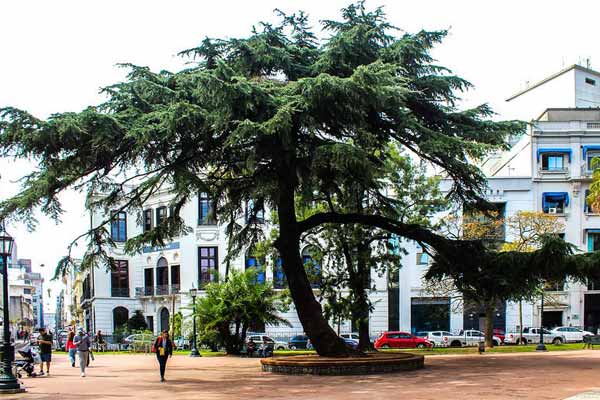 Montevideo's oldest communities include Ciudad Vieja (Old city), where Montevideo was first founded in 1730; and Centro, the first annexation to Ciudad Vieja.
These neighborhoods comprise Montevideo's downtown. It's where you find the city's:
original plazas and earliest architecture
top museums and art galleries
live performance theaters.
Housing options include apartments in historic buildings, older modern buildings, and new buildings. You can usually get more apartment for your money in Ciudad Vieja and Centro than in the Pocitos Area.
Montevideo's Cordón Neighborhood: Apartment Living in an Area of Urban Renewal
As housing prices in the Pocitos Area go up, many young Uruguayan professionals and expats consider other nearby neighborhoods where rents and home prices are more affordable.
One nearby neighborhood that's catching on is Cordón. It's conveniently located between the Pocitos Area and Montevideo's oldest neighborhoods. And it's also close to the city's main hospitals.
Apartment options include places in new buildings, as well apartments in older buildings that are good candidates for remodeling projects.
With revived interest in Cordón, you find more good cafes and interesting shops. (Especially near Constituyente Street.)
For many expats, the new energy here, makes Cordón a colorful and attractive place to live.
Note: In the Pocitos Area, Ciudad Vieja, Centro, and Cordón you find other English-speaking expats. They are also easy places to get around without a car.
Atlántida: a Small Coastal Town Not Far From Montevideo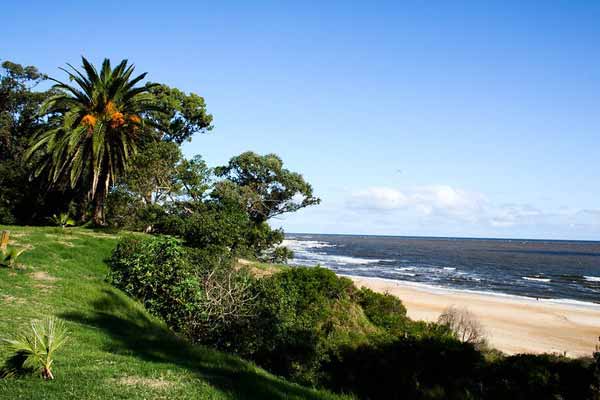 Atlántida (population 6,000) is a Río de la Plata beach town with suburban single-family homes, large sandy beaches, and many trees.
And it's just thirty miles east of Montevideo's Centro. So, expats who live in Atlántida can enjoy the lifestyle of a small coastal town. Yet, be close to the shopping, services, and entertainment options of Montevideo.
Like most beach towns in Uruguay, Atlántida has an annual rhythm. In the Southern Hemisphere summer months of January and February, the beaches and restaurants get busy with visiting vacationers.
Then, in the fall, things quiet down. And the full-timers get the beaches and town back to themselves.
Some expats settle in communities just outside Atlántida, where housing prices are a little lower. These include Villa Argentina, Las Toscas, and Parque del Plata Sur. Most expats living in the Atlántida area own a car.
City of Maldonado's Centro: A Middle-Class Community Adjoining Uruguay's Largest Beach Resort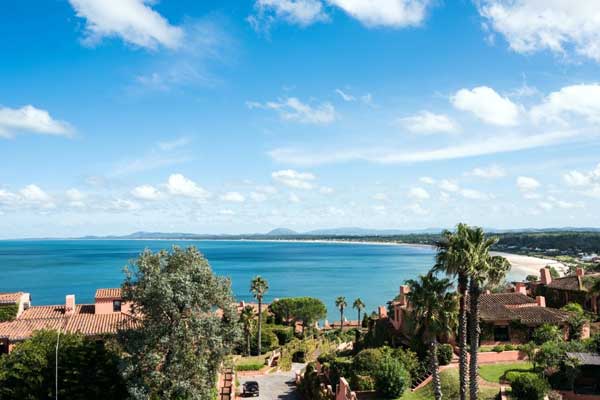 Maldonado (population 70,000) is a middle-class city. Founded in 1755, its Centro includes a plaza with a fountain, fronted by a cathedral. Extending north from the central plaza is Sarandí, a shop-lined pedestrian street.
The best quality of life for this budget range is a modern apartment in Maldonado's Centro. It offers everything you need for a comfortable life. And it's just a short bus ride to the beaches of Punta del Este—the most prestigious beach resort city in South America.
Maldonado is an easy place to get around without a car.
Less Than $2,500 Per Month
Great places to live, but with few other English-speakers around.
Salto: A River-Front City in Uruguay's Hot Spring Region
Salto (population 105,000) is a low-rise city on the Uruguay River in northwest Uruguay. It's a region known for its hot spring resorts and water parks.
Salto's main street (called Uruguay Street) passes two impressive plazas. Its riverfront includes two manicured parks. And the Salto Shopping mall is the largest shopping mall north of Montevideo.
Homes and apartments in Salto give you more space for your money than in Montevideo. Most expats in Salto run a car.
La Paloma: A Low-Key Atlantic Coast Beach Town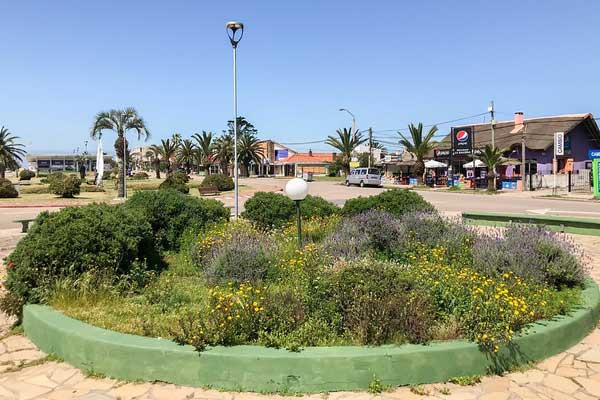 La Paloma is a town of 3,500 on the Cabo de Santa María (Cape of Santa María) on Uruguay's rural Atlantic coast.
At the end of the cape is a lighthouse, and a bay. The bay is a good place for kayaking when it's calm and kite-surfing when the wind comes up. When the conditions are right, La Paloma's ocean beaches offer some of Uruguay's best surfing waves.
Like Atlántida, life in La Paloma, follows a rhythm. In summer, the beaches and restaurants get busy with vacationers. In the off-season things quiet down.
La Paloma beach communities stretch for three-and-a-half miles along the cape's south coast. Outside the city limits, you find additional coastal communities extending two-and-a-half miles northeast of the cape.
Most homes in La Paloma are single-family places on their own lot. Although you do find some apartment buildings.
Besides coastal communities, some expats live outside of town on acreage or in a private community. Most expats in La Paloma own a car.
Treinta y Tres: A City in Uruguay's Cattle Country
Treinta y Tres (population 25,500) sits in a region of cattle ranches in eastern Uruguay. It's a city with low buildings, lots of trees, and two large beautiful parks. One of the parks, Parque del Olimar, fronts a river, where you can boat and swim.
Thirty miles north of Treinta y Tres is a canyon called Quebrada de Los Cuervos (Ravine of the Ravines). It's where you find more plant, bird, and wildlife diversity than anyplace else in Uruguay.
In Treinta y Tres you can live close to city conveniences like shopping, cafes, and hospitals. Yet, be on the doorstep of wide-open spaces ideal for hiking and horseback riding.
Most people in Treinta y Tres live in single-family homes. You find lots of affordable taxis in Treinta y Tres. So, it's an easy place to live without a car.
Note: In Salto, La Paloma, and Treinta y Tres, you don't find English-speaking expat groups. To live in these areas, you'll need to learn some basic Spanish and acclimate to the local culture.
Over $3,500 Per Month
Popular communities with high-earning expats and affluent retirees.
The Montevideo Neighborhood of Carrasco: Low-Density Suburban Living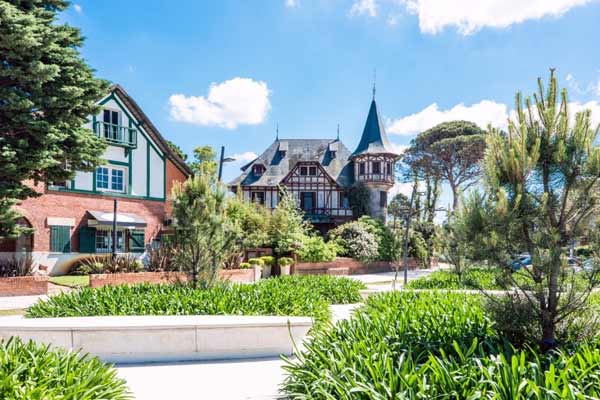 Carrasco is a neighborhood of roomy single-family homes and spacious low-rise apartment buildings on the eastern edge of Montevideo. It's also known for exclusive sports clubs, such as the Carrasco Lawn Tennis Club; and the city's top-ranked private schools.
Arocena Street, the main street in Carrasco, is lined with shops and good places to eat.
Carrasco is popular with Uruguayan professionals and working expats, such as embassy personnel, corporate representatives, and consultants.
The Private Communities of La Tahona and Carmel: Spacious Executive-Style Homes
La Tahona is a gated community with homes built around a golf course. Carmel is a gated community with homes around a lake.
In both of these neighborhoods, you find spacious executive-style homes—many with swimming pools. Neighborhood amenities include gyms and clubhouses.
You find La Tahona and Carmel in Uruguay's Department of Canelones. They are 10 miles from Carrasco.
And they're seven miles from Zoneamerica, a business and technology free-trade zone with around 350 businesses.
For shopping and dining out, many living in La Tahona and Carmel drive to Carrasco. However, as these communities grow, more nearby stores and businesses open up.
Most Uruguayans and expats I know living in La Tahona and Carmel are organization leaders, business people, or in finance.
Punta del Este: A Beach City Offering Uruguay's Highest Standard of Amenities and Services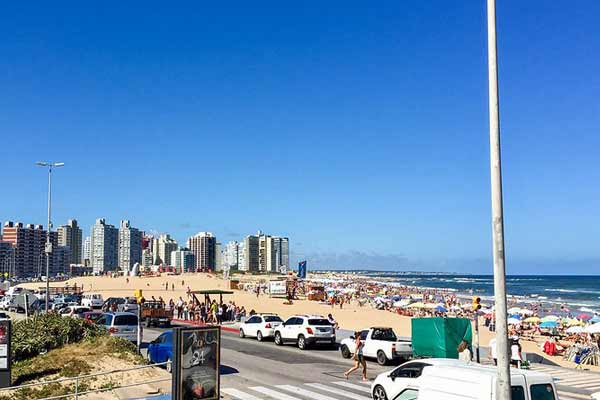 Punta del Este is a beach resort city 80 miles east of Montevideo. It's known for its clean beaches, landmark restaurants, and impressive apartment towers.
Apartment-building amenities in Punta del Este often include social areas and gyms. Building services often include a front desk with porters and daily housekeeping for your apartment.
In high-end apartment buildings, amenities may include swimming pools, banquette rooms, and beach clubs. Services may include garage attendants to wash your car, maintenance personnel to fix little things around your apartment, personal trainers in the gym, and staff to run a summer day camp for your kids or grandkids.
Like most coastal towns in Uruguay, Punta del Este gets vacationers in the summer. The difference is, here, the number of seasonal visitors reaches into the 100s of thousands.
Besides a beach resort town, the Punta del Este area is a college town with half a dozen universities.
In Punta del Este you find a large community of retired snowbirds, who enjoy an endless summer dividing their time between Punta del Este and their other home in North America. You also find a growing number of expat retirees living in Punta del Este full-time.
Note: Most expats in Carrasco, La Tahona and Carmel, and Punta del Este own a car.
Related Articles
Why Expats Are Moving to Uruguay
How to Become a Resident in Uruguay
Three Places to Live in Uruguay; Two to Avoid
Upcoming Conferences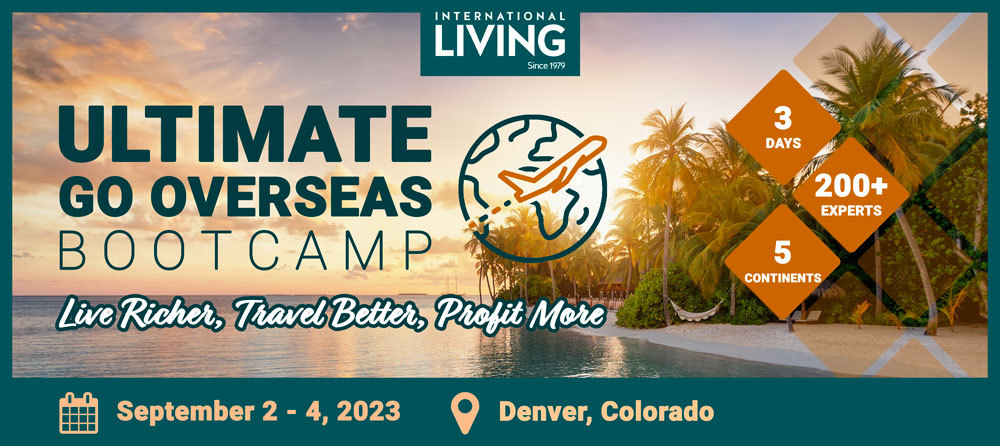 Most Popular Products
Popular Articles You May Also Like