Long before I had any idea I'd eventually live on Ambergris Caye, Belize, I took a trip to the Greek Isles. Sitting at a tavern table on the beach, eating fresh, grilled fish on the island of Mykonos is a memory I'll always cherish. The stars were shining as waves gently lapped the beach…
That dinner on the Mediterranean Sea took place over 30 years ago. But the delight of a seaside meal has stuck with me all these years and, whenever possible, I relish a meal at a beach restaurant….
You can have breakfast, lunch, and dinner on the beach here. Any time of day or night in Belize it's warm enough to sit outside on a deck, or at a table in the sand. The only time I need a sweater is in the evening in the dead of winter, and only then if there's a stiff breeze.
The Belizean coast and the cayes are remarkably different from the California Bay Area where I used to live. In the summer it was possible to eat outside during the day. But in the evening a dense, cold Pacific Ocean fog would roll in, chilling you to the bone. In contrast, the evenings are divine on the Caribbean coast. The day's heat dissipates and a pleasant, balmy breeze blows along the coast almost all year.
And, the fact that my cost of living in Belize is about one-third of what it was when we lived in the Bay Area, I can afford to eat out, on the sea, whenever I'm in the mood.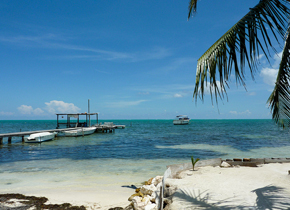 One of the great things about Ambergris Caye is that many popular restaurants and cafes are open air, on the beach…
For breakfast expats flock to Estel's, especially on Sunday mornings, where you can sit at a table and wiggle your toes in the warm, soft sand. Estel's is known for its fantastic breakfasts and barbecue lunches. I usually get their Belizean eggs, scrambled with plenty of veggies. And their crispy fry jacks are said to be the best in San Pedro. Breakfast here is usually less than $10 a person.
When a craving for a strong cappuccino hits, my husband Mike and I take a walk along the beach with our dog, A.C., until we reach Ramon's Village. This resort invested in a high quality espresso machine. Ramon's has a delightful deck and the nicest beach in town…the perfect spot to hang out and sip a frothy cappuccino while being hypnotized by the sunrays dancing along the sea's surface. It's also fun to just watch the tourists and locals walk or bike by, along the beach.
My favorite spots for lunch or dinner are the Blue Water Grill and Wild Mangoes. Both are on wooden decks, a few feet above the beach, with an open view of the sea and offer the fresh, creative salads I love, as well as a selection of tropical drinks. My favorite at Wild Mangoes is the Island Salad, with succulent grilled shrimp, mixed greens, hearts of palm, black beans and crunchy veggies. The price for a lunch of this salad and an iced tea runs about $12. With Labor Day just around the corner, we will likely join friends for a delicious dinner here, less than 15 feet from the sea.
Wherever you travel in Belize, along the Caribbean coast, you'll find open-air restaurants and bars. Sure, you'll find plenty on Ambergris Caye and Caye Caulker but if you visit Placencia, Hopkins, Punta Gorda, or Corozal, you'll also find a selection of open-air restaurants and bars, many of which are on the sea.
Having just returned from the U.S., I am reminded of how much I appreciate the island's gorgeous Caribbean Sea view. And, whenever possible, I relish a meal at a beach restaurant…few things are more satisfying.
Get Your Free Belize Report Here:
Learn more about Belize and other countries in our daily postcard e-letter.
Simply enter your email address below and we'll send you a FREE report – Belize: The Top English-Speaking Retirement Haven in the Caribbean.
This special guide covers real estate, retirement and more in Belize and is yours free when you sign up for our postcards below.
Get Your Free Report Here