I have lived in Belize over five years now, and somehow feel that I have become a little more like the people of this country than those of my own. We never really lose who we are culturally, but I do believe we assimilate to some degree. I noticed this recently when I was waiting for an international flight at the Belize airport, and I gravitated to Belizeans more than other people. I realized that I knew what to expect when I spoke to a Belizean. I could expect a smile when I smiled, a crafty sense of humor, and wholehearted helpfulness.
My husband, Marcos, is Belizean and spent 17 years of his adult life with me in the U.S. His ethnicity is Hispanic, African (Creole), Mayan, Lebanese, and Chinese. This is actually a common mixture, and is indicative of the influences of different cultures in Belize. Ethnic and cultural diversity are the hallmarks of Belizean society, and provide a path to tolerance, understanding, and general goodwill. Add to this a large Mennonite population (who provide most of the dairy produce and poultry in the country) and many expats of European descent, and you have quite the melting pot.
On top of that put in a dash of the Garifuna, who arrived in the Caribbean starting about 400 years ago as escapees from a Nigerian slave ship. The Garifuna were assimilated into Belize, and were never slaves here. In fact, their unique ways are celebrated in Belize. We like to refer to all of this as "cross pollination," which produces rare and beautiful flowers.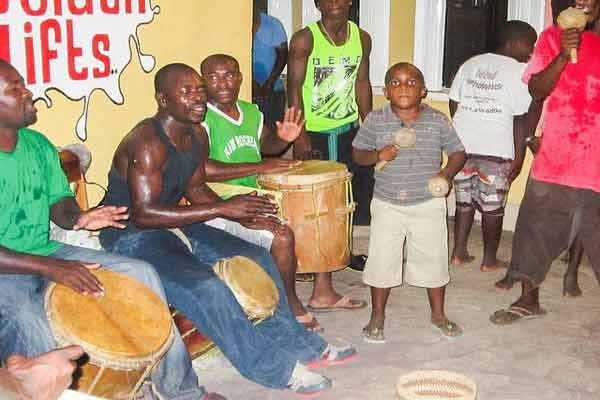 Garifuna drumming at Innie's Restaurant, Hopkins, Belize.
Belize is an English-speaking country, though most Belizeans speak Spanish, English, and "Kriol" fluently. I have been told that the most difficult part of learning about a language and a culture is understanding the euphemisms. As English speakers, we have that window into this culture and it allows us to have fun and be playful with Belizeans.
Belizeans and expats are very welcoming to newcomers, and this ever-present sense of humor seems to be extremely helpful during the transition time for foreigners. There is no way to move into another culture and not experience some culture shock. Most of us try to bring the ways of our homeland to our new location. It's when we begin to mix it up a bit that comfort comes, and it takes time, a little patience, and helpful expats to make this transition. Most expats in Belize soon take on the relaxed, friendly demeanor they see and feel all around them, and are quite helpful to newcomers in making this transition.
We have both expat and Belizean friends, and many families we socialize with are of mixed origin. I value having these different types of relationships, and feel exceptionally comfortable in my community, and very much a part of it.
Related Articles
Three Great English Speaking Islands
5 Best Caribbean Islands to Live On… and 2 to Avoid