I've never seen such blue water as the Caribbean in Belize. I couldn't keep my eyes off it, whether I was cruising around by boat, watching tiny islets fade into the distance… swinging in a hammock strung between two palms on the beach…or beating that tropical heat with a cold Belikin beer in the shade of a palm frond-roofed beach bar.
Belize has a lot to offer those seeking a new life abroad. The low cost of living means a couple can live well on $2,000 to $3,000 or less a month. Established expat communities make for a ready supply of new friends, and it's English-speaking, even if it's the second or even third language for many locals. (I spoke only English during my time there and had no issues.)
Plus, it's easy to get to from North America, thanks to daily flights. And it's no problem to get around the roughly Massachusetts-sized country itself: The main highways are in good shape, regional airlines provide service all over, and frequent and on-time water taxis serve the island communities.
But under the surface, you find even more reasons to make Belize your home. Sure, it's somewhat rough around the edges. This country of just 330,000 is still coming into its own. But you can get comforts from home in the local stores.
Even more essential are the improvements to infrastructure over the last few years, including enhanced electric and water utilities. The Internet is high-speed and reliable. And everywhere I went there seemed to be construction or road work. Locals were quick to point out new parks, marinas, or other municipal projects that had recently been completed.
There's a feeling of opportunity and possibility, of a place being shaped right now…a country where retirees can find a comfortable place or someone with an idea can start a business. It's not as established as some of the other tourist destinations in the region, so there's still lots of room for new businesses that fill a gap in the market.
Add in the genuine, helpful, and friendly local people—from a myriad of backgrounds and cultures and a huge variety of landscapes and lifestyles—from beach-bar hopping on Caribbean beaches to off-the-grid jungle living—and you have an ideal destination.
Get Your Free Belize Report Here
Learn more about Belize and other countries in our daily postcard e-letter.
Simply enter your email address below and we'll send you a FREE report – Belize: The Top English-Speaking Retirement Haven in the Caribbean.
This special guide covers real estate, retirement and more in Belize and is yours free when you sign up for our postcards below.
Get Your Free Report Here
The Islands: Ambergris Caye and Caye Caulker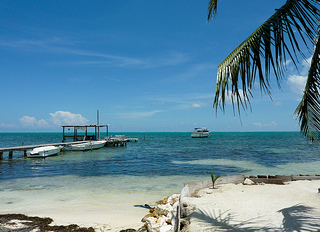 The most established of the expat communities in Belize is Ambergris Caye. Foreigners have been coming to Ambergris for decades, both for the world-class scuba diving at the Mesoamerican Reef just offshore, and for the laidback, island  lifestyle. Restaurants and beach bars overlook the Caribbean. Docks snake out from the shore at regular intervals, some with eateries and bars at the end.
Although it's experienced tremendous growth in the last 10 years, you can still let it all hang out on Ambergris and watch live music with toes in the sand and a cold Belikin beer in hand. Or you can go upscale, too, with French wine, gourmet dining, and luxury accommodation.
The main settlement, San Pedro, is a bustling town. Plenty of foreigners—tourists and expats—stroll the streets or cruise by on bikes or in golf carts. But there are plenty of locals, too, so it definitely feels like a "real" place, not a sanitized enclave. And you're never far from the water. The island vibe is very much alive.
Linda Miller, from Sarnia, Ontario, has been in Ambergris for seven years. "I used to go to Florida as a kid, to Clearwater Beach, and I got used to being at the beach or the pool," she says. "I thought I would like to live like that someday."
After first visiting Belize in March 2007, Linda was so smitten with the tropical paradise that she moved that November.
Not ready to retire, Linda has kept herself busy. She owned the landmark Coco Locos Beach Bar for many years before selling it. She then got involved in property management and recently started working in real estate. Linda is also the Canadian Warden for the island, acting as a liaison between Canadian citizens and the nearest Canadian embassy in Guatemala and the consulate in Belize City. If someone loses a passport, for example, they call Linda.
"I'm always out in the field running around. That's what I do," she says. "There always seems to be something going on. I visit with friends, we go out to dinner—the food here is great."
And even in Ambergris, where prices are higher because everything has to come over by barge, Linda has found ways to cut costs.
"I follow the local people around, go where they go, and buy local products," she explains. "It's cheaper for me to live here than in Canada."
Much of the growth and development on Ambergris is taking place to the north and south of San Pedro, catering to those seeking a bit more peace and quiet. South you find homes, lots, and condos. North has the same options, although most fulltime residents stay within a couple of miles north of the Boca del Río bridge. Beyond that, you have mostly resorts and tourists, and you have to travel to and fro by boat, although the recent paving of the road north of the bridge may change that soon.
Beachfront, one-bedroom condos are available from $175,000, with two-bedrooms coming in at $200,000. Homes are a bit pricier. A three-bedroom property within walking distance of the beach will set you back $500,000 or more. Right on the beach, and you're looking at closer to $1 million. You can rent, too. A two-bedroom, furnished condo north of the bridge is $1,000 a month.
Caye Caulker, the smaller island just south, is "Ambergris 30 years ago," many locals tell me. Less development (no crowds except at the favorite hangout the Split, where shallow water and a bumping beach bar draw dozens). The motto, "Go Slow," is on hand-painted signs hung on palm trees, admonishing hasty golf-cart drivers but also bestowed by locals on visitors who haven't yet embraced the rhythm of the island.
The population of just 1,300 includes a small but stalwart group of expats among its number: retirees and business owners. There is nothing better than enjoying a lobster ($10) grilled up by local fisherman while sitting in the shade of a palm tree. But it's the type of place where the feeling of being "on vacation" all the time may make some stir crazy. For many expats around Belize, Caulker is a favorite destination…but they take it in small doses. Just a half-hour from Ambergris by water taxi, it's an easy day trip for lunch and hanging out on the beach.
Still, its popularity with vacationers means there is an active real estate market. A home with a sea view just outside the main part of town is $199,000. There has also been a recent focus on building homes north of the Split, a narrow channel that separates the two halves of the island. Homes there are only accessible by boat.
Placencia: The Caye You Can Drive to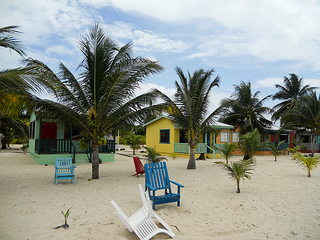 In the far southern region of Belize you find Placencia, a 17-mile narrow peninsula. Since the paving of the road down its length four years ago, it has had a reputation as the caye you can drive to. It definitely has the feel of the cayes. And these days, thanks to growing interest and better access, Placencia is booming.
Resorts, vacation rentals, homes, and condos line the coast. And there is a lot of new development, much of it driven by the retirement market as well as by part-time residents and the vacation-home crowd. A planned cruise-ship terminal on nearby Harvest Caye is expected to bring even more people for day trips and tours.
Placencia does have several distinct areas. Placencia Village, at the far southern tip, is the main commercial hub, with shops, restaurants, police and fire station, and other services. Cafés, restaurants, and little art galleries can be found in charming wood-paneled and brightly painted buildings. Palm trees—and generous verandas—provide shade from the beating tropical sun. The unusual tropical cocktails (ginger mojitos, anyone?) and inventive recipes at Rumfish y Vino make it a popular spot for gourmet dining. Many expats gather at the more informal Barefoot Bar for happy hour.
Those who want a walkable community with a beautiful beach a stone's-throw away live in the Village. Lining the sand here are several bars, restaurants, hotels, and homes—all connected by a sidewalk. Unlike in Ambergris, the beach here is much more suitable for bathing, as there is less sea grass and fewer boat docks.
The popularity of Placencia is reflected in real estate prices. But there are still deals to be had. A three-bedroom home in the Village, a quick walk to the amenities and the beach, is listed at $199,000. North of the Village you have more residential areas, although they do have a limited number of eateries and the like.
The community of Maya Beach is about midway along the peninsula, where it widens out and there is a lot of available land. This area remains very affordable. Lots inland in the forest or on the lagoon can be had for as low as $30,000 if you get a deal. With a simple, wooden two-bedroom home in the Village or Maya Beach, you'd pay about $40,000 for construction. Concrete homes will run about $90 to $120 per square foot in costs.
Many of the other northern communities feature luxury condo buildings and large homes on the beach. Two-bedroom condos on the beach start at $300,000. A two-bedroom home across the street from the beach will set you back as little as $199,000. A waterfront lot—with its own boat slip—in one of the new marina projects coming online will cost you $200,000. As Placencia is a major boating and fishing destination, this could be a great home base if you like to get out on the water often.
Dawn Walton, 46, and her husband Dick have been in Placencia since 2011. The couple had been considering retirement overseas for some time, reading about Belize and other countries in the pages of International Living. But when Dawn had a health scare in 2009, their timetable speeded up.
"It really changed a lot of things for us. It changed our perspective. We didn't want to keep killing ourselves with our business," says Dawn of her husband's work as a master plumber. "Just three months after I got out of the hospital, we went to Belize. We spent some time in Corozal first."
They also checked out Ambergris. But neither spot was what they were looking for.
"It was like the three bears. Placencia was just right. Kind of touristy but not too much. Kind of a busy town center but not too much. Seven months after we first visited Placencia, we moved down," says Dawn.
Dawn spends a lot of time on the beach, volunteers with the Humane Society, hangs out with friends at happy hour, and she's taken up writing fiction, cookbooks, and blogs.
"I'm getting used to not going 24/7," she says. "My biggest focus has been my health: learning how to exercise by swimming, walking, and cycling. You can do it all outdoors year-round here."
Cayo District: Mountains, Jungle, and Rolling Farmland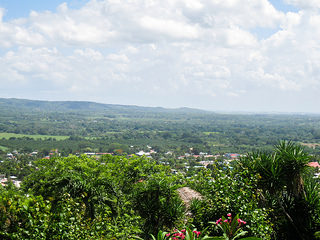 The bounty of the Cayo District is on display every Saturday morning at the farmers' market in the regional hub of San Ignacio. They get started early: 5 a.m. Among the fresh-from-the-farm bananas, mangos, avocadoes, papayas, lettuce, tomatoes, onions, and other produce piled high, I came across a young bearded Mennonite, simply attired in dark pants, plain blue shirt, suspenders, and broad-brimmed hat, in front of a small table. Before him was a scale and bags of just-made goat cheese—$2 for a half-pound. With fresh bread from the French Bakery and fresh fruit, I was all set for breakfast.
It was a great introduction to the Cayo District, which is well known for its thick jungle and vast farmlands, as well as for the rolling hills and low-slung peaks of the Maya Mountains.
Expats in search of a little piece of land to call their own—for an income-producing or hobby farm—come here, as do those who enjoy the mountains more than the beach. It's a great place to fly under the radar and get off the grid.
A five-bedroom home, with a guesthouse, set on five acres in Bullet Tree Village, is available for $249,000. For $169,000 you could have 25 acres of land, ready for a farm or just your home, with 1,000 feet of frontage on the Mopan River. On the rental side, there is a two-bedroom cottage in San Ignacio, with mountain and rain-forest views, for $500 a month.
San Ignacio and its "twin city," Santa Elena, are separated by the Macal River. Rural villages like Bullet Tree Falls and Barton Creek are places where expats are gathering, too.
San Ignacio has the feel of a mountain town, with narrow, winding—and sometimes steep—streets. It has an attractive, recently revitalized downtown square lined with small restaurants. Try Fuego for a modern take on Belizean cuisine. Festivals take place here, along with live music. It's next to the pedestrian walkway of Burns Avenue, a gathering spot for tourists but also a favorite with expats, thanks to some great restaurants and nightlife.
Just down the road is a large Mennonite community called Spanish Lookout, which, thanks to its farmhouses and barns, evokes the U.S. Midwest. The residents descend from settlers who came to Belize in the 1950s. Most expats in the Cayo—and in the rest of the country, for that matter—head here at some point to patronize Mennonite furniture makers or construction companies, the best in the country. The community also has some of the best food, home goods, auto parts, and hardware stores in Belize.
For Caroline Barnes, 62, Belize was a refuge after she lost everything in the crash of 2008.
"I wanted to get away from the U.S. and Phoenix. I didn't want to go back to England, because I like the heat," says Caroline, an Englishwoman who lived in Arizona for more than 20 years. "My sister said, 'Go to Belize, it's British.' I checked it out online, and it seemed like they were encouraging people to move here."
Caroline has been in San Ignacio, the main town of the Cayo and jumping-off point for tours of surrounding natural areas and Mayan ruins, for three years. As a yoga teacher, massage therapist, and English tutor, she makes enough to afford a $400-a-month, three-bedroom apartment and a comfortable life.
"I felt at home from the very beginning. It has a very nice atmosphere and is very multicultural, especially here in San Ignacio," says Caroline, who enjoys the mountain atmosphere and small-town feel of the place, as well as the active expat community.
Corozal: A Low-Cost Haven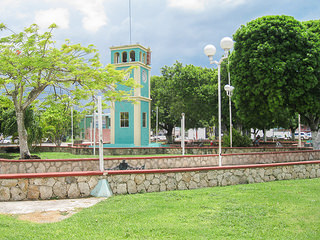 Set on the far northern border of the country, Corozal is far from out-of-the-way and forgotten. In fact, it's a haven for retirees looking for an affordable place to live, a friendly expat community, the convenience of being on the mainland, the laid-back Caribbean life. And, unlike some other parts of Belize, it's virtually free of tourists. Unique in the country, Corozal is just down the road from Mexico, making trips to First-World comforts easy.
"You get a low cost of living and a Caribbean feel. And if you want a taste of home, you can head across the border to Chetumal," says Dave Stone.
The Mexican city of 150,000 features shopping malls, big-box stores, and movie theaters. It's a great place to shop for items you can't get in Belize, and—with no hefty import duties—is a cheaper place to shop for many standard items, as well. Many expats head there for medical and dental care, too.
After serving in Afghanistan in the Army and Air Force, respectively, Dave Stone and his wife Crystal, both 31, were looking for a quiet place to settle down that would fit their budget. (Both are currently on VA disability from service-related injuries.) After narrowing down their list of 40 to 50 countries to Central America, they settled on Belize, and Corozal in particular.
The Stones bought a house in a local neighborhood around Christmas 2012. They started renovating the inside into a comfortable, North American-style home and building a combination garage, workshop, and guesthouse. New tiles, new paint, new cabinets, new doors, and a totally changed interior layout; they and a crew of local guys did the work. The cost was about $60,000.
"It was a way to stay sane while we waited for our residency," says Dave, referring to the requirement to stay within Belize for a year to qualify for permanent residence.
Their neighbors were a bit confused to see foreigners in their midst at first, says Crystal. But now not a week goes by without the lady next door bringing over some local delicacy. And the local expat community has also been supportive.
"They have a lot of experience living here, and we've gotten a lot of good advice," says Crystal.
Though the Stones live in town, many expats live in a group of communities—essentially expat enclaves—several miles out. These include Consejo Shores and Mayan Seaside, as well as the Four Mile Lagoon, which is on the road to Mexico. More developments are coming down the pike.
A big part of Corozal's affordability has to do with the bargain real estate. Lots with quick beach access can still be had for just over $10,000, with those on the water for $50,000 and up. A two-bedroom waterfront condo on the Lagoon is available for $125,000, while a typical home in Consejo Shores, two bedrooms with a view of the Bay of Chetumal, costs $225,000.
Living in Belize for as Little as $1,500 a Month
In general, you can live comfortably in Belize for much less than you'd spend in North America. But the cost of living depends a lot on your lifestyle and location. Imported foods and other products can be pricey. Shop and eat like a local—with a focus on fresh, natural foods from the market—and you'll cut your costs big time.
Ambergris Caye is the priciest place in the country to live. Most restaurants cost as much as in North America, for example. And store items are significantly marked up because everything must be brought in by boat and it's a popular tourism destination. Expect monthly expenses closer to $3,000 here, including housing. Corozal is one of the more popular spots for retirees on a budget, because it's cheaper to live. Many expats there report living well on around $1,500 a month.
A two-bedroom rental condo in Corozal, for example, can run you as low as $400, and you'll spend about $200 a month on groceries. In Ambergris Caye, you'll pay more than double that for housing and perhaps even more on food, depending on your tastes. The Cayo District and Placencia fall somewhere between these two extremes, with the Cayo more on the affordable side of the spectrum and Placencia at the higher end.
Whether you prefer the life of quiet beachside leisure, an active social life and plenty of places to go out at night, the tranquility of pasture and jungle, or a low-cost beach destination, there's something for you in Belize. And because it's such a small country, you can visit all the other spots quite easily. While you'll find your place in the sun for a calm retirement in Belize, if you're seeking a place to reinvent yourself, with a business or perhaps farm, you'll have plenty of opportunity. This plucky little country offers a lot to expats, and it's getting better all the time.
Related Articles
Rent in Belize From $350 a Month
The 7 Best Reasons to Move to Belize