"Our day begins early, the local birds love to greet the sun and wake us up so we enjoy the sunrise over the water, too," says Lynn Lawson. "Add a cup of fresh coffee and warm breezes, and we are totally relaxed. We take morning walks, greeting our neighbors and their pets.
"Then we do whatever we want for the rest of the day. We enjoy spending late afternoons on the palapa covered dock stretching into the Caribbean Sea while the warm breezes circulate. No stress; no pressure here."
"During our first visit to Belize in March, 2014, Lynn wanted to move that very afternoon. I wanted to move when I retired in about four years," says David. "As fate would have it, a year later, I was offered an early retirement package, which I took. On my first full day of retirement, I said to Lynn, "Let's sell the house and move to Belize."
They traveled to Belize, exploring the coast around Placencia first, then moving on to Consejo near Corozal Town, with stops in Dangriga and Ambergris Caye. After renting a house in the Consejo Shores area, six miles north of Corozal Town, they knew they'd found the location that met their wish-list criteria.
The Lawsons chose Belize for the ease of transition and the people. "Both locals and expats are welcoming, friendly, helpful, and have a kindred spirit of adventure, fun and self-reliance", says Lynn. "Expats we've met come here from everywhere…the U.S., Canada, Europe. We go to weekly expat gatherings for dinner at a local restaurant, or dinner with neighbors in their homes. And the locals that we have gotten to know are very friendly."
David and Lynn also appreciate the Corozal District's climate (less rain fall), close proximity to Mexico (for shopping and healthcare), and better real estate values. The cost of living, and of real estate, in Corozal was another selling point.
David and Lynn get by comfortably on their Social Security, pensions, and investments. Lynn says, "Our cost of living has been a huge drop from what it was in North Carolina. We just paid our yearly property tax bill of only $13. Utility bills are less too. And, we have no more heating bills.
"Grocery purchases are relatively inexpensive unless everything you buy must be stamped 'Made in the USA'. We frequent local restaurants because the food is absolutely delicious, and a third the price it would be in the U.S."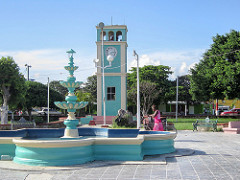 Lynn and David chose to maximize Belize's residence options. It only took two months for David to obtain his QRP (Qualified Retirement Person) status. The QRP process offers many benefits including duty free importation of household goods, so the Lawsons were able to import all of their personal goods under David's QRP status, saving them substantial duty.
"We closed the deal on our new home just north Corozal Town, last September," says David. Now they're focused on fixing up their home. Lynn says, "We're busy exploring stores and where to shop for everyday needs, meeting neighbors, making new friends and discovering new eateries."
Once the Lawsons complete their home upgrades they'll have time to take on their yard and are excited to do more landscaping and learn about tropical gardening. "Lynn can now grow her orchids outside instead of working hard to keep them "alive" during the cold winter months like she had to in North Carolina," says David.

Related Articles
Rent in Belize From $350 a Month
The 7 Best Reasons to Move to Belize