Here in Belize, the weather stays pretty constant all year round (it's always hot, sunny, and humid), and there is tourism all year round…but there are some distinct differences between high season and low season in terms of day-to-day living. And at this time of year, it's definitely more chilled.
Low season (rainy season) runs from about June to October. There is a distinct increase in rainfall, but it comes mostly at night, or in short bursts during the day. The villages explode with growth and color during these times, and for storm lovers, the thunderstorms are epic.
Frogs love the puddles the rainy season brings, and so you see more of them hopping around at this time of year. You'll find you need to wear a little more bug spray, but we also have more rainbows, and gorgeous sunsets and sunrises during these months.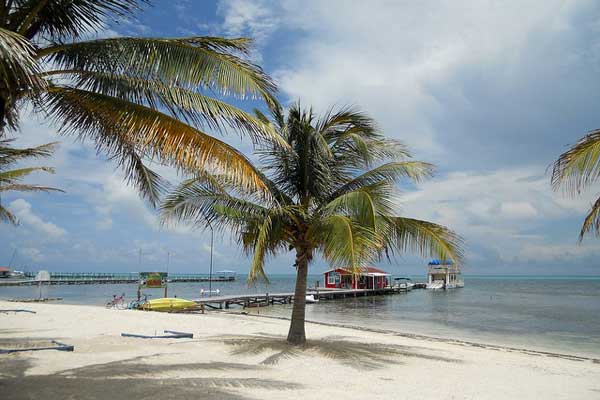 There is also a big difference in the local population, as there are fewer tourists about. Many people find this to be a positive, as it is a time when you are able to connect to the local expat population more than usual. For example, I attended a "Name that Tune" at a local bar last week, and there were about 40 people there—all expats. Everyone brought their dogs, took over the bar, and it gave us all a chance to hang out and reconnect.
Another thing that happens during low season is that small businesses in the villages often take some time to close for vacations or maintenance. So, while there are fewer choices sometimes in low season, you also find that it shakes up where you go, and you end up meeting new people and trying new things that you put off during high season. Also, there is much less overall traffic or crowds—not that Belize is crowded most of the time, but it is especially enjoyable to have the sidewalk or road to yourself.
You will find that low season tends to be a time we might call construction season in the U.S.—even if it's on a much lower level—and one nice part of this is that is you'll see some of the wear and tear from high season get all fixed for the next high season. Plus, many resorts offer "local specials" for discounted stays, so it is a great way to see other places around the country. Other resorts that cater to guests only during high season will allow people to come in and enjoy their pool, restaurants, etc., at this time of year.
Overall, this is a time for the country to take a collective breath. An opportunity to relax, chill, and enjoy the village with those who live there year-round. Many also use it as a time to go back and enjoy summers in their home country, so it is a win for those people, to be doing it during the best times of year back home.
Then, there is always the excitement as the village gears up for the next high season, usually around Halloween. You can feel the excitement and anticipation start to bubble up, as people get excited for their favorite restaurants and bars to open back up for high season. Life takes on a different air again…but it's just another flavor of life in paradise.
Related Articles
Fun and Interesting Facts about Belize