It took a trip to hell to show me all the heavenly delights Belize has to offer. It's probably not the hell you're thinking of, and I didn't get there the way folks usually do.
This particular hell is Xibalba, the Maya underworld. And I got there on a raft. My wife, Suzan, and I love scuba diving, and Belize has always been a favorite destination.
The second-longest reef on the planet runs along Belize's Caribbean coast, and the diving is world class.
On all those dive trips, I realized that there is much more to Belize than the vacationer favorites of Ambergis Caye and Caye Caulker…but we were there to get wet, so we never spent much time in the interior of the country.
Until, that is, Suzan got the notion to explore some caves after some research on the Maya of Belize. (The Maya still occupy Belize, by the way…the incredible ancient cities might be covered with jungle, but the people themselves never left. They live all over the country.)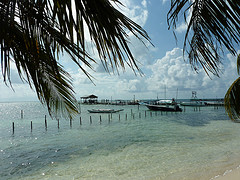 The Maya considered caves as entrances to the underworld, and Suzan found one that you could raft into, then hike even farther in to a spot where Maya shamans long ago performed elaborate ritual ceremonies. One such ceremony was taking a sacrificial victim deep into the cave, getting them loaded on hallucinogens, and leaving them there in the pitch black darkness to wait for the gods of the underworld to come up and claim them.
It is said that, if you go into such a cave today, turn your flashlight off, and wait long enough, you too will eventually hear those gods approaching.
That was enough for Suzan—she booked a cave rafting tour.
I've written about it before, so I'll only say here that it was one of the most memorable trips Suzan and I have ever taken—worth every jagged boulder, dripping stalactite, and creepy, pottery-strewn rock shelf along the way. (The same trip included a hundred-foot rappel into a giant sinkhole, making even more memories.)
It was that trip that first showed me how big the little country of Belize really is. Since then, Suzan and I have been north to the beautiful bays of Corozal, south to the lively Garifuna towns in Stan Creek district, and west to the bucolic farmlands of the Cayo and the river and valley settlements of the modern Maya in the mountains near the border with Guatemala.
All of which have nothing to do with diving…and all of which I'd never have experienced if we'd never decided it might be fun to go to hell.
Related Articles
Belize Visa and Residence Information
5 places to live in Belize and 2 to Avoid
Rent in Belize From $350 a Month