If you like the sound of a laidback, English-speaking, Caribbean retirement at an affordable cost and with easy access to the States, you can't do much better than Ambergris Caye, Belize's largest island. Ambergris has racked up a series of impressive "best island" awards over the last few years; the island received a Traveler's Choice Award for Best Island for 2013 and 2014. But Ambergris Caye is much more than a tourist destination. It's a perfect retirement haven.
Every day I can enjoy the gorgeous Caribbean Sea and the sight of waves crashing on the offshore Mesoamerican Barrier Reef. The Caribbean's aquamarine hues never fail to dazzle me…
With the sea to the east, and the lagoon to the west, breath-taking water views surround us here on Ambergris. I just love how the weather is so balmy, year round, that we can dine at an open-air beach cafe, day or night, without the need for a sweater.
The island receives 60 to 70 inches of rain per year. The temperature seldom rises above the mid-80s F during the day, or below the 70s F at night. Caribbean trade winds provide a cooling effect, making it feel much cooler than the thermometer indicates. The temperature of the Caribbean Sea gets up to 84 F and swimming is comfortable all year.
It's easy to fly to Belize, and to Ambergris, from North America; American, United, USAir, Delta, and Avianca fly direct from cities such as Houston, Miami, Dallas, Charlotte, and Atlanta.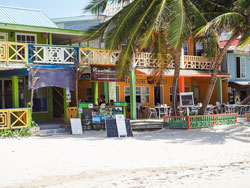 In 2014 a few new direct flights were added, from Los Angeles and Chicago, to address rising tourism demand. In October of this year Southwest will initiate direct flights to Belize.
It's possible to live on Ambergris for under $2,000 a month. How much you pay in rent is usually determined by how close you want to live to the beach, with beachfront properties usually commanding a higher price. Away from the beach, places are available for less than $750 a month. If you plan to stay part of the year, you can rent out your property for the rest to cover the cost.
There's an active expat community on the island, and many expats live here full-time. They spend their time enjoying the stunning natural environment and outdoor activities: volunteering at their local church or favorite nonprofit, running a business part- or full-time, attending a gym or yoga studio, and participating in the myriad social activities and local events. It's surprising how many diverse people come and go on this lively little island. You'll often find that you need to juggle your social calendar as you meet new, interesting friends, some of whom live on the island, and others who pass through on a regular basis. For me, retirement on Ambergris never gets boring…
Get Your Free Belize Report Here:
Learn more about Belize and other countries in our daily postcard e-letter.
Simply enter your email address below and we'll send you a FREE report – Belize: The Top English-Speaking Retirement Haven in the Caribbean.
This special guide covers real estate, retirement and more in Belize and is yours free when you sign up for our postcards below.
Get Your Free Report Here