I sit on our deck and gaze out toward the Belize Barrier Reef, not 300 yards away, in the Caribbean Sea. The postcard-perfect, white sand and the green palm trees quickly give way to shimmering strips of blue and green—colors of the sea determined by a brilliant sun, azure sky, and sea grass and sand on the ocean floor.
There is one other color that catches my eye: the dry gray mud that spackles my legs and feet.
"Here I am, at 64 years old," I think, "and every day I get to pedal my bicycle through mud puddles."
I can't begin to tell you how happy that makes me feel.
In the nine months since my wife, Rose Alcantara, and I moved from the San Francisco area to Ambergris Caye in Belize, hardly a day has passed that we haven't pedaled somewhere, rain or shine. Bicycles, you see, are simply the easiest way to get around.
While Ambergris Caye is 24 miles long, most of the living, shopping, and playing is done within a five-mile strip of land that, at its widest runs, four very busy streets deep. That is the island's only town, San Pedro. That means everything you could possibly need is a relatively short, and flat, pedal away.
Not everybody cycles though. For many expats here, the preferred mode of transportation is a golf cart. We made a deliberate decision to bicycle as it just fits in with the lifestyle we were seeking: Slow down. Simplify. Stay healthy.
A bicycle certainly enables all three.
All along the shore, there are about 12 continuous miles of unobstructed beach path that serves as a public thoroughfare, past lush vegetation, sumptuous homes and resorts, and alluring restaurants and bars—perfect for long walks and bicycle rides.
We now have a pretty good routine. In the morning, we will bicycle into town to our favorite yoga studio, Zen Arcade. Rose takes the advanced class and several days a week she teaches a Pilates class there. I take a slightly less intensive yoga class and rarely miss her Pilates.
After class, we do the day's shopping. We pedal south to The Baker for breads and rolls and an occasional hot cinnamon bun. On the way back home—we live north of the town—we stop at several grocery stores and roadside produce stands. No one place ever has everything you need. For the most part we are seeking fresh fruit and vegetables, which are brought to the island by mainland farmers on Tuesdays and Saturdays.
Shopping is a social event. For example, a stop at Maria's, one of our favorite produce stands, means Spanish lessons for Rose with Maria and her husband, Jose, while I talk with their son Jose Jr. who is something of an island philosopher. Mind you, everyone in Belize speaks English, a byproduct of British colonial days, but more and more, Spanish and Creole are becoming the preferred languages of locals.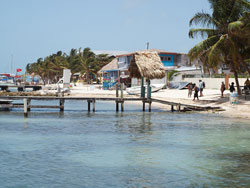 Some days we will have breakfast at Estel's, an open-air beachfront restaurant with a packed-sand floor and driftwood ambiance. It feels like the "Cheers" of breakfast joints—everybody knows your name, expats and locals alike. Sam, one of the waiters greets me with "Coffee, eggs over easy, potatoes, bacon, and fry-jacks, Bob?" My grin tells him what he needs to know.
On days when the winds are but an easy breeze and the waters inside the barrier reef are calm, we will stop at Big SUP, a fairly new stand-up paddleboard shop and take a couple of boards out to the reef. We tie up at a buoy and meditate as we watch the gentle waves roll over the reef. Sometimes Rose practices yoga poses on her board (another class she takes twice a week).
Every step of the way, we bump into people we know, both islanders and expats. We stop, chat, catch up on local gossip and politics, and make plans for dinner together or a snorkeling trip to the reef or a nearby island, like Caye Caulker.
All the while, as we pedal, our hearts, lungs, and muscles grow stronger. And if we get a little mud splattered on our feet…well, that's a sign that we are indeed on the right path.
Get Your Free Belize Report Here:
Learn more about Belize and other countries in our daily postcard e-letter.
Simply enter your email address below and we'll send you a FREE report – Belize: The Top English-Speaking Retirement Haven in the Caribbean.
This special guide covers real estate, retirement and more in Belize and is yours free when you sign up for our postcards below.
Get Your Free Report Here