People often ask about my transition from a hectic life in the U.S. to the laidback Caribbean island lifestyle of Ambergris Caye, Belize. Admittedly, it surprised even me how quickly I adapted, considering that I'd spent my entire life living in metropolitan areas.
But since we moved to Belize from the San Francisco Bay area, our lives have been enriched beyond our wildest imagination, with adventures galore.
We have met the most interesting people, made many new friends from around the world, and experienced unforgettable adventures… And living by the gorgeous Caribbean Sea is a dream come true.
Initially my husband and I bought property on Ambergris Caye as an investment. At the time, in 1999, retirement was far from our thoughts. We viewed our little island retreat as a respite—a place to recharge our batteries…to slow down and take a break from our high powered, demanding corporate lifestyles…
But with each passing year, as we climbed the corporate ladder, the fast-paced, competitive lifestyle; horrible traffic jams; high cost of living; and lack of time for our friends and family wore us down.
In contrast, each time we visited Belize the pressures of city living quickly were left behind—forgotten. Once on our gorgeous island, surrounded by the mesmerizing Caribbean Sea, greeted by warm, friendly Belizeans and expat friends, our worries and tensions dissolved. Each visit brought a new appreciation of the benefits of living a less complex lifestyle in a natural environment.
And, once we started running some calculations, it was clear that in Belize we could get along quite well on about one third of the amount we spent in the Bay Area. That meant that we had the option to retire earlier, travel sooner, and be in a better position to stretch our savings.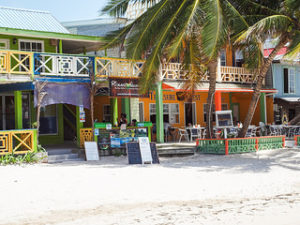 In 2008, I finally made the move to Belize. For the last seven years I've lived on this small island fulltime, never regretting my life-changing decision.
We have all the time we want to do the "tourist" things: to snorkel, scuba dive, fish by the World Heritage Mesoamerican Barrier Reef, or just enjoy down time sunbathing on the beach with a frothy pina colada.
It's fairly easy to stay in shape since we have the time and energy to exercise, eat properly, and socialize regularly.
And the world's our oyster when we want a change. We can catch a local flight for $80 and be on the mainland within 20 minutes…or take a local water taxi and be in Mexico within 90 minutes, for about $45.
We have a lot of opportunity to travel. During the last seven years I've traveled all over Belize, to multiple areas of Mexico, Guatemala, Nicaragua, Ecuador, Colombia, France, and most recently, Argentina.
Every year we also take trips to the U.S. to visit our grandkids and friends. We now have amazing friends all over the world, and open invitations to visit them.
There's always a new adventure for us to explore these days…
Get Your Free Belize Report Here
Learn more about Belize and other countries in our daily postcard e-letter.
Simply enter your email address below and we'll send you a FREE report – Belize: The Top English-Speaking Retirement Haven in the Caribbean.
This special guide covers real estate, retirement and more in Belize and is yours free when you sign up for our postcards below.
Get Your Free Report Here