Sue and George's interest in Belize was piqued in 2010, while still living in Los Angeles. Sue read an AARP article about retiring in Belize and George watched an International House Hunters program about building a home there. George had long dreamed of building their ideal retirement home. But the Paolettis knew that it would be exorbitantly expensive to do so in Southern California.
Having grown up in England, Sue hates rain. "When I researched Belize I discovered that the rainfall in Corozal in the north is only about 60 inches per year. So in February 2011, we took a two-week trip to Corozal," she says.
They had no intention of buying land on that very first trip, but two days before they were due to visit Corozal, they learned that a new subdivision had just opened, south of town. While in Corozal they checked out the property options.
Sue says, "It was perfect for us. It was two miles out of town, on the bay, with one-third of an acre of land, and within our budget. We looked at each other, said 'This is it', knocked on the real estate agent's door and asked 'Where do we sign?'
"After that trip we flew back to the U.S., sold our house and furniture, drove through Mexico and arrived in Corozal in January, 2012."
With the help of a contractor, George designed and built a beautiful, two-story house that looks out onto the Corozal Bay. Sue says, "We have a lap pool, an outside living area, and a garden that I designed and landscaped."
Reflecting on their move, Sue explains how their lives have improved since they came to live in Belize.
"If I still lived in Los Angeles, I probably would have to work since surviving on two Social Security paychecks would be difficult. Also, I would not be able to travel as I do now. My husband's goal when we came here was to build a house; mine was to travel. We moved into our new house in May 2013 and I have been traveling ever since. George would rather stay at home, or travel for just three weeks, so I travel alone a lot. In 2015, I went to Peru, Italy, and twice to England. In 2017, I am planning a round-the-world trip to celebrate my 70th birthday…George will meet me in Australia and spend the last part of the trip with me."
Local expats immediately welcomed the Paolettis with open arms. "I was invited to join the Corozal Women's Forum, the Roots and Shoots Garden club, and yoga classes. George was invited to play golf and poker. He's now the manager of the golf course, where he spends three mornings a week playing golf," says Sue.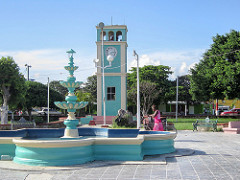 The fact that Corozal is a small town appeals to the Paolettis. "I love living in a small town; I can get anywhere in 10 minutes," Sue says. "I constantly bump into people I know…not something that happened regularly in Los Angeles.
"And the cost of living here is about half of what it was for us in Los Angeles. Our monthly budget is about $1,300, not including medical expenses or vacations. So we can easily manage on our Social Security income. Most things are cheaper, such as food and eating out. Wine and tequila are expensive so we drink rum and beer!"
Their lives are full and rewarding living in Corozal. "I am on the board of the Corozal Women's Forum where we have a monthly meeting with a speaker, followed by lunch. I do yoga twice a week in a large palapa by the beach and pool exercises twice a week in a neighbor's pool. Our Roots and Shoots Garden club is thriving, with monthly field trips and swapping ideas, plants, and seeds."
And Sue now has plenty of time to pursue her favorite hobbies—reading and gardening. "I find great joy in discovering native plants and reading in a hammock by the pool."
Sue and George do miss a few things from home, such as their friends. Sue misses acting, as well as hiking in the Santa Monica mountains. But they have no regrets about their decision. Sue explains, "We're both quite content in Corozal and plan on never moving again."
Get Your Free Belize Report Here
Learn more about Belize and other countries in our daily postcard e-letter.
Simply enter your email address below and we'll send you a FREE report – Belize: The Top English-Speaking Retirement Haven in the Caribbean.
This special guide covers real estate, retirement and more in Belize and is yours free when you sign up for our postcards below.
Get Your Free Report Here