In International Living's Annual Global Retirement Index 2015, we ranked and rated the 25 best retirement havens in the world. You can stretch your dollars in any of them and live better than you can back home—for less. But the five below offer the lowest cost of living and come out on top in the Cost of Living category in the Index.
The category evaluates things like day-to-day expenses to the cost of a flight back to the U.S. to visit the folks… Groceries, movie theater tickets, eating out, garbage collection, gas, gym membership, and all the hidden and often unconsidered costs—like traveling around your new home and exploring neighboring towns. After all you're there to have fun.
Nicaragua: Save on Property Costs
For house buyers or investors, Nicaragua offers the lowest cost of living and business opportunities. You could live here in a $2-million mansion with everything you would ever want in a home if you are willing to pay for it. But the great thing about this tropical paradise is that you don't have to. You can still feel like you're living the life of Reilly—on a very low budget.
The items you save on add up. Real estate taxes are low—you'll pay around $150 a year for a $130,000 house. The cost of rentals are low, too. Friends of mine live in a modest three-bedroom home overlooking the bay of San Juan del Sur for just $200 a month. Electricity, water and WiFi are extra and cost an additional $100. Many one or two-bedroom rentals in town go for $250 to $400 a month, depending on amenities.
I spend about $25 a week for food. If I must have peanut butter, almond milk, gouda cheese, teriyaki sauce and cuts like filet mignon, my food budget goes way up. You can also save quite a bit of money enjoying your dinner at one of the many happy hours with $1 or $2 appetizers. And you can hire someone to clean your house for about $10.
Some things are more expensive in Nicaragua. Electronic items are double the price, for example. Gas hovers around $5.50 a gallon. New cars and trucks in Nicaragua have sticker prices of about a third to a half higher than the U.S. A large jar of Jiffy peanut butter can set you back $12. A small piece of cheddar cheese might cost over $5. You get the idea. If you are willing to live the good Nicaraguan life and forego some of those old necessities that aren't really necessary, a single person can easily live on $1,000 or less a month and a couple can maintain a comfortable lifestyle for $1,200 and $1,400.—Bonnie Hayman
Vietnam: Budget $1,000 a Month for a Couple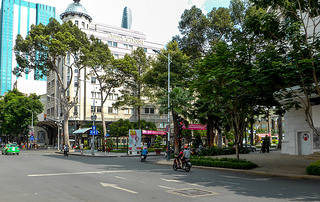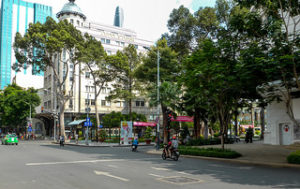 Rent, utilities, eating out, exploring…a couple can live well in Vietnam for $1,000 a month or less. Much depends on where you go and what lifestyle you want. Pay $200 a month in the beach town of Hoi An for a furnished one-bedroom place close to a quiet and beautiful beach. Spend $600 to $800 and you'll get a three- to four-bedroom house with a garden. In Ho Chi Minh City you'll have to dig around to find the same value, but $500 a month should get you a comfortable apartment.
Internet with unlimited data costs $14 a month, electricity around $35 a month, a call on a cell phone is less than a cent a minute. You'll pay 90 cents for a beer, $2 an hour for a maid, get a movie ticket for $4 and buy a kilo of rice for 75 cents.
Most street food will cost from $1 to $2 and it's delicious. Noodle soups, baguettes stuffed with meat and veg, roll cakes with pork, sticky rice…there's so much to choose from that eating well is not only cheap and healthy, it's also fun. For a sit down meal at a Western-style restaurant a couple will pay $20 to $30, or go to a Vietnamese restaurant and you'll pay a third of that or less.
For groceries, especially fresh fruit and vegetables, shop in the markets and avoid supermarkets. And be prepared to bargain.—Eoin Bassett
Ecuador: A Comfortable Lifestyle at a Low Cost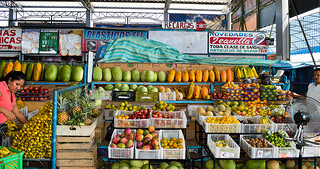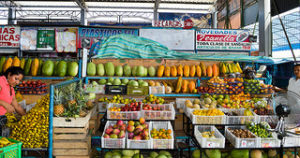 In Ecuador, housing is affordable and inexpensive to maintain. In one of the many small towns in the country you can find nice furnished apartments to rent for around 50 cents per square foot. So, for an 800-square-foot residence you could pay $400 per month. Of course, more amenities or stunning mountain views will cost a bit more as will housing in the larger cities.
Some of the biggest savings though is with your utility costs. Most places in Ecuador, especially the highlands, have a moderate climate, which means no heating or cooling expenses. Few expats who live in mountain towns spend more than $35 per month on electric, water, and gas combined.
The local market is where you'll save a lot of money, too. If you like fresh fruits and vegetables, Ecuador is the place to go for a smorgasbord of produce at low costs. Six large tomatoes, a head of broccoli, 10 large bananas, five avocados, six to eight carrots, and a huge juicy pineapple will set you back less than $5. Half a kilo of locally made cheese costs $3. And $2 will get you a dozen long-stemmed roses to spruce up your home.
Want to pamper yourself? You can get an hour-long massage for $20 or less and a full manicure can cost $3. Or indulge in a delicious lunch complete with soup, salad, fried chicken, and rice washed down with a super-sized beer for $4 per person.
The best part of Ecuador is all of the things that cost very little or nothing at all. Everything from cultural parades, to fashion shows, to six-day-a-week garbage service are free. And often times a friendly local will offer you a free ride if they see you walking down the street.—Wendy DeChambeau
Thailand: Draws Expats for its Affordable Living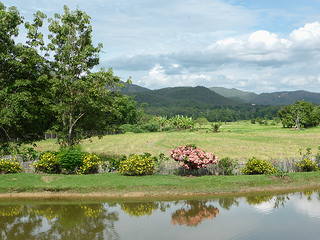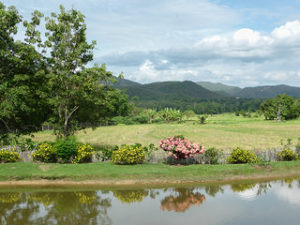 Thailand still continues to be a draw for expats and tourists because of the low cost of living. Even in the heart of the city of Chiang Mai, it is possible to rent a modern one- or two-bedroom furnished condominium for less than $600 per month. For those willing to live a short distance from the major urban centers, there are a large variety of comfortable homes available for much less. Of course, the prices increase as you approach the beach resort areas that are concentrated in the southern part of the country. However, even there, great deals can be found.
For those who choose to keep up their Western lifestyle and continue to purchase the same types of foods in large grocery stores as they did in their home countries, the costs will be similar or more expensive. But shopping in the local markets that are in abundance everywhere will decrease food costs greatly. There, you can find a rich variety of fresh produce and a large assortment of local delicacies for a fraction of the cost of the U.S. The fact that the number of organic products available is steadily increasing is an added bonus. Even the coffee is often locally grown.
Picking up a delicious meal from a local street vendor can cost as little as a dollar. Add another dollar or two, and you can get a beer or fresh fruit juice. Although the sky is the limit, eating out at a mid-range restaurant can still be relatively inexpensive and rarely costs more than $10 to $15 for a couple.
High-speed Internet, flexible mobile plans and decent cable TV packages are also available for affordable prices throughout the country. Most expats living in Thailand say there is very little they cannot find.—Steve LePoidevin
Three of the Most Affordable Towns in Belize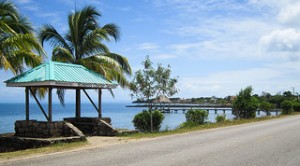 Belize is recognized for its stunning natural beauty, Caribbean coastline, Mesoamerican reef, ecotourism offerings and Maya archaeological ruins. But this small country also offers diverse options for expats looking to retire in a comfortable English speaking country. Expats who plan to rely primarily on their Social Security income can consider the towns of Corozal, San Ignacio and Punta Gorda. For those who can afford a step up financially, it's possible to live an enviable Caribbean lifestyle at a fraction of the cost of other Caribbean islands such as the Caymans, Turks & Caicos, and the Virgin Islands.
The small town of Corozal is nestled along the emerald waters of the Bay of Chetumal. This is a particularly popular place for expats retirees, as the cost of living is reasonable. You can live well on $1,300 a month. Familiar discount shopping stores, such as Sam's Club, are just across the border in Mexico.
Rentals can still be found for $400 a month. Real estate prices are rising in Belize, but several two bedroom homes were recently listed in the region for less than $150,000.
Corozal is not a tourist town, so the cafés and restaurants tend to be run by locals and are less expensive. A full breakfast at the popular June's Kitchen runs $5. Lunch or dinner at Jam Rock or Patti's Bistro ranges from $6 to $12.
The Cayo District attracts expats who are seeking a reasonably priced lifestyle near the Maya mountains, rivers and jungle. This expansive region has many charming little villages nestled amongst the hills, or along the bank of a river. More expats are gravitating towards these villages. And some choose to live off grid, in a more remote area.
You can live comfortably on $1,200 a month in the Cayo. House or unit rentals start at $300 a month. A two-bedroom house in town was recently listed for sale for under $120,000.
The Cayo region is Belize's bread basket. This is where the Mennonite farming community is centered, in nearby Spanish Lookout. And the town of San Ignacio has the largest open air market in the country. Fresh fruits, veggies and Mennonite products are less expensive in the Cayo than in the other regions, other than Punta Gorda. Your monthly grocery bill will start at $200 a month.
Drop by Pops, in San Ignacio, for a tasty breakfast for $5. A dinner at expat hangouts such as Mr. Greedy's or Ko-Ox Hannah runs about $10. Opt for a local Belizean restaurant and the price will drop further.
The peaceful little town of Punta Gorda is in Belize's "Forgotten District," at the far southern end of the country. Punta Gorda perches along the edge of the gorgeous Bay of Honduras. On a clear day you can see the silhouetted mountain ranges of Honduras and Guatemala to the south. Punta Gorda (PG) has not yet been "discovered" as a tourist haven, although the word is slowly getting out. So the cost of living is the least expensive of any of regions where expats settle. Several expats report that they get along comfortably on $1,100 a month.
Recently a four-bedroom, two-bath home near PG listed for $120,000. And the rent for a decent two bedroom house with a yard, in Punta Gorda Town, near the bay, runs $600 a month.
The Toledo District has a significant Maya community, many of whom farm. So, like the Cayo, the cost of fresh fruits and veggies are inexpensive at the market right in town. And most restaurants in PG are owned by locals, so offer reasonably priced meals. Breakfast at The Snack Shack costs around $5. Lunch or dinner at Waluco's or Jocelyn's will run $5 to $10.—Ann Kuffner
Get Your FREE Report on the World's Top Retirement Havens

Learn more about other great retirement destinations from around the world in IL's free daily postcard e-letter.
Simply enter your e-mail below to subscribe to International Living's free daily e-letter and we'll also send you a free report on the The World's Top 10 Retirement Havens
Get Your Free Report Here