The last time we saw a spike in traffic for a trending topic was after the 2016 elections. We saw a 105% increase in traffic to our move overseas articles. You can take a look at those results here.
We're starting to see this trend coming back again under specific topics such as safety, healthcare, best places to live and most notably; how to move out of the US.
We published an article in September titled 'How to Move Out of the US' that detailed steps how a US citizen may move to another country.
We covered how to secure residency visas, how to choose the right destination for you, what's it like to live in certain area's and some reasons why overseas retirement is becoming so popular.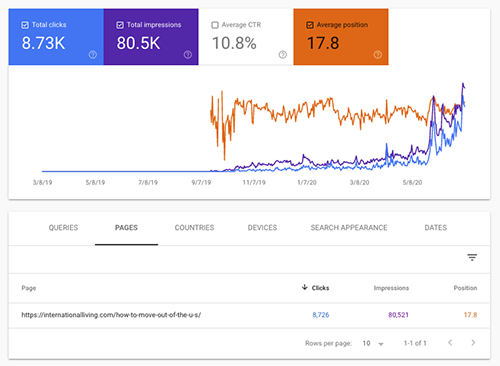 The inspiration for the article came from our readers after we published an article from Bob Jackson about how moving overseas changed his life.
We took a chance to make a change. IL allowed this to happen. I will be forever grateful. You can make this change, as well – Bob Jackson
They had so many questions we thought an article detailing 'how to move out of the US' would help give them an excellent starting resource.
The article did excellent when we were promoting to our own readership. Our social media followers shared and engaged like any other resource we had.
The article was getting around 50 visitors a day at the start of the year, increased to 100 visitors a day during the Covid-19 pandemic and skyrocketed following the tragic death of George Floyd.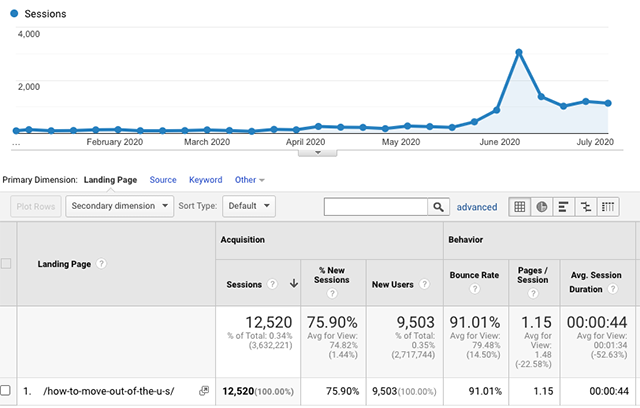 This analytics segment is only highlighting organic traffic from search engines such as Google, Bing & Duck Duck Go.
We looked at our Google Search Console information for keywords triggering traffic over the last 28 days and terms like 'how to move out of the US' and 'leaving the united states permanently' were notable trends increasing.