In International Living's Annual Global Retirement Index 2017, we ranked and rated the 24 best retirement havens in the world. You can stretch your dollars in any of them and live better than you can back home—for less. And while all of these destinations are affordable, we have found the most cost-effective havens from the results of the "Cost of Living" category in the Index.
The category evaluates things like day-to-day expenses to the cost of a flight back to the U.S. to visit the folks or grandkids… Groceries, movie theater tickets, eating out, garbage collection, gas, gym membership, and all the hidden and often unconsidered costs—like traveling around your new home and exploring neighboring towns. After all you're there to have fun.
Below are the top five retirement destinations for an affordable cost of living:
5. Vietnam: Low-Cost Living in a Country on the Rise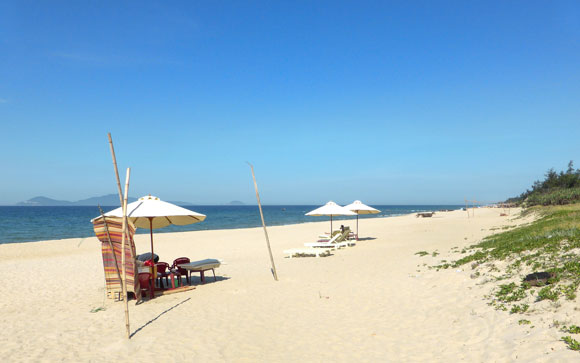 Vietnam has become a popular destination in Southeast Asia for both expats and tourists. In 1990, it was one of the poorest countries in the world; today, it is decidedly middle-class and on an upward trajectory. Upscale malls and trendy residential areas are sprouting up everywhere and there are now several internationally accredited hospitals.
Vietnam remains an extraordinarily inexpensive place to live. Modern, furnished, two-bedroom apartments can be found in lovely beach towns starting at around $350 to $400 per month, and for around $500 per month in major cities. Apartments often include cable TV, high-speed internet, water, trash, and housekeeping in the rent, leaving you paying between $40 and $60 per month for electricity and less than $3 per month for cooking gas, and that's if you cook all of your meals at home. Good housekeepers are happy to earn just $2 or $3 per hour.
Prepaid cell phone plans include unlimited data for less than $3.50 per month, and a signal can be found even in the most remote parts of the country.
Public buses in the cities are surprisingly efficient and cost about 30 cents, and metered taxi rates start at about 80 cents for the first mile. Several budget airlines offer all-inclusive fares to international destinations starting at around $45.
Vietnam has a well-deserved reputation for having delicious and healthy food and by any standard, it's a bargain. A hearty bowl of Vietnamese chicken noodle soup costs less than $2, and the ever-popular bánh mì, or Vietnamese sandwich, can be found throughout the country for $1 or less. Even eating Western food comes at a discount in Vietnam; dinner for two at a typical Western restaurant costs between $15 and $20, including drinks.
A shopping bag full of local fruits and vegetables from the market will rarely exceed $2. Excellent, locally grown Robusta coffee can be found for less than $2 per pound, and fresh, draft beer costs just 25 cents per glass.
Seeing a specialist at an international hospital costs less than $30, and prescription medications available in the West are available over the counter here for a fraction of the price.
U.S. citizens can now get one-year tourist visas starting at about $165, which makes living in Vietnam easy.
The country has held onto its ancient traditions while embracing progress, making it a uniquely exotic and exciting place to live. The low cost of living is just one reason why expats love it here.—Wendy Justice
4. Colombia: The Cost of Living is Lower Than Ever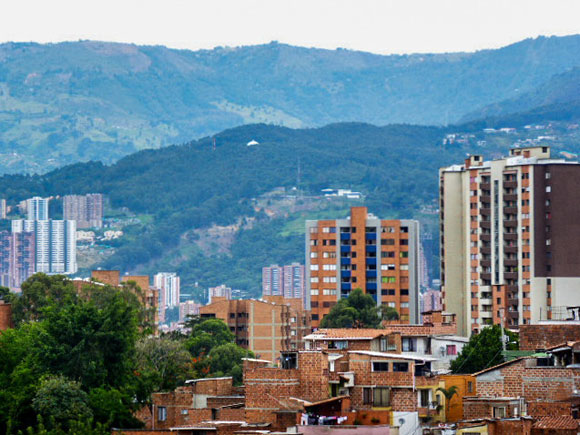 During 2016 the Colombian peso averaged an exchange rate of 3,100 pesos to $1 USD, making it an extremely affordable place to live. The actual costs will vary depending on where you choose to settle down, but you will almost certainly have a higher quality of life than you did back home. It is safe to say that a monthly budget of $1,500 to $2,000 will allow you to have not just the necessities of life, but also some great amenities like regular maid and handyman services.
Rental prices are low, too. In a medium–sized city such as Pereira, you can find unfurnished three-bedroom, two-bathroom apartment rentals in the $400 to $600 range. In the upscale El Poblado neighborhood in the city of Medellín, rents can be in the $800 to $1,000 per month range. Even at that, the costs are significantly lower than most major U.S. cities.
Fresh, local produce is a staple of any healthy diet. Farmers' markets, small corner grocery stores, and large supermarkets all have a huge selection of fruits and vegetables at extremely low prices. You can fill your basket with a week's worth of produce for $10.
Utilities (water, electricity, and gas) average $70 per month. High-speed, unlimited internet, home phone and cable TV will be about $60 per month. Due to the temperate climate in much of the country, there is no need for central heating. And unless you live on the coast, there is also no need for air conditioning.
Eating out doesn't need to be an occasional treat either. A meal at a mid-priced restaurant is about $25 per couple, including wine and tip.
Living in Colombia allows you to lead your ideal lifestyle at a price that is now more affordable than ever.—Nancy Kiernan
Get Your Free Report on the World's Best Places to Retire:
Learn more about the best places in the world to retire in our daily postcard e-letter.
Simply enter your email address below to sign up for our free daily postcards and we'll also send you a FREE report on The World's Top 10 Retirement Havens.
Get Your Free Report Here
3. Peru: South America's High-Quality, Low-Cost Retirement Destination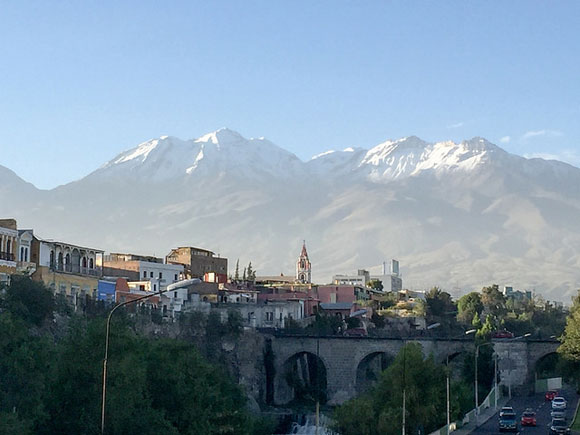 Peru has long been a destination for tourists seeking outdoor adventures, spectacular scenery, and archaeological treasures. For expats looking for an inexpensive retirement location, it offers one of the most attractive costs of living in Latin America.
From renting to eating out, you will be surprised at the high quality of life you can have in Peru with a modest income. In Arequipa, hundreds of traditional picanterias offer three-course lunches for as little as $2, including a jug of purple chicha morada, the local drink of choice. The metropolitan capital of Lima is famous for its wide variety of cuisines at affordable prices. A large three-bedroom apartment in the popular Yanahuara district of Arequipa can be found for $350 per month or less. For double that price, it is possible to find a totally furnished and outfitted modern condo.
A wonderful assortment of very good South American wines is available for $10 or less a bottle. Local beers can cost less than $1, but you will pay around $5 per pint for one of the dozens of Peruvian craft beers that are becoming popular throughout the country. Add in the huge variety of inexpensive local cheeses, chocolate, and baked goods, and you have a foodie's paradise at budget prices.
The main cities have a good variety of well-stocked supermarkets where you can find many familiar items. Imports will cost about the same as in your home country, but shoppers who rely on locally produced goods will pay well under $300 per month for groceries. Local markets provide fresh fruit, meats, fish, vegetables, and cheeses for inexpensive prices.
The best part of all is the low cost of actually retiring to Peru. With only a $1,000 per month financial requirement, and no necessary bank deposit, annual renewal fee, or minimum age, it is one of the easiest and cheapest countries to stay long-term. And additional family members will only set you back $500 each, too. The Rentista Visa and accompanying Carnet de Extranjeria (Peruvian ID card for foreign residents) are good for life. Other types of visas are also available for those who want to open businesses. After two years, it is possible to obtain permanent residence or even citizenship.—Steve LePoidevin
2. Nicaragua: Latin America's Most Affordable Retirement Haven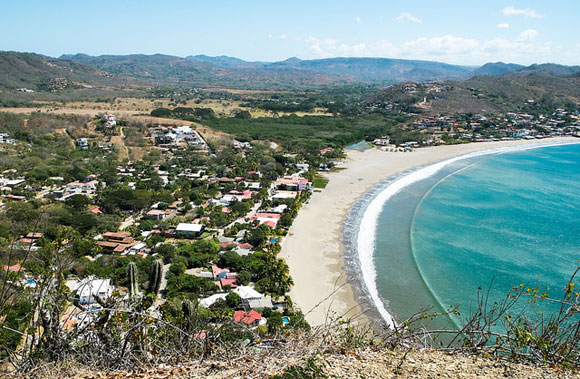 You may not believe it, but you can live in Nicaragua for about $1,200 to $1,500 a month. That includes a one-bedroom furnished apartment (about three blocks from the beach), food, electricity, water, internet, and going-out money. Having a vehicle will add some extra expenses, but in the main cities of Nicaragua you can just walk or take public transportation and taxis.
When I go back to the U.S. to visit my daughter, I hesitate every time I go to the supermarket. Now that I'm acclimated to Nicaragua prices, I can't believe my eyes in San Diego at the cost of food alone. Where she pays $8 and up for a pound of good organic, free-range beef, I only pay $2, and mahi-mahi that goes for $15 a pound in San Diego would only cost $3 in Nicaragua. And the funny thing is that my nutritionist daughter pays outlandish prices to find healthy food, something that—while very hard to find in the U.S. with all the chemicals pumped into fruits, vegetables, and animals—is really all we have here.
If you buy from the farmers here, you get fresh produce for a much lower price than the U.S. and Canada.
Taxes are also affordable. I pay $141 real estate taxes a year for a $132,000 house, on almost an acre of land with an ocean view. Nicaragua does not require you to pay taxes on income earned abroad—like the U.S. does—so if you work online (as a writer, travel photographer, copywriter, etc.) you don't have to pay Nicaragua anything.
Healthcare in Nicaragua is cheaper too. A doctor's visit, an X-ray, or an ultrasound will set you back around $25. An endoscopy costs $200. A total hip replacement is $10,000. All of these prices come with no insurance. In fact, many expats choose not to continue with their U.S. insurance due to the cost of the premiums and co-pays, and instead pay medical expenses out-of-pocket in Nicaragua, because it costs less.
For those with children, a live-in nanny will cost $200 a month. A gardener or cleaner will cost $10 a day. A chauffeur, who will drive you in your car anywhere in Nicaragua, will cost $30 a day. In Nicaragua, expats, including very young couples, are able to make time to be with their family or do the things they want to do due to the low prices they pay for these services.
All in all, there is no comparison in the cost of living between the U.S. and Nicaragua. Here, you can have a higher quality of life, no financial worries, a better house, more fun, and less stress for a fraction of what you're paying now. Nicaragua literally saved my financial life and it can help you, too.—Bonnie Hayman
1. Cambodia: Southeast Asia's Kingdom of Low-Cost Living
If there is one thing that expats in the Kingdom of Cambodia are most likely to agree on it's that this country offers an affordable cost of living that is hard to compete with.
In fact, the first thing a new expat will notice when they move to Cambodia is the ease of processing their annual visa extension, which only costs $285 a year and imposes no minimum income requirements.
Another area that reinforces Cambodia's affordability are the great-value property rentals. Western style apartments are available to rent from $300 a month in the capital of Phnom Penh, and go for as little as $200 a month in the beach town of Sihanoukville, for example.
Eating out is the norm here and indulging your appetite is more than possible, even for those on a tight budget. Meals at quality local and international restaurants cost as little as $10 to $20 for two people. A particular favorite for both Cambodians and expats are the BBQ restaurants that are plentiful and popular across the country. They offer succulent barbecued beef and ocean fresh seafood—with free flowing beer—from $10 a head.
Cambodia also offers massive savings for those who require regular medications, with cities such as Phnom Penh having several professional pharmacy chains and specialists that provide brand name medications at less than 10% the cost it would be in the U.S. These pharmacies buy directly from the original manufacturers or exclusive distributors, and also offer high quality generic options which can increase your cost savings even more dramatically.
Thanks to a competitive telecom market, the country boasts some of the cheapest cellphone plans available in any country. One leading mobile operator offers a package with unlimited talk time and 4GB of internet data a month for only $4, while another operator provides a 3GB package of 4G internet for just $1. Literally, these are some of best deals in the world!
Grocery shopping is a treat, especially in Phnom Penh, where there is a chain of Western supermarkets, as well as a number of other international supermarkets, where you can buy high quality imported goods at reasonable prices. A monthly grocery bill might set you back $200 for a single person.
And with the cost of living so low, you can take advantage and indulge in a visit to one of Cambodia's many skilled tailors for a new bespoke shirt, pair of trousers, or skirt. Made using high quality imported fabric from Europe, a piece of finely tailored clothing can cost as little as $20 or $30 and can last for many years.
To top it off, once you are done with your low-cost shopping trip or night out at a restaurant, all you have to do is call one of several taxi companies who will send a brand new, air-conditioned car to pick you up and take you home in comfort for about $1 per trip.
Cambodia has the lowest expat cost of living in the world, but while the prices are low, the quality and luxury of the lifestyle is definitely not!—Steven King
Get Your Free Report on the World's Best Places to Retire:
Learn more about the best places in the world to retire in our daily postcard e-letter.
Simply enter your email address below to sign up for our free daily postcards and we'll also send you a FREE report on The World's Top 10 Retirement Havens.
Get Your Free Report Here