Everyone claims to want a better quality of life. But what does that actually mean? It´s something different for each person. For me, it means doing more of what I want to do, and less of what I don't. At this point in my life I want to experience more and regret less.
Here are five reasons why you should consider spending your "best-are-yet-to-come" years in Medellín, Colombia.
1. Enjoy Spring Every Day
Imagine listening to the sound of birds chirping in the trees outside your bedroom window. A gentle breeze carries in the soft sent of flowers that are always in bloom. The sun is just coming up over the Andes Mountains. What a great way to wake up in the City of Eternal Spring—Medellín.
With daytime highs in the low-to-mid-80s F and evening temperatures in the mid-60s F, there is never a need to wear anything heavier than a light jacket, regardless of the month on the calendar. Even though Medellín is located six degrees north of the equator, being at 5,000 feet of elevation creates a non-humid, bug-free environment. My apartment, like most residences, does not have screens on the windows or a thermostat. There is no need for heating or air conditioning. Opening or closing a window is all you need to do to regulate the temperature.
2. World-Class, Affordable Healthcare
Access to inexpensive and quality healthcare is always on the minds of retirees. You will be glad to know that eight of the top ranked hospitals in all of Latin America are located in Medellín. Private, public, and teaching hospitals offer general and specialty inpatient and outpatient care, as well as laboratory, imaging, and pharmacies. Medellín's Hospital Pablo Tobón Uribe is one of the four hospitals in Colombia that has earned Joint Commission International accreditation, the gold standard in world health.
Expats with a resident visa qualify for the national health plan. The monthly premium for both my husband and me is less than $80. The co-pay for prescriptions is only $3, and an ultrasonic cleaning done by the dentist, not the hygienist, is less than $35.
3. Low Cost-of-Living
Fresh fruits and vegetables are plentiful and economical. Whether you prefer to go to the large grocery stores, the small mom and pop stores, or the famers' market, you can fill your basket with healthy produce for less than $10. Eating out does not have to be a once-in-awhile treat. Medellín's diverse gastronomy will satisfy your taste buds without emptying your wallet. Dinner for two at an upscale steakhouse, including wine and tip is under $50. Breathtaking city views—no extra charge!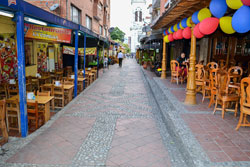 Ready to take it a little bit easier and let someone else handle the housework and chores? For $300 per month you can have a full-time maid do your cleaning, cooking, laundry, and errands. Or if you prefer just occasional help once a week, then it will be less than $15 for a day's work.
Taxis, buses, and the Metro are easy to use and an inexpensive way to get around the city. For less than $10 you can travel from one end of the city to the other by taxi. However, most fares are less than $5.
Housing costs vary greatly depending on which part of the city you choose to live. There are many fabulous neighborhoods with affordable homes and apartments to either buy or rent.
4. Staying Young by Keeping Busy
Having more than 30 universities in the city has multiple benefits. First of all, the city has a young vibe. There is something inspirational about seeing so many students pursuing their studies. Secondly, the universities offer cultural events such as concerts, art exhibits, and lectures, many of which are free to the public.
If you feel your level of Spanish isn´t quite where you would like it to be, then you can learn or improve your language in one of the many language schools, university programs, or through a private tutor who will come to your home. Learning new things keeps your mind active and young. And now you have the time to do it.
Prefer to soak up the Colombian culture at your own pace? You can spend hours strolling through any one of Medellín's numerous museums, botanical parks, zoos, or just people watching in the shopping malls. And if the outdoors are calling you, Medellín is listening. Hiking through the magnificent mountains, horseback riding, or for the more adventurous, flying parepente (seated hang gliding) are available to you.
5. You can go Anywhere From Here
Medellín is the perfect jumping off point to travel around Colombia. The International airport has frequent flights of less than an hour that will allow you to explore the coastal cities of Santa Marta and Cartagena, the capital city of Bogotá, or the coffee country region of Manizales/Pereira. From Cartagena you can take a cruise around the Caribbean, and from Bogotá you can fly to nearly every major city in Central and South America. Using Medellín as your new home base, you can discover the entire South American continent from an easy vantage point.
Improve your quality of life. Do more…see more…taste more. All that is possible from your new backyard—Medellín.
Get Your Free Colombia Report Here:
Learn more about Colombia and other countries in our daily postcard e-letter. Simply enter your email address below and we'll send you a FREE REPORT: Beautiful, Diverse and Safe – Take Another Look at Colombia.
This special guide covers real estate, retirement and more in Colombia and is yours free when you sign up for our IL postcards below.
Get Your Free Report Here