If you fancy the rural lifestyle—unbothered by traffic and hurry—but with all of the conveniences of a city close by, there's a location in Panama that should be on your radar.
In the highlands of the Veraguas Province in west-central Panama, you'll find Santa Fe. It's a small town that offers all the beauty and comfort of the rainforest, fresh produce from the fertile volcanic soils, and an easygoing lifestyle of bygone days in the States.
Nearby, in the lowlands, you'll find the city of Santiago—and all the convenience and variety of a small city. That includes plenty of shopping and all the options for entertainment and indulgence you could crave. Though only about an hour apart by road, these two are worlds apart in character.
Together they could fulfill all of your needs for a perfect retirement lifestyle.
Only a few dozen foreigners from around the globe have made Santa Fe their home, which is surprising when you see all that the little town offers.
The natural setting provides plenty of ways to enjoy nature—hiking, river tubing or swimming, bird watching, horseback riding, and gardening among them. The Santa Fe National Park protects the land on three sides of the town, and clean mountain-fed rivers such as the Santa Maria and Mulaba nourish the region.
And, nestled as it is among the peaks and valleys of the Continental Divide, Santa Fe's elevation of 1,500 feet is enough to keep it at a comfortable climate. Many are drawn to the spring-like climate, which offers daytime highs of 75 F to 85 F and nighttime averages of 65 F to 70 F, so you don't need heating or air conditioning.
Living in Santa Fe is reminiscent of small-town life some of us recall from decades ago. The town has a population of about 3,200 and until recently was at the end of the paved road. Agriculture is the main occupation, with coffee and citrus among the main crops, along with tropical fruits and a wide range of vegetables.
No one is in a hurry, and most residents don't even own vehicles. Horses are almost as common as buses as a means of transport, and signs on the fences read "prohibido amarrar caballo," which means "don't tie your horse here!"
Everyone knows one another and life revolves around the three-block center of town dominated by the large Catholic Church. Sundays are the busiest day of the week, when everyone comes from their homes outside of town to attend mass, do their shopping, and get caught up on the local gossip.
It's very affordable, too. A couple could live comfortably here for just $1,500 to $2,000 a month—that includes rent and trips to Santiago for fun.
Because it's so quiet and undeveloped, occasionally you'll want to head to Santiago. That's where you'll go for the practical errands, like the bank or pumping gas, or for entertainment, like going to the movies or fine dining. Santa Fe expats typically go two or three times a month, whether it's a quick morning excursion to take care of necessities, or a two-day stay for a splurge at a nice restaurant and hotel.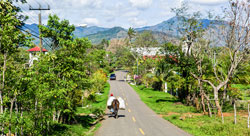 To get there, you head along the Pan American Highway. You can feel the temperature rise as you travel down from the highlands on the two-lane road into the lowlands city, which has a population of about 45,400.
Everything you could want is here: a hospital and medical center are located on the south side, including a recently completed expansion building.
Heading west you'll pass the Hotel Mykonos, an impressive Greek-influenced hotel with a gorgeous pool that's perfect for an overnight stay while taking care of business in the city. Right next door a new mall is under construction—the first enclosed mall in Santiago. Like others in and near Panama City, the mall will house a multi-cinema and food court in addition to dozens of retailers and service providers new to this area.
Farther on, a large shopping center features a Machetazo department store and a McDonald's, and a just-finished commercial center anchored by a Rey Supermarket and Do It Center (like Home Depot) adds KFC and Pizza Hut to the mix. Hotel Gran David is conveniently located on this stretch—$49.50 for a huge room, thanks to the pensionado (pensioner) discount.
A traditional central plaza with the colorful Cathedral and its twin spires overlooks the downtown district. Next to the church you can sit in the shade of bougainvilleas or a covered gazebo in the central park and cool off with a fresh-made snow cone.
Get Your Free Panama Report Here:
Learn more about Panama and other countries in our daily postcard e-letter. Simply enter your email address below and we'll send you a FREE REPORT — Panama: First World Convenience at Third World Prices. 
This special guide covers insider advice on real estate, retirement and more in Panama. It's yours free when you sign up for our IL postcards below.
Get Your Free Report Here