Sitting west off the Greek mainland, and to the south of Albania, Corfu is the second largest of the seven principal Ionian Islands. Stretching 65 miles in length and up to 32 miles in width with more than 200 miles of coast, this sickle-shaped island is largely covered in mountains and dominated by its highest peak, Mount Pantokrator.
Corfu has many faces, and it reveals them all to the inquisitive traveler. Whether your appetite craves leisure, adventure, history, or culture, Corfu has plenty to offer.
The island truly has it all, from large resort complexes to numerous quiet places for those who prefer independent travel–all surrounded by a glorious coastline with beaches large and small, public and private, dotted all around.
As one of the first Greek destinations to receive large numbers of tourists, Corfu has changed dramatically over the past few decades. Having suffered from over-development, particularly in the 1980s, steps have been taken recently to ensure sustainable development and tourism. It does tend to get quite busy in the summer months, but even then, you can find your own slice of private paradise.
Corfu Town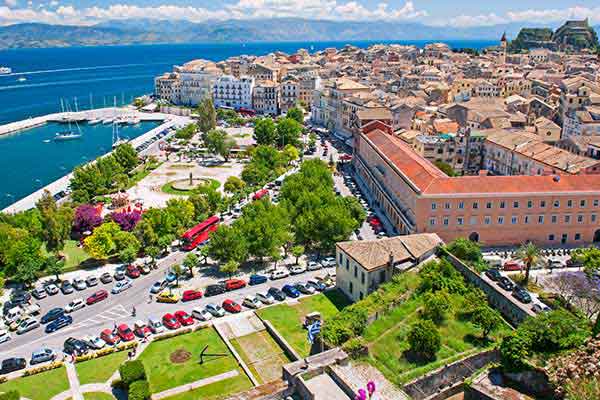 Unlike most other Greek island destinations, Corfu has more to offer than sun and sand. Due to its attractive strategic location, over centuries the island has been a target of numerous foreign armies. Most influentially, the island has been ruled by the Venetians for four long centuries, and that, combined with its proximity to Italy, has given it a very Italian vibe.
The island's capital of Corfu Town holds countless remnants of its vibrant past, with its old town being a UNESCO World Heritage Site. The town's skyline is dominated by two fortresses built by the Venetians to protect the harbor, and the older of the two, Palaio Frourio, provides a stunning panoramic view of the town and the surrounding sea.
Just beyond the "Italian" fortresses lies an area with a visible British influence. The lively Spianada square is actually a complex of different squares, buildings, and monuments, and represents the town at its most vibrant, both past and present. The area is dotted with various traces of the 19th-century British protectorate, including the Royal Palace, various monuments to British officials, and even a cricket court. Liston Arcade, a pleasant avenue lined with restaurants and cafes, runs through the Spianada and represents one of the most gorgeous tourist traps you will encounter, the atmosphere is quite charming, but make sure you check the prices beforehand.
Slightly further you will come across the town's most prominent landmark, the church of St Spyridon, the island's patron saint, which holds its mortal remains. The church's imposing red bell tower can be seen on almost any Corfu postcard, while the interiors show traces of Venetian and Russian influence on the island.
Moving inland
Further inland, the island reveals its two sides in the extreme. On one hand, you have the island's second largest settlement, Lefkimmi, which bears no traces of the island's tourist influx. Lefkimmi is Corfu at its most quiet and local, almost completely free of tourist shops and fancy restaurants. It shows how the island breathes outside of the summer season and could be a good choice for those with a disregard for crowds and shining lights.
In stark contrast to Lefkimmi stands the Aqualand Water Park, the busiest inland destination of the island. It begs the question of why go to an island for an inland water park, but there's no denying it is great for kids.
Off the beaten path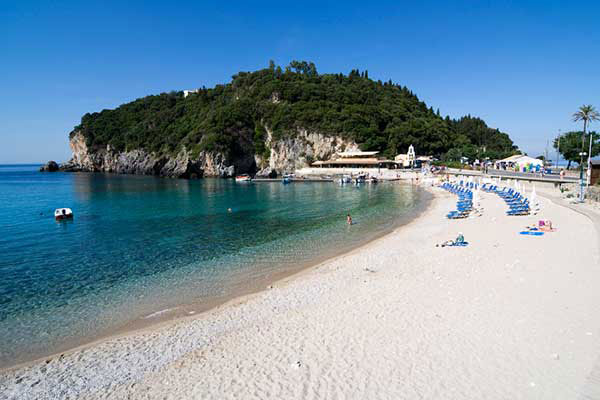 Travelers looking for a more active holiday will be delighted to explore the more wild side of Corfu, unaffected by mass tourism. Corfu trail, a long and winding hiking trail meandering around the island, is a great way to get to know its hidden side. With around 130 miles of trail, you may want to pick your spots, though, so make sure you gather the necessary information and choose which parts of the trail sound most interesting to you.
Mount Pantokrator represents another great excursion. Its winding and ever-circling slopes are a challenge both for hikers and cyclists, but the view from the island's highest point is well worth the effort.A less challenging walk with delightful scenery can be found in the Korission Lagoon. Located on the southern coast of the island, it is a natural formation shaped by the sand dunes that have cut today's lake from the sea. It is a perfect place for wandering around and soaking up the peculiar vegetation and the sounds of its rich fauna.
For a taste of the old-time coastal life, head on down to the north-west coast, where several tiny villages are scattered around arguably the most scenic part of Corfu's coastline. Quaint little villages with miniature harbors and fishing boats, as well as an occasional local tavern, are little time capsules of calm and quiet rarely found in today's age, especially at a tourist hub. The coast itself, looking across at the dramatic mountains of Albania, is as gorgeous as it is diverse, from tranquil pebbled beaches to mountains descending straight into the sea.
Beyond Corfu
To fully enjoy your visit to Corfu, you should venture beyond it, since it is surrounded by a number of charming islands perfect for day trips. Some of them are also tourist hubs, but others offer a less crowded experience.
Diapontia Islands are popular among adventure seeking travelers. Neighboring the north-west coast of Corfu, the small islands of Othoni, Mathraki, and Erikoussa offer a welcome respite from the height of the tourist season. They have little to no tourist infrastructure, and are excellent for diving and fishing.
The islands of Paxos and Antipaxos are considered some of the most beautiful in all of Europe. While Paxos has a number of accommodation complexes, it has still kept its quiet charm. Conversely, the island of Antipaxos is uninhabited, offering a shining example of the beauty of nature unobstructed by man-made formations.
All things considered, Corfu is an eclectic combination of numerous influences that simultaneously offers upscale tourism, secluded areas, untamed wildlife and the spirit of yesteryear, all immersed into a strong history and culture. Regardless of your tastes and preferences, you are bound to find your own ideal corner on this Ionian gem.
Related Articles
The World's Best Places to Retire in 2018
The World's Best Climate: Top 6 Countries