"From our porch we can see down to the river, where we have our own little private beach and swimming hole," says Albuquerque native Bob Caragol of his and his wife Irma's new home.
"We just fell in love with the area. There's no crime and no pollution, and my asthma symptoms improved immediately."
Their story is typical of expats living in the scenic mountain town of Santa Fe, located in Veraguas province in west-central Panama. The 4,000 or so residents of Santa Fe enjoy a year-round spring climate and an abundance of nature. Here you can live a healthy retirement fueled by fresh produce and plentiful clean air.
And you can do it for pennies on the dollar, too. All told, a couple can comfortably live here for $1,500 a month, including rent. If you're after a low-cost, rustic retreat and country lifestyle, Santa Fe may be the place for you.
Panama's highlands are known for their comfortable climate, called "eternal springtime" by some. And Santa Fe and its environs are no exception. Sitting at around 1,500 feet, Santa Fe's year-round daytime temperatures typically range from 75 F to 85 F, and at night temperatures cool down to 65 F to 70 F. The area gets plenty of rainfall, ranging from afternoon downpours to soft showers called bajareque. Misty fog collects in the lower valleys or shrouds the higher peaks until the bright morning sun burns it off.
Much of the land is protected as part of the Santa Fe National Park, which surrounds the town on three sides. You can spend your days hiking, bird-watching, horseback riding, or river tubing.
Orchids are native to the area and grow both in the wild and in cultivation. Local guides offer night-time hiking tours to the summit of Cerro Tute to see the resident animals, like tapirs and capuchin monkeys, when they are most active. You can trek to numerous rushing waterfalls at Alto de Piedra, Bermejo, and the triple falls atop El Salto. Or you can simply relax on your porch and watch the butterflies and hummingbirds flit by.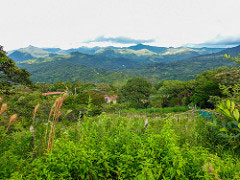 But for many expats, the best thing about Santa Fe is the low cost of living. "A couple can manage on as little as $750 a month here, if they own their home," says expat Carl Conway.
"Utilities are very low, at around $100 a month for electricity, water, trash pickup, internet, and even cellphone cards. Keep in mind you don't need heating or air conditioning up here, and that makes a big difference. So even if you rent, a monthly budget of $1,500 is more than plenty."
Living in and around Santa Fe, your groceries and regular household items will run $400 to $500 a month for a couple, and you may spend $120 or more in a month for entertainment and going out to eat frequently.
Most expats own a vehicle for convenience, and transportation expenses average $50 to $150 a month, including trips to Santiago (the provincial capital) as needed.
The town has three grocery/department stores, a combined produce and handicrafts market, and numerous local eateries. The main bus terminal is always a hive of activity, with a popular café inside. Most residents don't own vehicles and rely on the buses, taxis, or their horses to get around. (Instead of "no parking" signs, you'll see signs that read prohibido amarrar caballo on fences around town, which means "don't tie your horse here.")
A trickle of foreigners started coming to Santa Fe in the 1990s, and slowly an expat community developed that numbers in the dozens today. Arriving primarily from Canada, the U.S., Europe, and South America, they form a loose-knit yet cohesive group, helping each other when needed and supporting each other's endeavors.
Get Your Free Panama Report Here:
Learn more about Panama and other countries in our daily postcard e-letter. Simply enter your email address below and we'll send you a FREE REPORT — Panama: First World Convenience at Third World Prices. 
This special guide covers insider advice on real estate, retirement and more in Panama. It's yours free when you sign up for our IL postcards below.
Get Your Free Report Here