In a place where even the picket fences sprout leaves, you just know the soil has to be good. Known as Panama's fertile valley, the tiny town of El Valle is a world of green. Lushly carpeted mountains surround the flat crater town. The green is punctuated here and there with bright bursts of crepe-like bougainvillea.
The tropical reds and oranges almost seem odd in a place this cool and breezy. Thanks to an elevation of about 2,000 feet, El Valle is typically a comfortable 70 F to 80 F, with noontime temperatures rarely above 85 F. At night, a light sweater is all you'll need.
It's no wonder Panama's elite have weekend or retirement homes here…and quite a few expats, as well. It's one of Panama's most attractive towns, dotted with picturesque gabled cottages and large country estates belonging to a veritable "who's who" of Panama.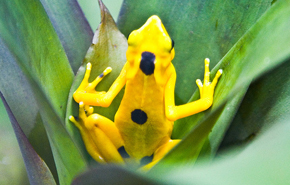 I live in Panama City, which is close enough to El Valle for me to visit often (it's just a two-hour drive to Panama's cosmopolitan capital). What I like most about El Valle is that it is easy to explore on foot or bicycle. Right on the main drag, you'll find a striking white church and a sweet little marketplace. It's one of Panama's most famous markets, as it offers up rich black soil, as well as all manner of plants, produce, even handicrafts. (And at much better prices than you'll find in the city.)
The population is only about 8,000 inhabitants, but a small stream of tourists trickles through here. They're typically outdoorsy types who come for the hiking, hot springs, and famous displays of flora and fauna.
Entrepreneurial types have opened up little inns, cafés, and eateries to serve tourists and weekend or holiday crowds. It's the perfect place for retirees who like the idea of having a bit of extra income without working too hard.
There's high-speed internet, reliable power and water, and everything else you could possibly need. To serve the demands of a growing community, new supermarkets and shops have popped up here and in Coronado beach. Just 40 minutes away by car, Coronado is where you'll find an upscale clinic, a large El Rey grocery store, and plenty more banks, restaurants, and shops.
With a location this good you can have breakfast surrounded by cool mountains in El Valle, head to the beach for an afternoon swim and seafood dinner, then come back for coffee or hot chocolate on your deck.
With excellent infrastructure, location, community, and climate, El Valle has a lot to offer.
Get Your Free Panama Report Here:
Learn more about Panama and other countries in our daily postcard e-letter. Simply enter your email address below and we'll send you a FREE REPORT — Panama: Easy, First-World Living and the World's Best Retiree Program.
This special guide covers insider advice on real estate, retirement and more in Panama. It's yours free when you sign up for our IL postcards below.
Related Content
Best Places to Vacation in Panama
Most Popular Facts About Panama
Best Places to Retire in Panama
Upcoming Conferences
Live Better, Spend Less, Retire Sooner
IL's Retire Overseas Bootcamp
October 21-23, 2022 in Atlanta, GA

In safe, warm, welcoming communities abroad, as little as $1,700 a month can bankroll a good life... this fall, our experts will show you where—and how.
Early Bird DISCOUNT—Save $100 When You Register by Sep. 29
Details Here IL's Retire Overseas Bootcamp
---
Registration Now Open for the Best of Europe Private Screening

In the Right Spots in Europe, You Can Retire in Style—in an Historic, Sun-Drenched Locale—for as Little as $2,300 a Month or Less—Especially Now With the Dollar and Euro at Parity for the First Time in Two Decades.
And We'll Show You How, October 1-2, During the Special All-Online Best of Europe Private Screening.
---
The Income Revolution Forum
What if You Had the Freedom to Enjoy the Good Life Anywhere in the World You Wanted to Be...and Get Paid While You're There?
We'll show you how—with hands-on guidance—you could beat inflation...secure your retirement...ditch your commute...and turn a skill you already have into a portable side income of $300, $600, even $3,000 or more a month.