The city of Medellin, Colombia is many things to many people. For some it is the "City of Eternal Spring" where the weather is always just right and the songbirds are hard at work in the flowers and trees that line the streets.
For others, it is a city of innovation where local universities churn out award-winning projects and top-notch students. And for yet others, it's a place of historical treasure with a past full of gold, colonialism, and a stunning recovery after decades of turmoil.
I found that Medellin is in fact all of those things. And yet it's also so much more.
There are few people who wouldn't enjoy this city with its pretty setting, friendly locals, and modern vibe. And the cost is so low it's easy for anyone to live here.
Just $750 per month can get you a furnished two-bedroom apartment with high-end trimmings and pool access. Less swanky places can be had for as low as $400. And expat couples report needing to work hard to spend $400 on groceries each month. About $1,500 per month is a nice, safe budget for a couple living in this city, though many live happily on just $1,000 or even less.
There are a few groups though who will find Medellin irresistible if they set foot within her borders.
Foodies: Medellin is a city with a large global influence and this is evident in the cuisine. You can find restaurants, just as I did, serving up everything from French crepes to tikka masala to Arabic flatbreads with hummus. There is a burgeoning market for microbreweries and if you like something with a little more kick, be sure to try the sugarcane-based aguardiente. And don't make the mistake of failing to sample local favorites like empanadas (three small ones can be had for just $1), arepas (a corn-based flatbread), or the local take on chorizo.
Artists/Art Lovers: While most people look to Europe for fine art, South America has much to offer. Medellin in particular has turned out great artists like Fernando Botero whose oversized and bulbous sculptures can be seen throughout the city. You'll find many galleries and museums to stroll through and public art on display at every turn.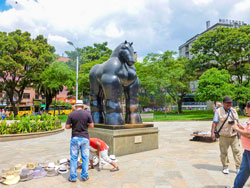 Sports/Outdoor Enthusiasts: Whether you're an athlete yourself or love the thrill of watching a competition from the stands, Medellin can satiate your needs. The city is full of street-side trails, making jogging and biking easy and convenient. It also houses a large sporting complex (Unidad Deportiva Atanasio Girardot) where you can practice your soccer moves, fencing skills, and swimming and diving along with a whole host of other sporting options.
You don't have to partake in any of these activities to enjoy sports though. You can join the throngs of spectators at home games for either of the city's two professional soccer teams. Or you can head to the outskirts of the city and take in the views of daring paragliders soaring through the air.
As for myself, I fit loosely into all three of the above groups. And so my time in Medellin was a mix of wonder, awe, pleasure, and regret that I couldn't stay longer. But I do know I will return to this eclectic city again and again.
Get Your Free Colombia Report Here:
Learn more about Colombia and other countries in our daily postcard e-letter. Simply enter your email address below and we'll send you a FREE REPORT: Beautiful, Diverse and Safe – Take Another Look at Colombia.
This special guide covers real estate, retirement and more in Colombia and is yours free when you sign up for our IL postcards below.
Get Your Free Report Here