My daily life has improved immensely since moving to the charming "City of Flowers" in Colombia. I feel calm and peaceful, unlike many of my friends living in U.S. cities.
Every morning I wake up to the cheerful sound of birds. From my balcony I can hear the gentle trickle of the stream running past my apartment. I love to take these quiet mornings to practice yoga at a nearby studio and then head to my favorite coffee shop, Pergamino. It's pleasantly quiet in the mornings when I go to read a book or write in my journal while I sip the best coffee in town for less than $1.
On the weekends Medellín offers many things to do, including concerts, museums, fairs, festivals, films, and the ciclovía, when the main road is shut down to cars and open exclusively for pedestrians. With all this on offer, it's hard to find yourself bored here.
You would expect such a lifestyle to come at a high cost, but not so. My boyfriend Jason and I can live a San Francisco lifestyle without the hefty price tag. Four years ago, my unfurnished, three-bedroom, one-bathroom apartment in San Francisco was $4,000 a month. (A friend recently told me that this same apartment now rents for $5,500 a month.) Here in Medellín, our fully furnished, three-bedroom apartment with two living rooms, in one of the most coveted areas of the city, is only $800 a month.
Life is very enjoyable when dinner for two at delicious restaurants costs only around $25, going to the movies is $5 per person, great haircuts are $18, mani/pedis at a nice salon are $7, and treating myself to weekly, 75-minute massages only costs $30. I have never taken better care of myself than now, and I do all this without breaking the bank. These little luxuries are astronomical in San Francisco.
In fact, our daily cost of living is significantly lower than in most U.S. cities. A total month of groceries for the two of us, all organic and delivered, costs less than $100. And a 10- to 20-minute taxi ride costs as little as $2 to $5, making it easy to travel around the city without a car.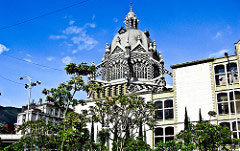 If you're looking for a city that has all the modern conveniences as well as a small-town, tropical feel…Medellín, Colombia could be the place for you.
The healthcare in Medellín is also inexpensive, but the equipment and hospitals are state-of-the-art. A full dental cleaning with x-rays and complete checkup only cost me $30. A close friend recently went for an eye exam; the doctor spent over an hour with her and fitted her for glasses and contacts. The cost for this service was only $15.
The vibrant expat community here is a tremendous comfort for those looking to ease into living abroad. The city attracts retirees, entrepreneurs (many of them working online), and backpackers. As a result, there are Meetup groups and Facebook groups that organize expat events regularly. The local residents are extremely friendly too, so I quickly developed a network of both local and expat friends.
And the abundance of cafes with high-speed internet, the massive shopping malls, 3D movie theaters, and terrific public transport mean you'll never lack anything.
I have found a balance of big-city amenities with a small-town, tropical feel in Medellín. The city also combines the cultural charm of Latin America with much less chaos than other Latin American places I have lived in. When I do find myself rushing around, my local friends give me a gentle reminder: tranquila—relax.
Get Your Free Colombia Report Here:
Learn more about Colombia and other countries in our daily postcard e-letter. Simply enter your email address below and we'll send you a FREE REPORT: Beautiful, Diverse and Safe – Take Another Look at Colombia.
This special guide covers real estate, retirement and more in Colombia and is yours free when you sign up for our IL postcards below.
Get Your Free Report Here