After years of promising ourselves that "someday"…"in the future"…"later" we would have a different lifestyle, my husband, Mike, and I finally boarded a plane to go in search of our piece of paradise. On the advice of an acquaintance we met while checking out Ecuador, we decided to "swing by" Medellín, a neighboring city in Colombia, for a couple of weeks.
Within the first three days in this "City of Flowers" we were hooked. The weather perfectly suited our needs. Temperatures are in the upper 70s F to lower 80s F during the day and the mid-60s F in the evening. And being 5,000 feet above sea level in the mountains allows for non-humid, bug-free weather. My apartment doesn't have screens on the windows nor a thermostat, so no air conditioning or heat. Hot? Open a window. Cold? Close the window.
We knew two weeks just wasn't going to be long enough for us, so we decided to stay for two months. Towards the end of our stay, we both came to the conclusion that we had found our new home. We went back to the U.S., sold the remainder of our belongings, kissed the family goodbye, and embraced our new lifestyle.
One of the most surprising and striking things about Medellín is its abundance of green space. Although there are over 3 million people living here, it really is more like many small neighborhoods running side by side. There are hundreds of small and large parks throughout the city. One of my favorite places to visit is the Botanical Gardens. It is free to the public and you can spend hours walking through the grounds, having a picnic lunch, feeding the ducks in the pond, or relaxing in the shade of one of the Guayacan trees.
My husband and I enjoy the quality and variety of food we get here. From farmers' markets, where you can get a week's worth of fresh, organic produce for about $10, to street cafés where a tinto (black coffee) is about 50 cents, to the wide selection of ethnic restaurants, your taste buds will never get bored.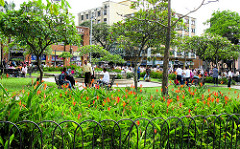 It has been nearly four years since we moved here and neither one of us regrets the decision. Our living costs are about 60% less than what we were spending back in the northeast U.S.
Medellín also boasts having top-notch healthcare and as a former executive in the industry, I can tell you from first-hand experience that the quality, access, and price are first-rate. We pay $70 per month for our insurance premium. Co-pays for lab tests, prescription medications, and specialty procedures are about $3.
While all of these aspects are great, what makes this city so amazing for us, are the people. They're some of the most kind, accepting, considerate people you will ever meet. Neither my husband nor I spoke Spanish when we arrived, but we were welcomed into the community, invited into their homes for coffee or a meal, shown around the city and received offers to accompany us to help with banking, legal, and medical appointments.
My days are spent walking about the city, enjoying the perfect weather, attending concerts, visiting museums, and chatting with friends, both locals and expats. My Spanish is now quite good, thanks to classes at a local university. From time-to-time, I teach English to private students, but mostly I am completely content to be immersed in the culture and lifestyle of this great city.
Get Your Free Colombia Report Here:
Learn more about Colombia and other countries in our daily postcard e-letter. Simply enter your email address below and we'll send you a FREE REPORT: Beautiful, Diverse and Safe – Take Another Look at Colombia.
This special guide covers real estate, retirement and more in Colombia and is yours free when you sign up for our IL postcards below.
Get Your Free Report Here