In Panama, you can choose where you want to live based solely on the climate you want. The fact surprises a lot of people. "Isn't Panama a tropical country, lying so close to the equator?"
Well, yes, it is, but here's the thing…because of the wide range of elevations, it offers an amazing choice of climates.
Suppose you're a beach lover, seeking the warmth of the sun, balmy breezes tinged with salty humidity, and long stretches of sandy shoreline facing nothing but endless ocean to the horizon.
Well, one stand-out option is the area just west of Panama City that includes Coronado, Gorgona, San Carlos, and Farallon. Coronado is the original beach community of Panama and retains its low-profile, lived-in residential charm. Newer developments dot the shoreline, with high-rise condos interspersed with all-inclusive resorts. A brand new airport at Rio Hato now serves this area, and international flights are expected to make access super easy in the near future.
A large expat community has grown over the last few years along this stretch of Pacific beaches, but it remains uncrowded.
"We started a beach volleyball group," explains Diane, a Canadian expat, "and most days we have the beach all to ourselves!"
Every Wednesday, the expat social and happy hour at a nearby pub is jammed with chatting friends, and on weekends an expat rock 'n' roll band plays favorites from back home. For about $8 you can chow down on a huge burger, fries, and a cold beer and enjoy the fun.
Another popular beach destination is Bocas del Toro in the northwest corner of Panama, bordering Costa Rica on the Caribbean coast. An archipelago of dozens of islands, Bocas is a community that lives on and by the water. Surfing, snorkeling, diving, and sailing are major activities in this lush rainforest environment, which attracts more adventurous types who thrive on a self-reliant lifestyle. Regular flights between Bocas del Toro and Panama City make getting there a cinch.
The laidback, Caribbean feeling that characterizes Bocas del Toro draws visitors from all over the world. And there is a closely-knit group of expats, many of whom arrived here on their boats, who help each other when needed and gather for special occasions.
"Most of our friends are fellow sailors," says Marjorie, who settled here several years ago with her husband. "Because we are spread out over a wide area, we keep in touch by radio and know we can count on each other."
Heading inland and gaining some elevation, several options are available to those who prefer a typical tropical climate with two distinct seasons (dry and wet). The cities of Penonome, Santiago, and David lie more or less in a line heading west of Panama City along the Pan-American Highway. Each is a provincial capital, so you can count on commercial and business centers, plenty of shopping choices, government offices and transport services. They all also feature a very affordable cost of living, with furnished two-bedroom rentals on offer for around $500 a month, and utilities for about $100, all in.
All of these cities and their surrounding areas have a rainy, green, or winter season from mid-May through December, when rainfall is common for part of every day, which cools the air considerably. Then the dry or summer season extends from January through early May and, while temperatures don't actually change much, the heat is more intense due to the lack of rain.
I live in David, and most of the time I'm comfortable, even without A/C. David for me is the perfect combination of rural landscape, commercial hub, convenient shopping and family-oriented neighborhoods (like the one I live in).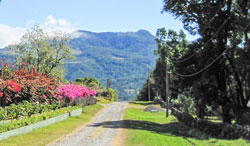 Believe it or not, cool, year-round, spring-like weather is also an option here in Panama, and draws those who find tropical heat uncomfortable. There are highland choices all across the country, from Cerro Azul just northeast of Panama City, to El Valle de Anton and Santa Fe de Veraguas in the middle of the country, and Boquete and Volcan in the western province of Chiriqui.
The best-known of these is Boquete, on the slopes of the highest peak in Panama, Baru Volcano.
Expats in any of those towns or villages can enjoy a rich lifestyle on a small budget. Couples who own their home report living comfortably on $1,200 a month, and even with rent a budget of $2,000 a month is plenty.
The highland climate features much cooler temperatures, especially at night, frequent cloud cover, misty rain, and periodic high winds. In some locations the spectacular scenery is notably alpine, with towering pine trees against the strikingly blue sky.
"I can't imagine living anywhere else!" Texas native Jo Ann says about her current home outside of Boquete. "I have to go to David sometimes for business or shopping but I prefer to be in the highlands where it's cool and fresh all the time."
The thing to remember is this: No matter which climate you prefer, no matter what elevation suits you and where you choose to live, you're not restricted to enjoy that temperature range only. All of the other options are just a short trip away.
From the mountain towns of Volcan or Boquete you can get to the Pacific beach at Las Lajas in an hour-and-a-half. From the flat plains of Santiago you can be in the hills of Santa Fe de Veraguas in an hour. You can travel between the cool forests of El Valle and the sandy beaches of Coronado in about an hour.
So it's easy—pick the place you want to live…and then enjoy all the choices at all the elevations in Panama.
Get Your Free Panama Report Here
Learn more about Panama and other countries in our daily postcard e-letter. Simply enter your email address below and we'll send you a FREE REPORT — Panama: First World Convenience at Third World Prices. 
This special guide covers insider advice on real estate, retirement and more in Panama. It's yours free when you sign up for our IL postcards below.
Get Your Free Report Here