Coffee plantations and orange groves line the slopes outside of the town of Santa Fe, Panama. Sparkling rivers, like the Santa Maria and Mulaba, rush around huge boulders to flow gently between the trees. Giant peaks tower above, one after the other, with names like El Salto, Cerro Tute, El Sapo, and Cerro Mariposa.
With an elevation around 1,500 feet, Santa Fe is blessed with year-round cool temperatures, averaging in the 80s F during the daytime and 60s F at night. Clear blue skies yield to misty clouds among the mountain tops and in the low valleys. For nature-lovers, it doesn't get any better.
I scouted Santa Fe and the surrounding area for several days recently ahead of the upcoming Fast Track Panama Conference. I met with residents and looked at the properties on offer. I found two listings in particular that were good value and typical of what's available in and around Santa Fe.
The first house I checked out is a two-bedroom, two-bathroom home of 1,030 square feet on a lot of 3,230 square feet. The front yard features a recently-added bohio (an outdoor patio with thatched roof)—perfect for a hammock or table and chairs.
Inside, the home is fully furnished with all the conveniences you could want: air conditioning, hot water heater, satellite TV, and reliable internet. The monthly rent is $475, which includes electricity, water, and trash pickup. It's available for long or short-term lease, and even for weekly stays. This titled property is also listed for sale, asking $95,000.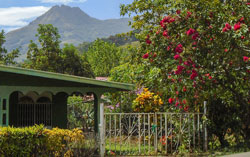 The second house I looked at is owned by a Canadian couple and is known as the Casa Caña Blanca. The name derives from the unusual building material used throughout the home, White Cane. The walls and most interior vertical surfaces are faced with strips of the cane plant, giving the house a warm, tropical feel. The house has lots of personal touches, lovely tile work, a fenced yard, and large carport. It's in a convenient location within walking distance of the town center.
Another nice feature of this three-bedroom, one-bathroom home is the garden in the backyard. Shade trees and ornamental shrubs provide privacy for the tiled patio and decorative fountain, creating a hidden oasis in the middle of town. Fully furnished with all utilities including hot water and air conditioning, this house rents for $550 per month.
Add in about $700 for all the other necessary expenses, like groceries and entertainment, and a couple can expect to live well on $1,200 to $1,300.
I felt relaxed and welcomed when I visited Santa Fe. It's definitely off the beaten path, so life is slower and simpler, with none of the distractions of the city. The group of expats who have settled there from around the globe are a loose-knit bunch, yet always willing to help each other out. If all that sounds like it might suit you, Santa Fe awaits.
Get Your Free Panama Report Here:
Learn more about Panama and other countries in our daily postcard e-letter. Simply enter your email address below and we'll send you a FREE REPORT — Panama: First World Convenience at Third World Prices. 
This special guide covers insider advice on real estate, retirement and more in Panama. It's yours free when you sign up for our IL postcards below.
Get Your Free Report Here