As the sun gently rises in the gaps between the peaks the birds welcome the day. You hear them through the open windows, singing and chirping, like nature's most melodious alarm clock. Looking out you see lush green plants all around, with a spot of bright pink, purple or yellow here and there. A faint mist lingers in the valleys at the base of the hills and mountains that reach up to the bluest sky. Waking up like this each day in the highlands of Panama is a delight for many retirees who are living their dream.
And if you're among those seeking a more affordable day-to-day life in a beautiful, peaceful setting, this dream is within your reach. In Panama there are highland towns that have a near-perfect climate and stunning scenery where you can live on $1,500 a month.
Across Panama from west to east stretches a range of mountains that form the Cordillero Central, known as the highlands. There are several towns strung along this range, situated at elevations from 1,500 to 6,600 feet. The rich volcanic soil, adequate rainfall and cooler temperatures make for excellent growing conditions. Add to that clean flowing rivers and unpolluted fresh air and you've got the perfect setting for nature lovers. The affordable cost of living is like icing on the cake for retirees who love living there.
Take Santa Fe, for instance, in the highlands of Veraguas Province in central Panama. As you drive up the gentle slope to its 1,500 feet elevation you see the surroundings change and feel the air freshen. This is truly rural country, with cattle ranches and coffee plantations surrounded by a national park. Life is simple in this town of about 3,200 people, based around the family and the market in the town center each Sunday. You can rent a two-bedroom home including utilities for $500 a month and save a bundle on groceries because so much is locally produced.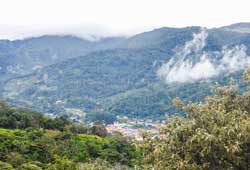 Retirees Bill and Mitzi Martain have created their ideal life just south of Santa Fe. They bought 10 acres alongside the Santa Maria River in 2006. Since then they've built a new home, planted fruit trees and vegetable gardens and started raising a herd of sheep. "We just fell in love with Santa Fe when we came here," Mitzi says, "and we knew right away it's the right place for us. Our Social Security income covers all our monthly expenses, and we live the lifestyle we want with an excellent quality of life."
Another delightful spot is Volcan in the highlands of Chiriquí Province in Western Panama. It's a growing town in an agricultural region where you'll likely see cowboys on horseback in town as well as local native families dressed in traditional garb. At about 4,600 feet on the Western slope of Baru Volcano, the year-round weather is cool enough that you don't need A/C; and warm enough that you don't need heat. Your monthly utility bills for electricity, water, and trash pickup total about $50. There are a number of choices for phone and internet service as well as cable TV, but the most you'll pay is around $100, all in. With rents starting at $400 a month the peaceful town of Volcan is very affordable.
Retirees who settle in Volcan prefer the cooler weather of the highlands as well as the stunning scenery. And while some costs have gone up here, it's still much less than many parts of the U.S. or Canada—as much as 50% less. You'll save money on groceries by living close to your food source where you can buy a huge bag of farm-fresh vegetables for $8.
Get Your Free Panama Report Here
Learn more about Panama and other countries in our daily postcard e-letter. Simply enter your email address below and we'll send you a FREE REPORT — Panama: First World Convenience at Third World Prices.
This special guide covers insider advice on real estate, retirement and more in Panama. It's yours free when you sign up for our IL postcards below.

Get Your Free Report Here