Ah yes, another warm, sunny day in Panama is drawing to a close. It's been just one of many afternoons spent reclining lazily on our terrace watching the iguanas, birds, and squirrels cavorting in our yard.
Unfortunately the day did not start out that way. My poor husband suffers periodically from allergies and, after completing some vigorous yard work he had irritated, sore eyes and itchy skin. But after a quick trip to our local farmacia (pharmacy) he was symptom-free.
Sinus and allergy meds are so reasonably priced—as are most medications. It's also so much easier to obtain medications than in Canada and the U.S. The only drugs in Panama that require prescriptions are those containing narcotics. All others are over the counter and priced much lower than what we were used to before retiring here.
Of course with the pensionado (pensioner) discount they are even cheaper. For example, allergy pills in Canada now cost anywhere from $12 to $15 for about 15 pills. Here in Panama they are $4.39 for 50 pills. When you deduct the pensionado discount, the total for all of those pills is just $3.51. My Nexium (acid reflux medication) in Canada costs $70.57 for 30 pills plus a $10 dispensing fee. Here in Panama, I pay a little less than 50 bucks (including the pensionado discount). Since there's no dispensing fee in Panama, I save myself more than $30.
Another helpful curiosity here: Pills are sold per pill or per box or bottle, whichever you prefer. That means you only buy what you need, making it no longer necessary to have medicine cabinets half-filled with out-of-date, partial bottles of drugs.
In general, all health-related issues in Panama are easier to deal with and cheaper than in Canada or the U.S.
Most doctors use a first-come, first-served system and, in my experience, it works exceedingly well. Everyone takes their turn and sees their doctor in a timely and orderly fashion.
And the cost of a doctor visit is minimal, even for specialists. Believe it or not we can even boast of a few doctors and chiropractors who make house calls! In Canada, I pay $40 per chiropractic visit, which is in addition to what my medical plan pays. Here I had a chiropractic house call for just $20 out of pocket—no insurance required.
One of the most amazing things: there's no long waits for special tests. MRIs, for example, can be done within a couple of days after being ordered.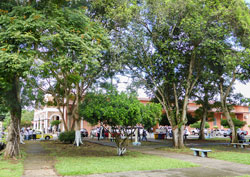 The difference in care and cost is especially pronounced when I talk to American friends living in Panama. Americans who come here are constantly astounded by the difference in costs. Countless times I have listened as one of them related how they or their spouse had some sort of medical emergency that cost tens of thousands of dollars less to have it taken care of here as opposed to in the United States.
Dental care is also considerably cheaper. Teeth cleaning in Canada runs, for a very basic cleaning, around $130 to $150. My cleanings in David cost $40 to $60.
There are many and varied health insurance plans here which are relatively inexpensive and provide excellent coverage to full-time residents. Though we retirees are mostly in a higher age bracket, the premiums are very reasonable. To get coverage through the Chiriqui Hospital plan it costs an average of just $130 per month for a husband and wife who are aged 60 to 79.
Excellent, well trained doctors, state of the art medical facilities, affordability, and convenience at low costs are just the norm here.
Get Your Free Panama Report Here:
Learn more about Panama and other countries in our daily postcard e-letter. Simply enter your email address below and we'll send you a FREE REPORT — Panama: First World Convenience at Third World Prices. 
This special guide covers insider advice on real estate, retirement and more in Panama. It's yours free when you sign up for our IL postcards below.
Get Your Free Report Here