I've lived in David, in western Panama, for five years. My husband Al and I came for the great climate, the easy living and affordable costs, and the rich variety of things to keep us busy. But as we get older that's not enough…we also need access to good healthcare.
Well, I'm here to tell you that you can find the best of care at a fraction of what you'll pay back in the U.S. Your doctors will often speak English, and they are far easier to access than back home, too.
My healthcare experiences here range from routine lab tests to extended hospital stays. Panama, like most other Central American countries, has a dual healthcare system, with both private and public options. Anyone may use either system, but the public system aims to provide medical services to citizens and residents who are enrolled in the Caja de Seguro Social (social security program). Tourists and expats (including my husband Al and me) primarily use the private system. You'll find it better equipped and staffed, as well as more comparable to North American standards.
Last year Al spent two weeks in our private hospital of choice, Hospital Chiriquí here in David. He had a semi-private room with the standard features (privacy curtain, call button for the nurse, personal items, and toiletries), which was kept spotlessly clean by the housekeeper. The nursing staff was professional and attentive and the hospital was fully staffed, with nursing aides and support personnel busy on the unit. We were billed $60 a day for this room.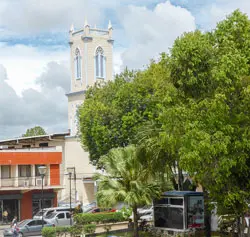 One thing that keeps costs low here is the billing system. Here you pay the bill at the time of service or when you are discharged from the hospital. The day Al came home I went to the business office to settle the bill before we left. Since we have medical insurance through the hospital, the insurance manager came to the office (even on a Saturday), reviewed the bill in detail to verify all the insurance would cover (70%), and I paid the balance of 30%. This came to $3,263, including the doctors, all medications, a CT scan, and an MRI. I expect it would have been 10 times that much in the U.S.
Diagnostic and preventive procedures are also affordable. I make a point of getting my annual mammogram every October. It's easy to remember, since October is Breast Cancer Awareness Month and Hospital Chiriquí offers a discount then. Normally a mammogram costs $50, but with the discount I pay $30 and then my insurance reimburses me half of that. I can go to the X-ray department any time I want to have it done…no doctor appointment, no prescription, and no prior approval. When the radiologist's report is ready, I go pick it up and take it to the doctor of my choice. The same is true if I want lab work done. Now that's accessible healthcare!
Related Content
Get Quality, Affordable Healthcare in Panama
Personal, Affordable, Top-Quality Healthcare In Panama
5 Countries With The Best Healthcare In The World