Whenever my husband Gary and I need a break from sitting on our terrace watching the iguanas, or doing a myriad of other activities in and around our neighborhood, in Panama, we love to hop in our car and go exploring.
That's not to say we don't love where we live in Panama's highlands. We decided a few years back to spend part of the year in the province of Chiriquí, in Panama's southwest corner—we're snowbirds, escaping cold winters back home in Canada.
We chose Panama as our half-time home because it has the greatest program in the world for retirees, the pensionado. That program grants discounts to all qualifying retirees, including on hotel stays, meals out, and flights. (You don't need to be of retirement age to qualify, by the way—you just need to have a pension of at least $1,000.)
We live between the mountain town of Boquete and the city David, in a home we own that's near the little village of Dolega. We bought it for just $90,000. That price included an acre of land, a 2003 vehicle, and some household furnishings.
We've explored a lot of the province of Chiriquí, on the Pacific side…but this year, we decided it was time to discover what the Caribbean side of our isthmus was all about.
Being a small country, it's possible to get from virtually any Panamanian location to any other in a day—a lot less if you take advantage of the local airlines. If you prefer to drive or take the modern, air-conditioned buses, you will be able to view the spectacular and varied scenery of this diverse country.
The first place we visited on the Caribbean side is historic Portobelo, a small port city in the province of Colon. It was founded in 1597 and at one point was the greatest Spanish shipping port in Central America. Mules carried Peruvian gold and oriental treasures to Panama City via this harbour fortress. Unfortunately in 1668 it was all but destroyed by the famous (or infamous) Captain Henry Morgan who plundered the fort and tortured the citizens.
The remains of the stone fortifications, complete with gun turret placements, were designated as a UNESCO World Heritage Site.
Portobelo is also known as a dedicated divers' paradise. There are 16 major dive sites, including a 110-foot cargo ship. The surfing is great here, as is the Congo art and dancing.
Next on our stop on this Caribbean trip was Bocas del Toro.
Bocas del Toro is an archipelago of stunning natural beauty. We wandered through the streets of Bocas town, admiring the wood-fronted architecture, stopping for a cool drink made from locally grown fruit, and partaking of a delicious lunch, before a leisurely browse through the local shops.
For those wanting to wander farther afield or enjoy more activities, there are countless tours to neighbouring islands as well as diving, snorkeling, and surfing.
We took a 15-minute boat ride to Red Frog Beach and spent a quiet afternoon enjoying a pristine and stunning beach (yes, complete with tiny red frogs), where we watched monkeys frolicking and sloths lumbering through the trees.
Sadly, we were only staying in Bocas for two nights so weren't able to enjoy the numerous other islands and attractions such as Star Beach, the mangrove islets of Marine Park, indigenous village tours, canopy tours, or the exotic birds on Bird Island. But we plan on returning very soon.
We're able to afford these kinds of treats because of how affordable Panama is—much more affordable than our life was in Canada. Food, clothing, insurance, rent, and entertainment are considerably cheaper than in North America. But one of the biggest savings my husband and I see is on health care essentials.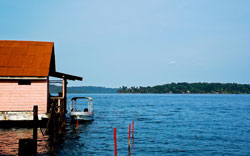 For example, not long ago I was in need of new eyeglasses. I was reluctant to purchase them as I have bifocals and astigmatism so my glasses, including frames, usually cost over $700 in Canada. What a pleasant surprise when I finally visited an optometrist in David, Panama. She was friendly, extremely knowledgeable, had state-of-the-art equipment, and spoke excellent English. She examined my eyes and agreed that I could keep my old frames as I like them…and, to be honest, I didn't think I could afford new ones. To my amazement, the examination and the glasses cost just $150. And this was before the pensionado discount. The prescription is perfect and they were ready in a timely manner.
As these things go, my husband was in need of new glasses a few months later. Same wonderful service and, since he wanted new frames, his cost was a bit more—$180.
Next was my dental experience: excellent, prompt, professional service that consisted of removing and replacing three crowns on my front teeth and several long appointments was $1,800. For comparison purposes, when I had the original crowns done in Canada over 10 years ago, the cost was approximately $4,000. Teeth cleaning in Panama costs from $30 to $50 a session here, depending on which dentist you use.
Chiropractic treatments, massage therapy, acupuncture, and other health-related sessions are also very reasonably priced. After putting my back out recently I discovered a chiropractor who not only charged me a mere $20 for a successful treatment but brought his treatment table right to my home.
All of that adds up to big savings—enough to pay for more travel adventures than I could dream of having back home.
Get Your Free Panama Report Here:
Learn more about Panama and other countries in our daily postcard e-letter. Simply enter your email address below and we'll send you a FREE REPORT — Panama: First World Convenience at Third World Prices. 
This special guide covers insider advice on real estate, retirement and more in Panama. It's yours free when you sign up for our IL postcards below.
Get Your Free Report Here