Since I moved to Panama 10 years ago, the islands of Bocas del Toro have become one of my favorite vacation spots of all time. It's just an hour-long flight from Panama City…though I've also driven the scenic seven hours or so to the launch point of Almirante, where you can get a 30-minute water taxi to the main island.
I've traveled extensively throughout the Caribbean…St. Thomas, Grand Cayman, Martinique…you name it, I've probably been there. But for me, none of them can hold a candle to Bocas del Toro.
My ideal day in Bocas is simple. I wake up on the main island, Isla Colon, and walk to the corner store for a $1 pipa. These soft green coconuts are filled with a "water" that's touted for its health benefits. In fact, local lore has it that, in a pinch, you can substitute it for IV fluid. It's cool and refreshing and delicious.
Next I might walk to Bluff beach or shell out $20 for an all-day excursion to a couple of different islands and snorkeling spots. I love the colorful parrotfish, fluttering anemones, and knobby coral…the smell of salt in the air…and the graceful seabirds gliding on the wind.
After a day of splashing in the sun, there's nothing better than sipping a 50-cent Panama beer while you dig your toes in the sand and take in the turquoise hues of the warm Caribbean. That is, unless you talk to the fish, shrimp, and lobster lovers who come here to feast on fresh seafood.
Despite the bohemian types that trickle through, it's still the kind of place I describe as untouristy and most definitely unspoiled. No big name resorts or concrete jungles here…and there are no hurricanes, ever. The beaches are never over-crowded, and you can often have stretches entirely to yourself.
Indigenous Ngabe tribes live here, along with a large community of Afro-Antillean-descended locals, and a vibrant, social expat community. Hotels, cafes, bars and restaurants, live music, and yearly festivals keep visitors and residents entertained.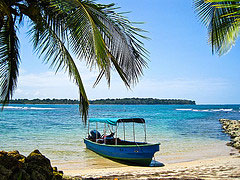 However, people go about their daily lives scarcely affected by the modern world. Sure, they have cell phones and email accounts. But they don't spend every second checking them. The pace of life here is blissfully languid…no rat race allowed. The motto you'll hear most: cero estrés…zero stress.
The vibe is addictive, and many a visitor has ended up staying permanently. If you are similarly tempted, I don't recommend buying property. Purchase prices are relatively low for a stunning Caribbean destination. But unlike the rest of Panama, where titled property is easy to research, rights of possession are often under dispute here.
Still, with houses for rent for as little as $500 a month, there are plenty of options for long-term housing. The cost of living can be very low, as well. I know one expat couple who live in Bocas full time and spend about $200 a month on power, water, internet, gas for cooking…the total monthly overhead on their home.
Island living is more expensive than mainland living, as supplies are brought in by boat. But I'd estimate the cost of living in Bocas is as much as 50% lower than in other more touristy Caribbean destinations, like the Bahamas.
I've been tempted—more than once—to move to Bocas. To live life in shorts, t-shirts, and flip-flops…and there's no need to own a car. Each time I visit, the easy, cero estrés lifestyle calls to me more and more.
Get Your Free Panama Report Here:
Learn more about Panama and other countries in our daily postcard e-letter. Simply enter your email address below and we'll send you a FREE REPORT — Panama: First World Convenience at Third World Prices. 
This special guide covers insider advice on real estate, retirement and more in Panama. It's yours free when you sign up for our IL postcards below.
Get Your Free Report Here