When my husband, Doug, and I decided to spend seven weeks in Dolphin Bay, part of the Bocas del Toro archipelago, in the north-west corner of Panama, we were not sure what this adventure would bring…Other travelers had told us that it rained a lot and that we would find grocery shopping very sparse.
We were delighted to realize that these stories were mostly inaccurate. We were pleasantly surprised. The sun has been shining for us almost every day and we eat plenty of delicious food. Fresh tropical fruits every day, yogurt and granola in the morning, fresh green salads, local fish and seafood, and much more. We are feasting on many different kinds of bananas and making our own juice from abundant lemons and oranges from the land. To keep healthy, we sip fresh coconut water.
Food shopping is easy enough and the choices are plentiful. The prices are comparable to the rest of Panama. For about $100 a week, you will get a lot of variety. The small markets in town have all the basics; the two fish markets have plenty of seafood and the deli has lots of European treats and "gringo" type foods. What else could you wish for? Maybe a Costco for all your staples and big items? No problem! For a small fee, about 5% of your spending, a local lady will go shop for you in the larger town of David and bring all the weekly orders back to be picked up right here in Bocas town.
Throughout the Bocas archipelago we have discovered tiny floating restaurants and bars only accessible by boat. Navigation here can be a bit of a challenge because there are so many uninhabited mangrove islands and you are at the mercy of the weather. However, it's part of the fun of living off grid, where there are no roads to depend on.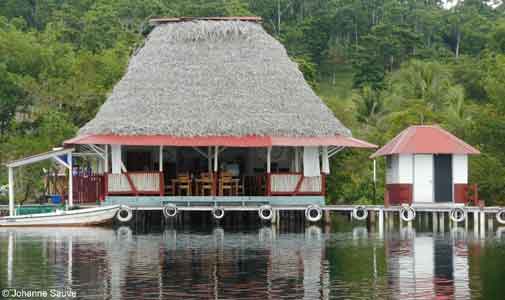 We have the pleasure of living on a beautiful organic cocoa farm in Dolphin Bay, surrounded by nature at its best. We have never experienced such a peaceful and quiet environment. Last night, we marveled at a most spectacular sky. An infinite number of stars shimmered across a moonless canvas.
The community of expats here in Dolphin Bay is a very interesting bunch. They are friendly, welcoming, but they also relish their privacy. They value the simple, quiet life without having to depend on city services. Solar panels provide the energy, rain catchment systems deliver the drinking water, and small boats are the transit system.
Many of these adventurers arrived by boat. They sailed here from all over the world, maybe on their way to somewhere else, and ended up dropping anchor in Bocas and calling it home. They have fascinating backgrounds and astonishing stories to share. They brought with them a special spirit that binds them together in their new home.
Every week, I join a small group of women playing dominos. Doug and I participate in local community projects, and we look forward to simply sharing Sunday morning brunch at a popular floating restaurant. There are abundant daytime activities but when the sun goes down, it's time to head home and get tucked in for a long, restful night.
Like us, you can sojourn here if you are a bit of an adventurous soul and have good boating skills. My husband and I are having an experience to remember for a lifetime. This secret haven, known as Bocas del Toro, awaits your discovery.
Related Articles
Bocas Del Toro, Panama: Retiring, Cost of Living & Lifestyle Information
Most Popular Facts About Panama