Each year, my husband and I spend six months of the year living in Panama's Chiriqui province. One of the many reasons we decided to live our snowbird lifestyle here was the lower cost of living. And it's something I often hear from expats…affordable and good-value cost of living was one of the main factors in their decision to live here.
To give you an idea of just how affordable it can be here, I'm going to share some of my own everyday costs.
When it comes to fresh produce Panama excels. Mouth-wateringly delicious, fresh from the field, local fruits and vegetables are second to none and inexpensive. Produce markets abound here and I can pick up a dozen bananas for $1 and a succulent, sweet pineapple also for a dollar. If you head towards Cerro Punta where most of the produce for all of Panama is grown, you can pick up a 20-pound bag bulging with potatoes, carrots, cabbage, lettuce, beets, tomatoes, and other assorted vegetables for $7.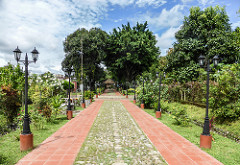 When it comes to eating out, Panama offers something to suit every budget. The local fondas offer simple menus and the food is fresh and delicious. Rice, beans, your choice of pork, chicken, or beef, a small salad, and patacones (plantains sliced and fried in cornmeal) will cost anywhere from $4 to $8 per heaped plate. Add a local beer or glass of wine for 75 cents to $1.50 and it makes for a nutritious, delicious meal for less than $10. And those of us on the famed Pensionado visa can take 25% off some restaurant bills, which makes dining out here even more affordable.
So, saving all this money on food, you can afford to pamper yourself regularly and you certainly won't feel guilty about it when you consider the cost of indulging in these sessions. I can get my hair cut in either Boquete or David (my house is a short drive from both) from between $6 and $20, depending on what I'm getting done. Manis and pedis set me back about $9 to $13.
Full-body massages are approximately $40 and you'll find that many hair salons provide these services.
When it comes to healthcare, Panama is outstanding. Dentists here are well trained in all the latest procedures and the cost is equally pleasing. I had three crowns expertly and efficiently done, and the total cost was $1,800.
I pay $20 to visit my chiropractor…at home in Canada I pay $45. And chiropractors will do house calls. One enterprising chiropractor in Boquete sets up his adjustment table at the local market every Tuesday morning for his clients.
Eyeglasses are state of the art as well and cost approximately a quarter to half the cost in Canada. Having astigmatism and needing bifocals, my glasses in Canada run close to $700. In Panama I can get them for under $200. And again, as a pensionado, I can deduct 15% off the price of all those services.
Our utility and household are where we really see how affordable living in Panama is. We pay $12 a year for our water and if we pay for the whole year at once, we get one month free. Curbside garbage pickup costs us 75 cents to $1 per huge bag. Our property taxes are under $200 a year for our a three-bedroom home. Our electric bill comes to about $40 a month (that's without air conditioning) and we get a pensionado discount on that too.
With costs this affordable and a retiree program that offers some of the best benefits in the world, it's not hard to see why we love living in Panama.
Get Your Free Panama Report Here:
Learn more about Panama and other countries in our daily postcard e-letter. Simply enter your email address below and we'll send you a FREE REPORT — Panama: First World Convenience at Third World Prices. 
This special guide covers insider advice on real estate, retirement and more in Panama. It's yours free when you sign up for our IL postcards below.
Get Your Free Report Here