When I first saw Boquete, all I could think was "wow." At the entrance to town, there's an unassuming visitor's center, where I stopped for coffee. Hot java in hand, I went out back to the mirador, or viewing terrace. Suddenly I was overlooking a deep, bowl-shaped valley covered in evergreens. It was a primordial scene, beautiful because it looked untouched by the industrial age. There were other people on the terrace…a mix of Panamanians and foreigners. Everyone's expression said the same thing…wow.
Located in the province of Chiriquí, the Boquete district is Panama's most popular mountain destination. At 3,000 to 4,000 feet, it offers expansive mountain views and a cool climate. When it comes to expat socials and outdoor activities, it can't be beat. And while prices have gone up in recent years, it's affordable compared to the U.S. or Canada.
The population of the town of Boquete is about 10,000. It's surrounded by forested hills, with the Caldera River bubbling and cascading through the middle. Another 4,000 people live on and around these hills, in the greater Boquete district.
Thanks to its lush environment, Boquete is a velvety carpet of green. Temperatures are typically 10 to 15 degrees cooler than in neighboring lowlands. Daytime highs rarely reach the mid-80s F, with evenings as cool as 65 F. Power bills are low, as most live without heat or air conditioning.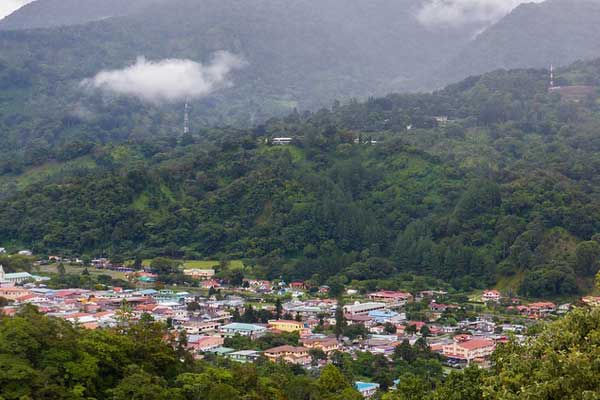 For many who live here, walking is the preferred mode of transportation, though you'd want to have a car for rainy days or longer distances. It's one of the most active places I've ever been, and most expats I've met lost weight after moving here.
"The air is clear and breathable. I don't take the battery of blood pressure medications I had to take before," says Deborah Gershon, who makes and sells chocolate from her shop, Chox. "I love that the nearest traffic signal is over 25 miles away. And people seem to be so much happier. Nearly everyone greets you as they pass you on the street. Absolute strangers smiling and saying buenos días to you on a daily basis is a wonderful thing."
Because Boquete is such a desirable location, the cost of living is higher than elsewhere in Panama. A couple or single can expect to spend around $2,300 a month, if they are including rent.
Rent will typically be your biggest expense or opportunity to save, with apartments and homes going for $650 to $1,200 a month. Budget $50 to $100 for internet and $400 to $500 for groceries and household goods. Power bills are typically low. I know folks who pay around $40 a month. There are many restaurants in Boquete where you can have a simple, delicious lunch for $5 or a chef-prepared meal for $30, and just about everything in between.
Resale homes of two or three bedrooms start at around $200,000 in Boquete. But if you check often, you will see the occasional home listed in the $150,000 to $200,000 range. I recently saw a home in the popular sector of Alto Boquete listed for $165,000. The lot is over 5,000 square feet, while the house has three bedrooms, three bathrooms, and comes with major appliances. There's even an open kitchen, which used to be a rarity in this area but is becoming more common.
If your budget is a bit lower, take some time to explore Chiriquí. Expats are saving $300 to $600 a month on rent in towns like Volcán, Dolega, and even David.
Related Articles
By Moving to Panama You Can Move to Paradise
Most Popular Facts About Panama