Living in Panama is never, ever boring. Pick any province, any city, any time and there will be some sort of festival, parade, sporting event, or national holiday in full swing. Pulsing salsa music, frenetic dancing, boisterous cheering, and vibrant parades are common occurrences.
National Day, which commemorates Panama's independence from Spain in 1821, is celebrated on November 28th. In Boquete, where I live, a huge parade is held every year, drawing people from all parts of the country. Often affectionately dubbed "The Parade of Umbrellas" it goes on rain or shine, and, being the tail end of the rainy season, more often than not it is rain. However the show must go on and so it does, with unquenchable enthusiasm.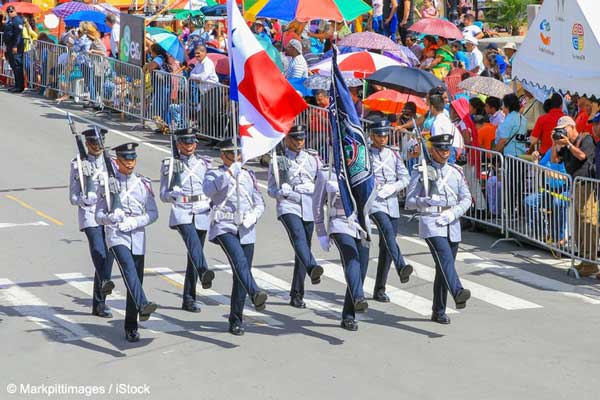 The local bomberos (firemen), local and national dignitaries (this year including the very hands-on President Juan Carlos Varela), stunningly dressed pollera dancers, and high school and college bands from all parts of Panama participate enthusiastically.
Following this remarkable parade are the usual live entertainments, street vendors, dancing, and of course the inevitable fireworks.
December 8th is Mothers' Day in Panama. It is extremely special and meaningful to these kind-hearted people who revere and respect their mothers above all others. Restaurants are standing room only as husbands, sons, daughters, and grandkids treat wives, moms, and abuelas (grandmothers) to an often very rare lunch or dinner out. These ladies are showered with gifts and flowers, but most of all, with steadfast love. Then, in the evening, of course, another excuse for fireworks.
Next on the ever-full social calendar comes Christmas, and what a colourful, joyous time it is. Nobody can decorate for Christmas like Panamanians and, whether wealthy or poor, they pour all of their available time, creativity, and resources into this endeavor. Special entertainments for the less fortunate children (made possible by local charitable organizations), usually accompanied by visits from jolly Old St. Nick, carry on for days. Being a mostly Catholic country, extra church services are performed, and these ceremonies are moving and heartfelt.
Just a couple of months later it is time for the famous Carnival which, again, draws revellers from near and far. While it's most famous in Brazil, Panama does it proud. Four or five days of non-stop pageantry and partying each and every year. The most elaborate celebration takes place in Panama City, where a queen and her attendants are crowned. The streets are alive, both day and night, with dazzling parades, pulsing music, street dancing, and the traditional mojaderos, translated as "drenchers." Onlookers and participants alike eagerly anticipate being sprayed vigorously with water from hoses, buckets, and water balloons to counteract the intense heat.
Las Tablas, a small town in Los Santos province completely embraces Carnival as well. Huge crowds from all corners of the country congregate here for a more folkloric and traditional ceremony.
Vibrant, yet meaningful festivities are certainly not limited to these areas. Bocas del Toro on the Caribbean side has an annual five-day fiesta aptly named Feria de Mar, or Fair of the Sea. Portobelo is well known for its Festival de Cristo Negro or Black Christ Festival. One of the most popular yearly events is the Boquete Jazz and Blues Festival, attended by thousands.
Those folks who prefer their entertainment on the quieter, more sedate side will not be disappointed. Boquete has a popular Flower and Coffee Show which is both informative and visually stunning. In David there is the annual feria or agricultural fair. Everywhere in this diverse country bird watching groups, live theatre performances, expat social groups, and more are always available.
Additionally, there are always rodeos, dance festivals, sporting events, cabalgatas (horse parades), and yes, even local bull fights. Thankfully these do not harm the magnificent animals—they are designed only to show the skill and dexterity of the amateur matadors.
Panama is an upbeat, fun-loving country with something for everyone. Her people work hard and play hard. They are happy and gregarious and love nothing more than shrugging off their cares and partying hearty. However, they are also kind and friendly, wholeheartedly including gringos and expats in their many activities. Life is good here.

Related Articles
Enjoy Great Festivals and Food in Panama