With shimmering lights and gleaming towers overlooking a deep blue bay, Panama City is a cosmopolitan capital often compared to Miami. Sure, there are parallels. Both cities boast beautiful skylines and exciting nightlife. But these days it can cost a mint to live in world class cities like Miami, New York, or London. In comparison, Panama City offers high-value, low-cost lifestyles…and a little more luxury at every turn.
A long-time business and banking destination, Panama's capital is a major international crossroads. Here, Tocumen International Airport is known as the Hub of the Americas, with daily flights—many of them direct—to the U.S., Europe, and the rest of the Americas. Your travel options increase every year, with cities like Chicago, Las Vegas, Boston, San Francisco, Paris, and even Dubai recently added to the roster of direct flights.
Travel isn't the only thing that's convenient here. As Central America's only First World capital, Panama City is truly modern in every way that matters. You can dine in a wide variety of trendy restaurants…attend cultural and sporting events…shop at upscale malls and specialty stores of every kind. And because this is also the Americas' major telecommunications hub, your international phone calls go through the first time, every time, and high-speed Internet is available virtually everywhere you go. In fact, Panama is usually ranked as best in Latin America when it comes to Internet coverage and technology in general…not to mention ease of starting a business or obtaining residence.
Cost of Living Breakdown for Panama City
Considering the many upsides to life here, you might expect the cost of living in Panama City to be prohibitively high. Not so…
For a two-person household in Panama City, a water bill will rarely exceed $25 a month, and that includes trash collection. In the past five years, my monthly phone bill has rarely exceeded $12 a month. I pay about $25 a month for wireless high-speed Internet and about $45 for premium cable. Monthly rentals for modern, two-bedroom condos range from $1,200 to $2,000 a month, and you can buy from as little as $175,000. Compare that to other world capitals, where even a studio can cost upwards of $400,000.
In fact, life in Panama City isn't just convenient…it's indulgent. I found a cleaning lady to come by once a week for $20 a day. She stays from about 7.30 a.m. until 2.30 p.m., and cleans the house from top to bottom.
At local supermarkets, $300 to $500 a month will fill your shopping carts with food and household goods. And I'm not talking rice and beans, though I have come to love this simple fare during my time in Panama. Supermarkets here carry a mind-boggling array of imported items, from European meats and cheeses to Lean Cuisine dinners.
Panama City residents have grown accustomed to having their pick of U.S. and European goods, and some would say we are spoiled. You can save hundreds a year by avoiding these items, but it's comforting to know that they are here. So if you want to celebrate holidays the way you did back home, you can get cranberries and turkey and all the other "fixins."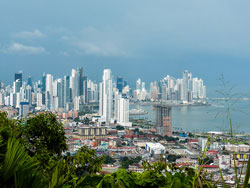 And though you can dine in sumptuously on supermarket fare—including Panama's exquisite pineapple, bananas, papaya, mango, and more—it's hard to resist going out. The nightlife in this city is great and affordable. Visit any other regional capital and you'll soon find that few can offer half as much as Panama City.
And activities available here really run the gamut. There are exhibits, concerts, plays, films, performances, festivals, tournaments, and virtually anything else you may have a hankering for. Plus, there are hundreds of opportunities a year to experience local folklore and indigenous culture. Go skydiving over the Pacific or spelunking on the Caribbean…see first-run movies for $6…attend a world-class jazz jam session for as little as $5…and the list goes on.
Some of my favorite restaurants include AvatarSabor de la India, where you can get authentic Indian food from $7 a plate. At La Casa Vegetariana, I get 100% vegetarian Chinese food and lunch rarely costs me over $2.50. Sure, I splurge on trendy restaurants now and then. If you want a four-course gourmet meal, you can spend upwards of $45 a head plus wine. But with so many great, inexpensive places to sample (and more opening every year), I find it's easy to be social and go out several times a week.
And I am always able to stay on budget…
Retirees Save More Than Anyone Else
Most single- and two-person expat households in Panama City budget at least $2,500 a month to live upscale lifestyles. But that estimate includes rent, as well as utilities, cell phone, cable, high-speed internet, transportation, and trips to the supermarket. If you own your own home, you can live well—enjoying social and cultural activities several times a week—on as little as $1,500 a month.
And remember, if you become a resident of Panama via the special Pensionado or Pensioner Program, you will be entitled to a host of money-saving benefits, including discounts on entertainment, airfare, and healthcare.
Get Your Free Panama Report Here
Learn more about Panama and other countries in our daily postcard e-letter. Simply enter your email address below and we'll send you a FREE REPORT — Panama: First World Convenience at Third World Prices. 
This special guide covers insider advice on real estate, retirement and more in Panama. It's yours free when you sign up for our IL postcards below.
Get Your Free Report Here