Earlier this evening I walked across a plaza to meet a friend. There was an elegantly outfitted brass band playing for a group of dignitaries. The centuries-old Hotel Central—newly restored to its former glory—was the perfect backdrop. Locals hung out in the gazebo and on benches around the plaza, enjoying the impromptu show.
It's the kind of thing that happens in Panama City. It's a place known for its modern amenities and shopping…for its many cultural offerings…and for fascinating contrasts. The historical sector abuts a metropolitan area that has grown up along the Panama Bay. Walk around what's known as the French quarter and you'll see colonial buildings framed by the sparkling background that is the modern skyline.
Though the metropolitan area is only about 14 miles long, Panama City has a variety of different neighborhoods to choose from. No two are alike. Whether you're interested in a neighborhood feel and single family homes with yards…or concierge service in a swish condo overlooking the Pacific…you can find it here.
No matter where you live, it's easy to enjoy all the city has to offer. The expanding metro line and Uber have made getting around easier than ever. When I go to dinner and a play at the Ancon Theater Guild…a new exhibit and cocktail reception…a sporting event at one of the stadiums…I leave my car at home.
If you want to live in Panama City, you'll find there's no shortage of attractive properties for you to peruse.
El Cangrejo: A hopping, happening barrio in the city center
It doesn't get more central than El Cangrejo. It's nearly at the middle of Linea Uno, or line one, of Panama's Metro. Smack-dab between the water and the rainforest region that includes the vast Metropolitan Park.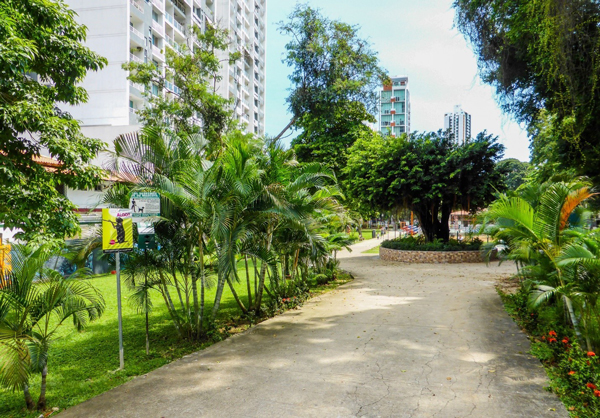 It's a neighborhood that has a young, college-town energy to it. (The University of Panama's main campus is nearby.) There are hotels, cafés, and restaurants along and around Via Argentina, a small road that runs through the barrio. I've gotten into the habit of packing up my laptop and heading here for a bite, or a beer at happy hour. I usually try to snag a table outside microbrew-pub Rana Dorada, so I can enjoy the golden light of late afternoon.
Spend $160,000 to $200,000 on a nice apartment here and you could do the same. I saw a 930-square-foot apartment in a building with a pool for $162,000 that would do nicely. Two bedrooms, two-and-a-half bathrooms, and it comes with a few years' property tax exemption.
San Francisco: Live by the city's green lung
San Francisco is an easy-to-navigate grid. A big El Rey supermarket is conveniently located on 50th street, a major artery that cuts right down the middle of this compact neighborhood. There are smaller shops as well, including a gourmet deli, and an organic store.
There wasn't any nightlife to speak of when I lived here over a decade ago. Now, there is a mind-boggling array of places to get a bite or a drink. Lynchburg has German food and beer…and live music on Wednesdays. Brutto is elegant with an imaginative menu. I could fill 10 pages and more with all the offerings…so I'll sum up with the top three things about San Francisco.
Firstly, it's home to the Atlapa Convention Center, where all kinds of shows, expos, and other events take place. Next, Multiplaza is a five-minute drive away—you could walk, of course, as well. It's a big mall, with a cinema, and an upscale supermarket. Finally, there's the vast Omar Park, known as the city's green lung. I know people who go every day and say they'll never move…not if it means leaving their park.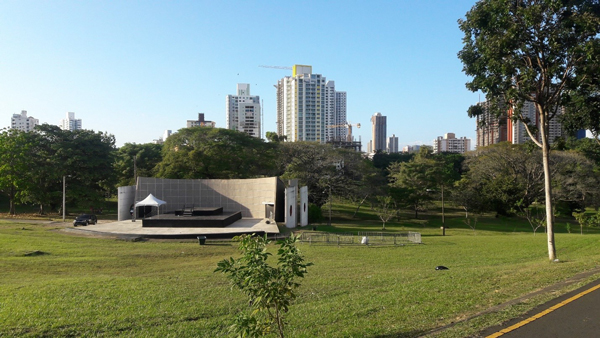 There are apartments here with park views. But if you don't want to pay a premium, you might try a building that's in walking distance. There's a one-bedroom, two-bathroom apartment with a city view that's just $166,000. And the building has a rooftop pool—with a panoramic park view—that took my breath away.
Punta Paitilla: Sitting on the dock of the bay
Once upon a time Paitilla was the poshest address one could have. Then Punta Pacifica went up beside it. Newer, shinier, it attracted a fair few locals, not to mention expats and investors who swooped in during the 2006-2007 construction boom.
Paitilla is still popular, but its buildings tend to be older. On the plus side, older units tend to be bigger. If this is a priority for you, then check out this attractive area. Not only is it on the water, it's also right at the start of the Cinta Costera, a long promenade where I take after-dinner walks. (It's well-lit and always full when I go.)
One ocean view apartment in Paitilla is about 1,450-square-feet, including the balcony. It's listed to sell for $225,000 or rent for $1,500. It's a three-bedroom, three-bathroom unit and there are just two per floor. The building has all the amenities…pools, gym, doorman.
Casco Viejo: Love it, then leave it
From Paitilla you can walk along the Cinta Costera all the way into colonial Casco Viejo. It's filled with one gorgeous building after another…churches around stately plazas, museums, and jazz venues, and a never-ending lineup of new restaurants. This is where I go for special occasions…a birthday dinner or a night out with visiting friends, say.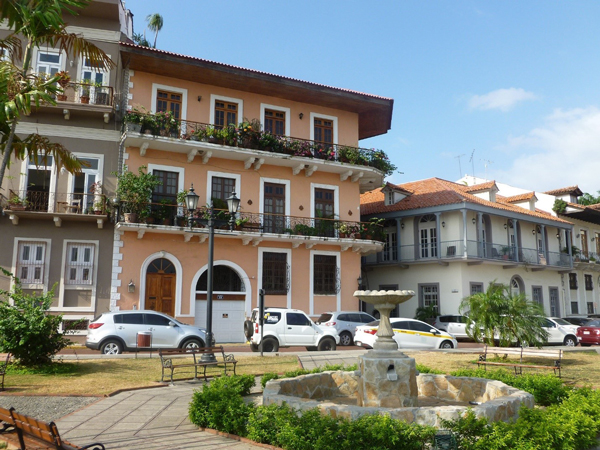 On any given day or night Casco is filled with tourists and well-heeled locals. On Friday and Saturday evenings there's usually a line of cars snaking in. It's no wonder parts of Casco can get a bit loud due to traffic, music, and those oh-so-happy revelers.
I love visiting…and I love going home to a different part of town when the night's done.
Get Your Free Your Overseas Dream Home Report Now

Sign up for the FREE Your Overseas Dream Home e-letter and get a valuable report (free for a limited time) on the The Global Real Estate Boom of 2021: 15 Places Where You Can Profit.
Related Articles
Affordable Retirement in Boquete, Panama From $109,000
Boca Chica: The Gateway to Panama's National Marine Park
Tropical Panama: Why This is the Perfect Climate for Me