My husband Will and I have traveled to a number of countries over the years searching for the perfect place to retire—including Mexico, Venezuela, and Costa Rica. Finally one of our trips brought us to the country of Panama…
Call it instinct, call it intuition…whatever it was, from the moment we stepped off the plane, we knew it felt right.
We toured several parts of the country in the years that followed as we tried to pin down our retirement plan. The highland town of Boquete was always on the list to visit. There was something about the mountains and the lush vegetation that reminded us of British Columbia and called to us.
The vistas of Boquete are amazing: lush green mountains, rivers and waterfalls; coffee plantations; farms growing onions, cabbage, tomatoes, and potatoes. Our backyard today is home to dozens of beautiful birds.
And, while traveling around Panama we realized that we could only take the tropical heat for so long before we longed for something a little cooler. Boquete had the perfect climate for us. "Eternal spring" is the expression used by expats living here.
We moved here in January of 2010 to a home with million-dollar views (that cost us less than that though). Today, we're happy to be still living in that same home with its amazing view of Boquete and the rainbows in January.
Life's very different for us these days. In Canada we were both working, paying off a mortgage, and trying to stay ahead of the huge utility bills we had each month for a furnace, air conditioning, natural gas, and electric.
In Boquete I can say we are truly retired. And, we're living a comfortable lifestyle on a smaller income; our living expenses in Boquete are much lower than they were in Canada.
There's a lot to do in Boquete, if you want it. When we first moved here, we got involved with everything and attended every function…but, as time went on, we started choosing the events we liked the most.
Now, we hike several times a week and we joined a gym. Some evenings we head out to a restaurant for dinner and dancing.
Boquete has just about all the amenities and services you could want. We have doctors, dentists, and lawyers; banks, grocery stores, clothing stores, housewares and hardware stores; and vegetable and fruit markets.
There are public swimming pools in several neighborhoods that charge $1 to $2 per person and there are plenty of places where women can get a mani, pedi, and facial or a wonderful massage at a good price.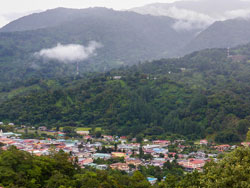 Weekly, there's a Tuesday morning market, which has become a tourist stop for many visitors who plan their trips to be in town at least one Tuesday of their vacation. It sells crafts, like jewelry, hats, and greeting cards, and organic and local foods, such as honey and coffee.
We go to David once a week or so, too, as they have the big box stores such as Pricesmart and Doit Center as well as huge grocery stores and movie theaters.
There are many outdoor activities in Boquete as well, such as hiking, white water rafting, horseback riding, the nearby hot springs in Caldera, and zip lining in a cloud forest.
We like to go on mini-trips, too, to know the country better. We head to the beach several times a year as it is an easy and affordable day trip or short break from Boquete. One of our favourite short breaks to take once a year is two to three days at a luxury, all-inclusive beach resort on the Pacific.
It's very affordable during off season—more so if you are a jubilado (retiree). The regular cost is $200 per person per night in high season; it's around $59 per person per night in low season. And, because the resort is located in Panama's Arco Seco (Dry Arc), the weather is great, even in the low season.
Much closer to home, we often go to Playa La Barqueta, only about one hour away, or Las Lajas beach, about two hours away. The Caribbean island of Bocas del Toro is only a three-to four-hour drive (including water taxi) and the beaches there, with their warm, aquamarine waters, are incredible. We also go to Boca Chica, a tiny but beautiful seaside village in the Gulf of Chiriquí, just one hour away.
From here you take a water taxi to one of the many beautiful islands or—as we did recently—go whale watching.
Our life here is very tranquil. For some, it might be too quiet…but for us, it's just perfect.
Get Your Free Panama Report Here:
Learn more about Panama and other countries in our daily postcard e-letter. Simply enter your email address below and we'll send you a FREE REPORT — Panama: First World Convenience at Third World Prices. 
This special guide covers insider advice on real estate, retirement and more in Panama. It's yours free when you sign up for our IL postcards below.
Get Your Free Report Here