My first year in Panama City—known to locals by its airport call letters, PTY—I started my mornings with a 15 cents cup of strong, dark coffee. For breakfast I would buy a little bag of fried plantains or corn fritters (torrejas de maiz) for 25 cents. Very greasy and very tasty.
The food-stall cook didn't speak English, and I was still learning Spanish. But with my limited vocabulary and some pointing and smiling, I got by ok.
Coffee in hand, I would hop on a bus full of locals chattering in Spanish. It took me the better part of the year before I could understand those conversations. But I had fun learning and I felt like I was experiencing the real Panama.
Once I got settled, my life changed. I got over my fear of driving in the busy city streets, and bought a small car. I stopped taking Spanish classes and amassed a group of internationally-minded friends (well-traveled Panamanians and expats, too.) These days, we enjoy dinners at new, trendy restaurants, and attend the many cultural and outdoor activities good old PTY has to offer.
You see, Panama City is the kind of place where you can live pretty much any lifestyle. You can live like a local and save, save, save…or you can live extravagantly, as some expats do.
There are so many places in the world that attract expats. Some offer modern conveniences and affordable healthcare. Others offer a low cost of living and opportunities to delve into local culture. And a handful offer all that and more.
That's what Panama City is to me—a true "have it all" destination…with high-speed Internet, top-notch roads, quality healthcare…and a rich cultural landscape.
If you choose to live like a local, you might buy or rent an apartment on or near Via España (one of the city's main arteries.) Your rent will likely cost you $700 to $900 a month. You might shop at the city's bargain stores…Super 99 or Super Extra for groceries and household products. Or Saks for inexpensive clothing, bedding, knickknacks, and more. Dinner and beer at a popular eatery like Jap Jap would cost you $20 at most. And at small clinicas near your home, you could see a doctor for as little as $10.
On the other hand, you could live like an affluent Panamanian (or like the many North American expats who have relocated here). Apartments in elite Bella Vista rent for $1,300 to $2,500 a month or more, depending on factors such as size, view, and building amenities. In this neighborhood, trendy restaurants abound. You could spend $55 on an appetizer, main course, and a couple of glasses of wine at Barcelona, in the Trump Hotel. Doctors' consults at the nearby Punta Pacifica Hospital cost $50 to $75. It's a Johns Hopkins International affiliated hospital, and known as the region's most technologically advanced medical facility.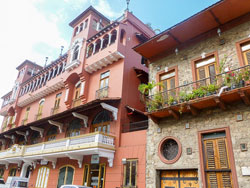 As for shopping, familiar brands line the shelves at El Rey and Riba Smith supermarkets. You'll pay full price for imported goods, but everything you could possibly want is available. There are meatless products for vegans and vegetarians, farm fresh fruits and vegetables (including succulent mango, sweet papaya, massive avocadoes, and more), and all kinds of luxury items—from caviar to salmon to champagne.
The malls are just as varied, with Albrook Mall housing familiar brands like Gap and Guess. MultiPlaza Mall has an entire designer wing, where Hermès and Louis Vuitton storefronts cause many a tourist to stop in their tracks. All this in a city where you can buy a pair of jeans for less than $5.99 (I kid you not…try Saks or Dorians).
With Panama's Pensionado residence program you get discounts on everything: hotel rooms…meals in a restaurant…movie and concert tickets…doctors' visits…and more… To qualify, you need only provide proof of a guaranteed pension income of $1,000 a month from a corporation or government agency. That requirement drops to $750 a month if you buy a home for $100,000 or more.
At the end of the day, the choice of how much you spend here is yours. You can live very well here on $2,400 a month…though if you want a more extravagant lifestyle, it's very easy to spend double that.
At city events and festivals, you can learn as much as you want about Panamanian food, dances, and traditions. You can take buses, taxis, or the metro and rub elbows with locals. You can also join in the many expat or international activities, go to cultural and arts events, and meet like-minded individuals from here and elsewhere.
Panama City is multi-faceted. Each neighborhood has a different feel. You may have seen postcards featuring shiny skyscrapers and twinkling lights over the Panama Bay, but there are parts where you won't see a single highrise; where salsa music spills out onto the streets from behind thin wooden doors, ladies walk to the corner store in curlers, and kids play soccer in the street. You can live in a restored colonial, a duplex in a rainforest setting, or an ultra-modern apartment overlooking the Panama Bay.
People may try and tell you that the city is one way or the other…a soulless modern sellout or a banana republic backwater. But you know as well as I do: the truth is always somewhere in the middle. That's especially true in here. So if you're tempted by modern city conveniences, but concerned you'll miss out on local culture…don't be. It's all here…modern Panama, traditional Panama, and everything in-between.
Get Your Free Panama Report Here:
Learn more about Panama and other countries in our daily postcard e-letter. Simply enter your email address below and we'll send you a FREE REPORT — Panama: First World Convenience at Third World Prices.
This special guide covers insider advice on real estate, retirement and more in Panama. It's yours free when you sign up for our IL postcards below.
Get Your Free Report Here